Russian strikes on Ukrainian power infrastructure deepens blackouts, while site of Zaporizhzhia nuclear plant shelled again

Combustion Industry News Editor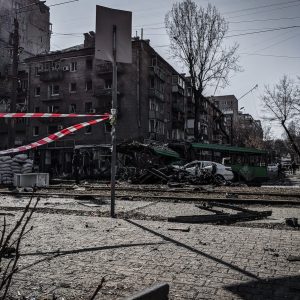 Further missile and drone attacks by Russian forces on Ukrainian power infrastructure have increased Ukraine's precarious power supply situation, with large parts of the country without electricity as sub-zero temperatures set in.
After attacks on 24 November, the Ukrainian energy ministry said that "the vast majority of electricity consumers were cut off", including the entire cities of Lviv and Kyiv, while sizeable parts of neighbouring Moldova also experienced power outages, due to the connection of the grids. Ukrainian President Volodymyr Zelenskyy has said that about half of his country's power assets have been damaged; Ukraine's three remaining operating nuclear power plants were disconnected from the grid during the attacks as a precautionary measure. The site of the Zaporizhzhia Nuclear Power Plant, which is under the observation of the International Atomic Energy Agency, has also been shelled recently, and is operating on diesel generators to maintain cooling systems.
IAEA head Rafael Grossi reacted by saying that "explosions occurred at the site of this major nuclear power plant, which is completely unacceptable. Whoever is behind this, it must stop immediately. As I have said many times before, you're playing with fire!" Russia and Ukraine blamed each other for the shelling.
Russia has been targeting Ukrainian power assets since at least April, in what EU Commission President Ursula von der Leyen has described as "pure terror" and "war crimes", though the latter, from a purely legal sense, is contested. Ukrainian Prosecutor-General Andriy Kostin has said of the attacks that they amount to genocide. Before the 24 November strikes, President Zelenskyy had announced that thousands of shelters would be built to provide Ukrainians with electricity, heat, water and the internet during the winter, calling these 'points of invincibility'.
In addition, the European Parliament has symbolically passed a resolution designating Russia a state sponsor of terror, as the Financial Times reported.