UK picks East Coast Cluster and HyNet as its 'Track-1' industrial cluster projects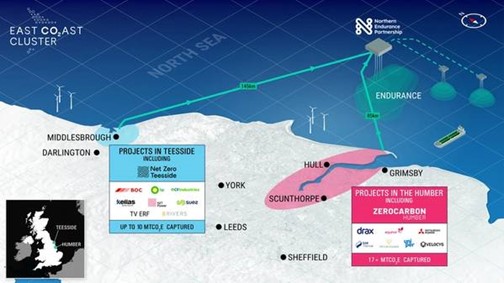 ---
The East Coast Cluster
---
The UK government has selected two industrial clusters for the development of carbon capture, utilisation and storage (CCUS) projects, with financial support from the government's £1 billion infrastructure budget. Known as 'Track-1' projects, they are on course for launch by 2025, with a second wave of 'Track-2' projects following on from these, with the aim to further decarbonise industry from around 2030. In the announcement, Greg Hands the UK Minister for Energy, Clean Growth and Climate Change said "Deploying CCUS will be a significant undertaking; these are new major infrastructure projects for a new sector of the economy and carry with them significant risks to deliver by the mid-2020s. Government will continue to play a role in providing long-term certainty to these projects to manage these risks and bring forward the UK's first CCUS clusters. We remain committed to helping all industrial clusters to decarbonise as we work to reach net-zero emissions by 2050, and we are clear that CCUS will continue to play a key role in this process. Consequently, the government continues to be committed to Track-2 enabling 10 million tonnes per year (Mtpa) capacity operational by 2030. This puts these places – Teesside, the Humber, Merseyside, North Wales and the North East of Scotland – among the potential early 'SuperPlaces' which will be transformed over the next decade."
The two CCUS clusters selected for first deployment under Track-1 are the East Coast Cluster in Teesside and the Humber, and the HyNet Cluster in North West England around Merseyside and North Wales. The Scottish Cluster, which includes the proposed Acorn CCS project, has been announced as a "reserve cluster" for Track-1. A number of these UK industrial clusters are already being supported through to front-end engineering design (FEED) level, with £171m funding via the UK's Industrial Challenge Fund as described in an earlier IFRF blogpost from March this year.
Looking at the Track-1 clusters in a little more detail:
The East Coast Cluster is enabled by the Northern Endurance Partnership – a collaboration between BP, Eni, Equinor, National Grid, Shell and TotalEnergies, with BP leading as operator. This cluster, which unites the Net Zero Teesside and Zero Carbon Humber clusters, has the potential to transport and store nearly 50% of all UK industrial cluster carbon dioxide (CO2) emissions – up to 27Mtpa of CO2 by 2030. The project aims to create and support an average of 25,000 jobs per year between 2023 and 2050, with approximately 41,000 jobs at the project's peak in 2026. These skilled jobs will be in exciting new industries, including industrial carbon capture, low-carbon hydrogen production, negative emissions power and power with carbon capture.
The HyNet partnership, of which Italian oil firm Eni is a part, said the project would proceed with decarbonising the North West of England and North Wales from 2025, reducing annual CO2 emissions by 10Mtpa by 2030.
---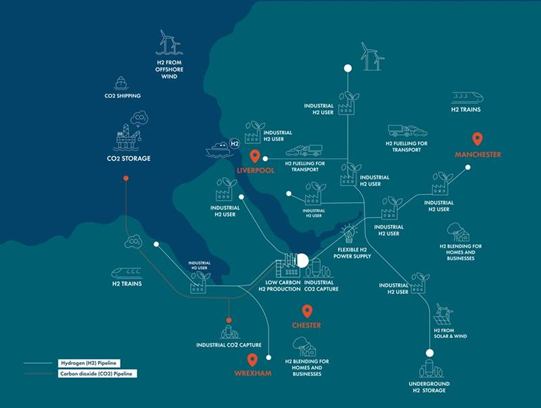 ---
The Hynet Cluster
---
HyNet is led by the demand from organisations and stakeholders across the North West of England and North Wales which all want to reduce carbon emissions to net zero. From as soon as 2025, the project will enable the manufacturing sector across these regions to decarbonise, as well as providing the opportunity to transition the way we travel and how we heat our homes. "HyNet brings huge economic benefits, safeguarding existing jobs across the region and creating around 6,000 new employment opportunities. As one of the first industrial decarbonisation clusters, it will play a big part in shaping the country's hydrogen economy" said David Parkin, HyNet Project Director.