£171 million awarded to nine UK industrial decarbonisation projects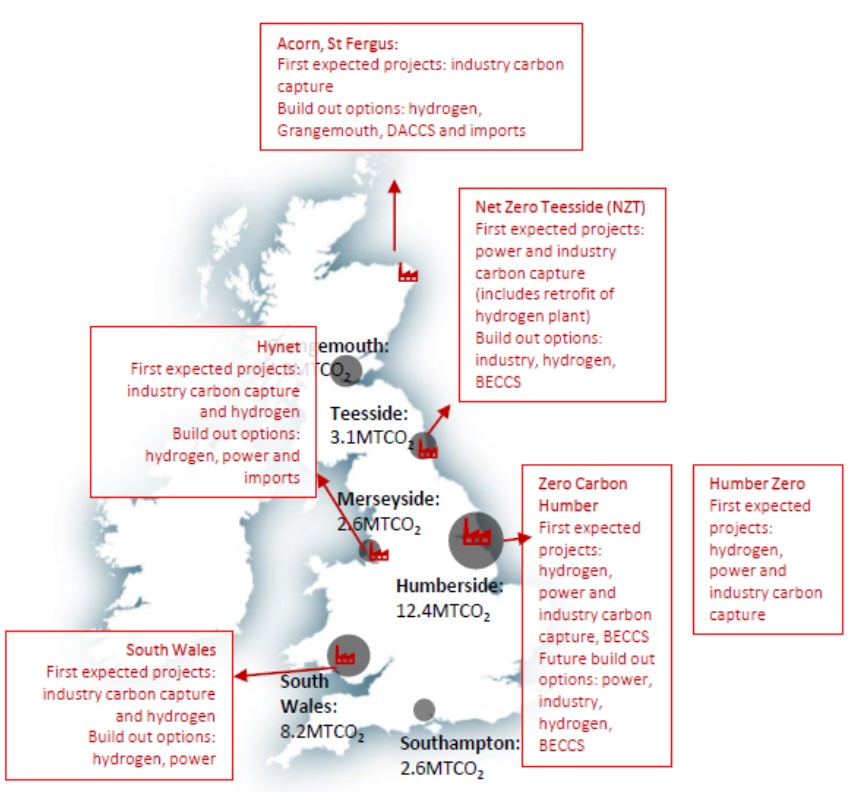 ---
UK Phase 2 Deployment Industrial Clusters
UK Research and Innovation (UKRI) announced recently the award of £171 million funding across nine significant industrial decarbonisation projects. The funding is being awarded through UKRI's Industrial Strategy Challenge Fund (ISCF) 'decarbonisation of industrial clusters phase two: deployment competition'.
Significant emissions reduction
In the competition, projects were expected to be able to support delivery of significant emissions reduction in at least one UK industrial cluster by 2030. This is in line with the Department for Business, Energy and Industrial Strategy (BEIS) industrial clusters mission.
The nine winning projects include:
three offshore storage sites for carbon dioxide (CO2) off the north-west and north-east coasts of England, and to the north of Scotland
CO2 capture and/or hydrogen production projects in Scotland, the North-West region, Teesside and Humberside (two projects) in England, and in South Wales.
It aims to deliver significant reductions in industrial CO2 emissions from industrial clusters by 2030 through the development of offshore storage and onshore infrastructure.
Projects were required to demonstrate:
the regional and national significance of their proposals
how 'net zero' could be delivered in their region by 2040, supporting the UK target of net-zero emissions of greenhouse gases by 2050.
About the Industrial Decarbonisation Challenge
UKRI's £171 million Industrial Decarbonisation programme is part of the ISCF. It aims to support the development of low-carbon technologies that will increase the competitiveness of industry and contribute to the UK's drive for clean growth.
It will reduce the carbon footprint of heavy and energy-intensive industries in the UK, such as:
iron and steel
cement
refining and chemicals.
Funding will be focused on developing technologies such as:
carbon capture, utilisation and storage (CCUS)
hydrogen fuel switching.
The technologies will be deployed and scaled-up within the UK's largest industrial clusters.
Funding from the Challenge will drive industrial decarbonisation whilst enhancing productivity for these regions, to create new jobs for a low-carbon future.
This Challenge is the first active funding stream as part of a wider UK government commitment to cut industrial emissions. It will develop at least one low-carbon industrial cluster by 2030, and the world's first net-zero carbon industrial cluster by 2040 in support of the industrial clusters mission.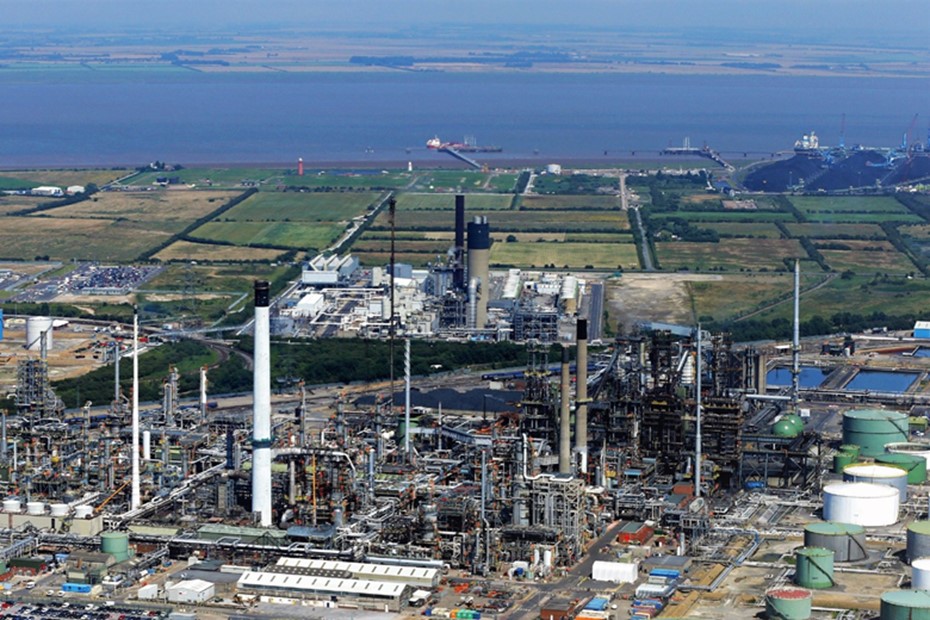 ---
Additional information on competition winners
The nine winners are listed below.
HyNet (offshore) – hydrogen and CCUS – £13.3m
Organisations involved: Progressive Energy (lead), ENI UK.
HyNet is one of the most advanced, low-risk and cost-effective full-chain hydrogen and CCUS industrial decarbonisation projects in the UK.
While industrial decarbonisation is the 'anchor', the project builds the infrastructure backbone for a full regional hydrogen economy. It leverages the opportunity to repurpose existing oil and gas facilities for future CCUS.
A dedicated network will transport hydrogen from production to demand points and storage assets. The network will provide the infrastructure to transport and store the CO2 produced as a by-product of the hydrogen production process and CO2 from a number of the UK's largest industrial emitters.
HyNet (onshore) – hydrogen and CCUS – £19.4m
Organisations involved: Progressive Energy (lead), Cadent Gas, University of Chester, CF Fertilisers UK, ENI UK, Essar Oil (UK), Castle Cement, Inovyn Enterprises.
Details as above for the offshore project.
Scotland's Net Zero Infrastructure (offshore) – £11.3m
Organisations involved: Pale Blue Dot Energy Ltd (lead), Petrofac Facilities Management.
This project will focus on developing the offshore Acorn storage site and associated offshore infrastructure, where Mitsui's investment in the parent company of the Acorn developer was covered in a recent IFRF blogpost. The project will fund important engineering studies. It will develop the key offshore components of the cluster, increasing investor confidence and providing the storage capacity to make a net-zero industrial cluster in the UK a reality.
This proposal seeks to develop the major offshore storage components of the Scottish industrial cluster. It will develop offshore pipeline, subsea and well-related infrastructure to transport and inject the CO2 offshore for long-term secure storage.
The onshore and offshore projects together provide a clear and tangible path to decarbonisation of the Scottish industrial cluster. It will open up opportunities to support other industrial clusters in the UK and abroad.
Scotland's Net Zero Infrastructure (onshore) – £20m
Organisations involved: Pale Blue Dot Energy (lead), University of Strathclyde, Neccus, SSE Generation, National Grid, GBTron Power.
Details as above for the offshore project.
Net Zero Teesside (onshore) – £28.1m
Organisations involved: BP Exploration Operating Company (lead), The North East of England Process Industry Cluster, Sembcorp Utilities (UK), BOC, Shell UK, CF Fertilisers UK, Tees Valley Combined Authority, Eni UK, Equinor New Energy, National Grid Carbon, Total Gas & Power Chartering.
The project anchor is a world first flexible gas power plant with CCUS, which will complement – rather than compete with – renewables. It will capture approximately two million tonnes of CO2 annually from 2026, decarbonising 750MW of flexible power generation. It will enable a reduction of Teesside's emissions by one third through partnership with industrial stakeholders.
The captured CO2 will be permanently and safely stored in a well-understood large geological aquifer located in the Southern North Sea.
The development is estimated to:
support and safeguard between 35% and 70% of existing manufacturing jobs in the Tees Valley
have an annual gross benefit of up to £450 million for the Teesside region
support of up to 5,500 direct jobs during construction.
More details concerning one of the 'anchor' projects in this wider scheme can be found in a Combustion Industry News blogpost here.
Northern Endurance Partnership – £24m
Organisations involved: BP Exploration Operating Company (lead), Shell UK, Eni UK, Equinor New Energy, National Grid Carbon, Total Gas & Power Chartering.
The project will create an offshore CO2 transport and storage system connecting the Net Zero Teesside and Zero Carbon Humber onshore capture projects to one initial geological store.
The combined onshore anchor projects aim to capture three million tonnes of CO2 annually from 2026, decarbonising 750MW of flexible power at Teesside and reduce emissions by one million tonnes a year in the Humber area by fuel switching the Saltend chemicals park to 'blue' hydrogen.
Gas power with CCUS, large-scale blue hydrogen and a combined offshore CCUS scheme will be world firsts. This project has the potential to underpin over 25,500 jobs in the Humber/Teesside area, showcasing a broad range of decarbonisation technologies, globally unparalleled in scale, optionality and ambition.
Zero Carbon Humber (ZCH) partnership – £21.5m
Organisations involved: Equinor New Energy (lead), University of Sheffield, British Steel, National Grid Carbon, Centrica Storage, Saltend Cogeneration Company, Associated British Ports, Drax Group, Uniper UK, PX, SSE Generation, Mitsubishi Hitachi Power Systems Europe.
ZCH will deliver first-of-a-kind low-carbon infrastructure, comprising CO2 and hydrogen transmission pipelines linking the region's major emitters. It will provide a pathway to deliver at-scale decarbonisation. The infrastructure will be anchored by the H2H-Saltend project.
The low-carbon infrastructure's parallel CO2 and H2 pipelines will enable CO2 emissions to be captured and transported, and fuel-switching of end-users to hydrogen for a long-term sustainable transition to low-carbon energy.
Additionally, H2H-Saltend will develop a low-carbon ammonia export product and partially decarbonise all other products produced on-site.
Organisations involved: VPI Immingham LLP (lead), Phillips 66 Ltd.
Humber Zero plans to decarbonise the world-scale industrial complex at Immingham, representing approximately 8MTPA of CO2 emissions by the late 2020s, via a combination of technology pathways.
This will create a carbon capture and hydrogen hub, providing cost-effective decarbonised energy supply and storage opportunities to industry and the National Grid.
The project will retrofit post-combustion CO2 capture plant to two existing gas turbines and auxiliary boilers at VPI's combined heat and power (CHP) plant, and a major process unit (fluid catalytic cracker) at Phillips 66's Humber Refinery.
South Wales Industrial Cluster (SWIC) – £20m
Organisations involved: Costain Oil, Gas & Process Ltd (lead), Tarmac Trading, Tata Steel UK, University of South Wales, Progressive Energy, Wales & West Utilities, Milford Haven Port Authority, RWE Generation UK, CR Plus, Valero Energy UK, Capital Law, Associated British Ports, Sector Development Wales Partnership, Simec Uskmouth Power, Lanzatech UK, Lightsource BP Renewable Energy Investments, Shell UK.
SWIC will create pathways and opportunities to promote Wales as a leading global player in decarbonised industrial and economic growth.
The project will devise options to support regional hydrogen deployment and to develop CCUS as an interim measure.
It will nurture symbiosis between industry, cities/towns, transport and agriculture. It will be achieved through sustainable clean growth plans that maintain a growing and diverse industrial sector region. This could potentially protect 103,000+ existing jobs, part of the project's central aim to protect the future of these communities.
SWIC will also provide the UK with lower carbon steel and reduced carbon cement products that form the backbone of the wider UK Infrastructure Industry.