POSCO Group outlines Australia hydrogen and steel investment plans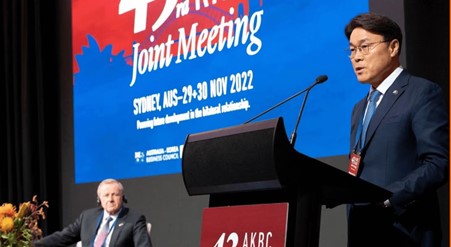 South Korea's POSCO Group is planning to invest US$40bn in Australia across hydrogen manufacturing and green steel and aims to manufacture 1mtH2/y by 2040.
The commitment follows a recent meeting between POSCO Group CEO Jeong-woo Choi and Anthony Albanese, Prime Minister of Australia, at Parliament House in Canberra. The majority of the investment (US$28bn) is earmarked for renewable energy and water electrolysis, with US$12bn allocated to green steel production.
Posco's CEO Jeong-woo Choi said the group has declared carbon neutrality by 2050, in response to climate change, and has been concentrating efforts in developing hydrogen reduction iron and steel making. "We see Australia as the most important country in terms of investment for us to secure hydrogen which is essential for hydrogen steel manufacturing. We plan to increase our investments in not only raw material for steel making but also across various fields in Australia including renewable energy, hydrogen and green steel."
Specifically, the POSCO Group is planning to manufacture green hydrogen based on large-scale and competitive renewable energy sources such as sunlight and wind power and using this green hydrogen to manufacture hot briquetted iron (HBI). The company's hydrogen-reducing steel technology HyREX will be applied to expand the production of semi-finished steel products.
The POSCO Group has invested over 4 trillion South Korean won (US$3bn) i in Australia for the development of resources such as iron ore, lithium and nickel and praised Australia as an optimum country for the development of green hydrogen overseas due to its land availability, abundant sunlight and wind resources along with progressive laws and systems.
Posco's initiatives are in line with South Korea's hydrogen roadmap as the country aims to establish large-scale domestic and overseas production bases and achieve 7.1% of clean hydrogen power generation by 2036.