TotalEnergies and Air Liquide to produce low carbon hydrogen at the Grandpuits Zero Crude Platform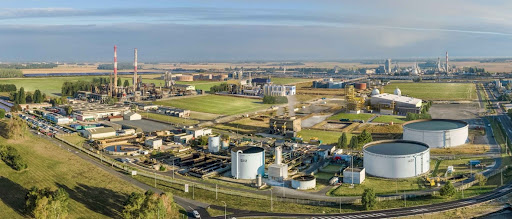 IFRF members TotalEnergies and Air Liquide are innovating to produce and valorise renewable, low carbon hydrogen at the Grandpuits zero crude platform in France. Under a long-term contract committing TotalEnergies to purchase the hydrogen produced for the needs of its platform, Air Liquide will invest more than €130m in the construction and operation of a new unit producing hydrogen. This unit will partly use biogas from the biorefinery built by TotalEnergies and will be delivered with Air Liquide's carbon capture technology CryocapTM. The Cryocap technology based on pressure swing absorption plus cryogenic CO2 separation and purification to produce a liquid CO2 stream, has been reviewed recently by the Global CCS Institute and AECOM. It is described as being suitable for industrial application with high CO2 concentrations including steel, cement, hydrogen and anaerobic digestion.
TotalEnergies' biorefinery will use the unit's hydrogen to produce sustainable aviation fuel (SAF). Together, the above innovations are described as reducing emissions by 150 ktCO2/y compared to current practices.
In a separate announcement, Technip Energies has been awarded the contract for the production of SAF at Grandpuits, completing the family of IFRF member involvement. This contract covers the engineering, procurement services and construction assistance for the conversion of the Grandpuits refinery into a zero-crude platform oriented towards SAF. Once in operation, this facility will have the capacity to produce 210 kt/y of SAF from sustainable feedstocks such as used cooking oil and animal fat.
In line with the target of net zero emissions by 2050, the Grandpuits zero crude platform project includes sustainable and circular innovations as follows:
The new hydrogen production unit, with the capacity to produce over 20 ktH

2

/y that is partly renewable, as a result of recycling of residual biogas from the Grandpuits biorefinery, in place of a portion of natural gas that would otherwise be used;

This unit will include carbon capture technology, allowing it to help reduce the platform's carbon footprint, by capturing over 110 ktCO

2

/y for utilisation in food and industrial applications; and

Most of the unit's renewable, low carbon hydrogen will be used by the biorefinery itself, to produce sustainable aviation fuel, but it could also be used to support sustainable mobility in the Ile-de-France region.
"By recycling the biogas produced by the biorefinery into renewable hydrogen, this innovative project makes full use of the conversion of the Grandpuits refinery into a zero crude platform harnessing the potential of biomass, especially in the production of sustainable aviation fuel," said Bernard Pinatel, President, Refining & Chemicals, TotalEnergies. "Combined with the production of low carbon hydrogen and the capture of CO2, this project contributes to TotalEnergies' ambition to decarbonise all of the hydrogen used by its European refineries by 2030."
"This innovative project is characterised by the combination of several solutions in order to produce renewable and low-carbon hydrogen, and contribute to the decarbonisation of TotalEnergies' Grandpuits site. It also provides the opportunity to recycle CO2 as part of a circular economy approach while securing its supply for agri-food applications. This project illustrates Air Liquide's expertise in working with its customers on customised solutions to help them reduce their carbon footprint and actively participate in the fight against global warming. It provides yet another example of the key role that hydrogen will play to succeed in the energy transition", added Pascal Vinet, Senior Vice President at Air Liquide, in charge of Europe Industries activities.