8 Rivers receives $100m investment from SK to deploy clean hydrogen technologies in Asia-Pacific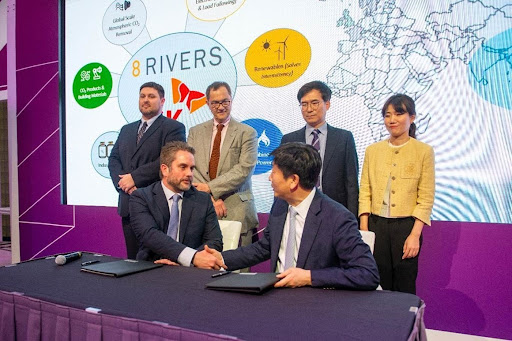 ---
8 Rivers has announced a $100 million investment from SK Group, along with the establishment of an 8 Rivers-SK joint venture to focus on decarbonisation of S Korean and key Asian markets. This represents one of the largest single private investments in a carbon capture solutions provider to date, and was announced at S&P Global's CERA Week by IHS Markit.
SK's investment will reportedly enable 8 Rivers to expand its innovation and execution team and will accelerate the deployment of 8 Rivers' clean technologies. As a leading S Korean industrial and high-tech conglomerate, SK will leverage the partnership to deploy clean projects for its domestic and foreign operations.
The 8 Rivers-SK Asia Joint Venture will combine 8 Rivers' technology with SK's regional footprint to deploy clean hydrogen and zero-emissions power projects across major energy centres in the Asia-Pacific region, a region that is central to global net zero emission targets being achieved.
"Decarbonising the global economy is both a multi-trillion-dollar business opportunity and, more importantly, an environmental and social necessity," said 8 Rivers CEO Cam Hosie. "I can imagine no better partner than the SK Group to accelerate gigaton-scale deployment of 8 Rivers' clean, net-zero technologies, helping drive economic and social development globally."
8 Rivers is a developer of innovative decarbonisation technologies which span hydrogen, power, direct air capture, and biomass carbon removal, including the Allam-Fetvedt Cycle power generation system. 8 Rivers is developing a number of zero-emissions projects in the United Kingdom and the United States, as reported previously by IFRF.
SK Group, the second largest conglomerate in South Korea with its largest businesses primarily involved in energy industries, is committed to build sustainable clean energy value chains in Korean and Asian markets. As such, SK Group represents an attractive strategic capital investor and partner for 8 Rivers' clean technology portfolio.