2022 Global status of CCS report issued showing 44% growth in CCUS facilities capacity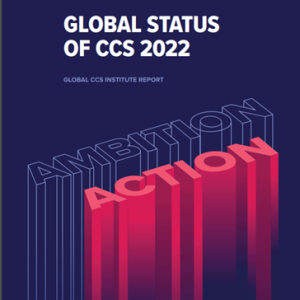 The Global CCS Institute has released its 2022 update to the global status of carbon capture and storage. As noted by Jarad Daniels, CEO of the Global CCS Institute, it is clearer than ever that CCUS is one of the critical tools to address the climate crisis and that without it, reaching our shared climate goals is practically impossible. When it comes to limiting global warming, the last few years have been marked by growing ambition from both countries and companies alike. This ambition must now translate to urgent, broad, and large-scale action.
The momentum behind carbon capture and storage has continued to build. As a mature, well-understood technology, companies seeking to deploy CCUS have embraced policies to strengthen the business case for doing so.
The report lists almost 200 CCUS related facilities in the project pipeline, including those already in operation and construction. With an increase of 44% over the past 12 months, this highlights that CCUS is becoming increasingly commercial and competitive in many countries. As of Sept 2022, the total capacity of commercial CCS projects in the pipeline (operational, in development, and two with operations suspended) was 244 MtCO2/y.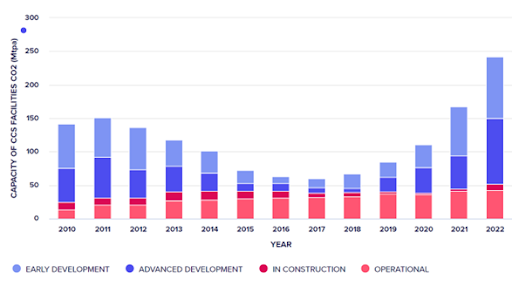 Notable project developments in the 12 months include:
Drax Power Station in the UK announced the world's single largest bioenergy with CCS (BECCS) project, with a world-scale 8.0 MtCO

2

/y capacity across two units.

The Klemetsrud Waste-to-Energy CCS project in Norway moved to the construction phase, having secured funding. This is the first commercial-scale CCS project applied to a waste-to-energy facility.

Glacier CCS Project – capture technology firm, Entropy, commissioned a CO

2

capture facility on a natural gas-fired reciprocating engine, the first of its kind at commercial scale and an important milestone given the importance of future capture from natural gas combustion streams worldwide.

Air Products announced its world-scale blue hydrogen project in Louisiana, incorporating autothermal reforming hydrogen production to facilitate very high CO

2

capture rates.

In Australia, the Bayu-Undan project by Santos has moved into Front End Engineering and Design (FEED). This project will capture CO

2

from LNG production in Darwin and transport it via pipeline across the maritime border between Australia and Timor-Leste for offshore geological storage. A key feature of this project is repurposing an existing natural gas pipeline for CO

2
Global regions where CCUS continues to grow include North America, Europe, Asia, Australia and the Middle East. The growth in CCUS facilities related to industrial applications, particularly chemicals production and hydrogen is marked. The provision of CO2 transport and storage infrastructure via the hubs and cluster approach to support the capture facilities is also encouraging.
More work on supporting policies are needed to drive the growth further, such as the significant funding via the Inflation Reduction Act (IRA) in the USA, where as reported previously by the IFRF, the '45Q' tax credits for each tonne of CO2 captured and reused or stored at CO2 producing facilities increases to US$85/tonne, up from US$50/tonne.