UK electricity generation – Renewables overtake fossil fuels for whole quarter
Electricity generated from renewable sources exceeded that from fossil fuels in the third quarter of 2019, according to analysis by Carbon Brief. During the three months of July, August and September, renewables generated an estimated 29.5TWh, compared with 29.1TWh from fossil fuels.
Renewables have been breaking short-term records for quite some time now, but this is the first-ever quarter where renewables outpaced fossil fuels since the UK's first public electricity generating station was opened in 1882.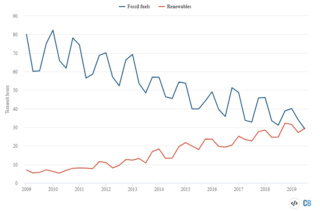 ---
And, while this adds up to a "stunning" transformation of the UK's electricity system in the last decade, a lack of progress in other parts of the economy means the UK remains off-track to meet its upcoming and legally-binding carbon reduction targets, let alone the recently-adopted goal of net-zero greenhouse gas emissions by 2050, adds Carbon Brief.
At the start of this decade in 2010, the 288TWh of electricity generated from fossil fuels accounted for around three-quarters of the UK total. It was more than ten times as much electricity as the 26TWh that came from renewables.
Since then, electricity generation from renewable sources has more than quadrupled – and overall demand has fallen – leaving fossil fuels with a shrinking share of the total. Electricity generation from fossil fuels has halved since 2010, down 142TWh in the most recent 12-month period. Gas now contributes the vast majority of that shrinking total, as coal plants close down ahead of a planned phase-out in 2025, says Carbon Brief.
In the third quarter of 2019, some 38% of UK electricity generation was from gas, with a further 1% from coal and oil combined. Another 40% came from renewables, including 20% from wind, 12% from biomass and 6% from solar. Nuclear contributed most of the remainder, generating 19% of the total.
And coal's decline in the UK's electricity 'mix' is set to accelerate in 2020…
Another coal-fired power station to close
RWE has taken the decision to close its 1560MW 'Aberthaw B' coal-fired station in South Wales by the end of March 2020.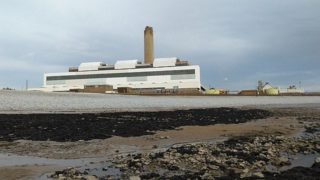 ---
It has been clear for some time that the market conditions for coal-fired power generation in the UK have been challenging, says RWE, which says it will transfer Aberthaw's existing Capacity Market agreements for the years 2019/20 and 2020/21 to third parties, and a small proportion to other units within RWE's fleet.
The decision to close the station will contribute to the company's goal to progressively reduce its carbon emissions. RWE says it has decreased its emissions from power generation by 60 million tonnes per year since 2012.
Aberthaw B Power Station played an important role in the UK's generation mix since it began operation in 1971; currently the station directly employs around 170 people. The closure will leave just three operational coal-fired plants in the UK from next spring – Drax in North Yorkshire (which also burns biomass), and Ratcliffe and West Burton in Nottinghamshire.
"For nearly 50 years the plant has played an invaluable role in helping to secure the energy supplies across the UK electricity system and we are very proud of its flexibility and resilience," said Tom Glover, Chief Commercial Officer of RWE Generation. "With our flexible gas and biomass power station portfolio, RWE will remain an important player in the UK energy market."
[Editor's Note: While coal-firing in UK power stations will be phased out by 2025, a new coal mine has been proposed in Cumbria. However, this mine would extract metallurgical-grade coal for the UK steel industry and for export. West Cumbria Mining are planning to sink the £165m Woodhouse Colliery near Whitehaven and start producing coal in 2022, with production rising to 2-3million tonnes per year for some 50 years. The scheme is attracting considerable opposition both locally and from politicians arguing that such a move is inconsistent with the climate change mitigation (conveniently ignoring the fact that steelmaking requires metallurgical ('coking') coal, which the UK industry currently has to import).]