Professor János M Beér (1923-2018)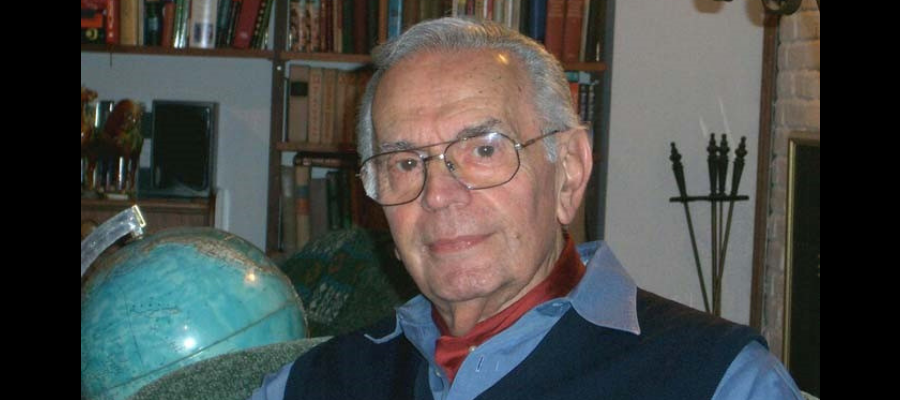 We are sure that many of you will be sad to learn that János ('John') Beér (Professor Emeritus of Chemical and Fuels Engineering at the Massachusetts Institute of Technology, and former Head of the IFRF Research Station in IJmuiden and IFRF Superintendent of Research), passed away on 8th December aged 95. You may well recall that, in September 2017, we also announced the death of János' wife, Marta (she died on 20th August 2017 aged 92). The world of industrial combustion – and humanity in general – is poorer for the loss of both of these remarkable people. Our condolences go to the Beér family at this sad time.
While we are aware that a full obituary is being prepared for János (and we will share this with MNM readers in due course), we thought that it would be good to share with you now some of János' amazing story and his contribution to the field of combustion and to IFRF's history in particular.
János Miklós Beér was born into a Jewish family in Budapest in (the then recently-redefined borders of) Hungary on 27th February 1923 at a time of great political, social and economic turbulence. Despite the increasingly anti-Semitic sentiments in Hungary during the 1930s in the build-up to the Second World War, János remained largely unaffected and, after matriculation, entered the University of Technical and Economic Sciences in Budapest. However, war caught up with him there, and, in 1944, he was conscripted into the Hungarian Army's labour battalion preparing to depart for Germany. He deserted, joining a university squadron which had the secret objective of getting Hungary out of the war. That same year, János married his sweetheart, Marta Csato.
Both being of Jewish descent, these were very dangerous times for János and Marta in war-torn Budapest, with the German SS and Hungarian Arrow Cross Party ramping-up the deportation of Jews to German concentration camps. Via a friend, János was introduced to a Swede, Raoul Wallenberg, who was actively rescuing Jews with Swedish connections and taking them to the Swedish Legation in Budapest and a string of Legation safe houses. With Marta's support, János lived in the Swedish Legation for a while, helping Raoul Wallenberg on numerous daring rescue missions (including securing the release of holders of Swedish-protection documents – 'Schutzpass' – from railway wagons waiting to depart for Germany), or leading numerous forays into the Jewish Ghetto in Budapest (rescuing about 70 Jewish Schutzpass holders). Wallenberg – ably supported by incredibly brave people like János and Marta – is widely celebrated for rescuing tens of thousands of Jews from Nazi-occupied Hungary up until the Russian Red Army lay siege to Budapest in late 1944 and early 1945. You can read more of this time in János' life in a 'testimony' that he gave to the International Raoul Wallenberg Foundation in 2010.
After the war had ended, János resumed his engineering studies at the Technical University of Budapest, gaining a first class honours degree in 1950. He subsequently worked as a researcher at the Heat Research Institute in Budapest.
However, in November 1956, János and Marta had to flee after Russian tanks crushed the 1956 Hungarian revolution, arriving in Scotland and being employed by Babcock & Wilcox Ltd in Renfrew.
In 1957, János and Marta moved south to England, where János studied for a PhD under the supervision of Meredith Thring (one of the IFRF's 'founding fathers' of 1948), Professor of Fuel Technology and Chemical Engineering at the University of Sheffield. After being awarded his PhD in 1960, János stayed on at the University as a 'CEGB Research Fellow' under Thring. At that time, Meredith Thring was the General Superintendent of Research for IFRF and, when the position of Head of Station at IFRF in IJmuiden became vacant following the departure of Monsieur R Kissel, Thring proposed that János take on that role. János performed this role with distinction from 1960 to October 1963, leading the 'Fifth Team' of resident IFRF Investigators (i.e. Beér, Chigier and Lee (UK), Claus (NL) and Lévêque (F)) in a great deal of pioneering research on the aerodynamics and mixing in isothermal jet flames (both non-swirl and swirl-stabilised).
On leaving IJmuiden in 1963, János and Marta moved to the USA where he took up an appointment as Professor of Fuel Science at Pennsylvania State University (University Park, PA). In 1965, they returned to the University of Sheffield in the UK where János became Professor and Head of the Department of Chemical Engineering and Fuel Technology until 1976 and served as Dean of Engineering (1973-1976). The University awarded him a Doctorate of Science in 1968.
Moving back to the USA in 1976, János joined the Engineering Faculty of the Massachusetts Institute of Technology (MIT) as Professor of Chemical and Fuel Engineering, becoming Professor Emeritus in 1993. He remained active in this role until 2017 when Marta died. During those years in the USA, the two of them enjoyed maintaining life-long friendships with many MNM readers through events such as AFRC symposia and Clearwater conferences.
Renowned for his contributions as an educator, consultant and researcher in the field of combustion, energy and power generation engineering, János Beér's impressive list of firsts include: providing an analogy for modelling combustion systems using water model studies; developing scaling laws and criteria for use in combustors and furnaces; studying single droplet combustion and providing the burning rates of droplets; and determining means for reducing NOx emission from fluidised bed combustors, furnaces and gas turbines. He has authored more than 300 technical papers and has co-authored (with his old IFRF colleague, Norman Chigier) the textbook titled Combustion Aerodynamics (Applied Science Publishers, 1972), which provided the authoritative basis for the characterisation of the flow patterns in flames and furnaces for more than two decades.
János received many high honours and awards over his almost 70-year career in combustion, from leading organisations, universities and institutions in the USA, UK, Sweden (a link to his work with Raoul Wallenberg perhaps?) and his native Hungary. I will leave the long list of these honours and awards (I found 20) for you to read in his obituary in due course.
Although he left IFRF's IJmuiden research station over 55 years ago, János remained deeply committed to the vision and research of IFRF, becoming our General Superintendent of Research (SoR) from 1970 to 1989 and participating in the Joint Committee (governance board) throughout this period. He was honoured by being made an Honorary SoR in 1989, joining Professor Meredith Thring in that distinction.
An amazing life and one lived to the full… RIP Professor János Miklós Beér.