Norsk Hydro's Sunndal aluminium plant to become 70% biomethane-powered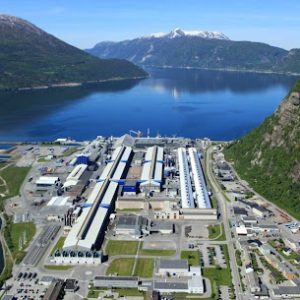 Norsk Hydro's aluminium plant in Sunndal, Norway, aims to utilise local and sustainable bioresources to replace fossil fuels as part of its plans to achieve zero-carbon aluminium, according to a recent article from Bioenergy Insight. The company has said that bioenergy can replace fossil energy in the casthouse and in anode production and could reduce CO2 emissions by 20 kt/y.

Norsk Hydro has signed a letter of intent with Havila to purchase biomethane from local plants to be built in Møre og Romsdal. The agreement is conditional on Havila receiving Enova (owned by the Norwegian Ministry of Climate and Environment) support for the construction of a biomethane plant.

Over the past year, Norsk Hydro has already produced the first quantities of near-zero carbon aluminium from 100% post-consumer scrap aluminium at its recycling plant in Clervaux, Luxembourg with <0.5 kg CO2/kg aluminium through the value chain. This is due to aluminium produced from recycled scrap requiring typically 5% of the energy to produce compared with primary aluminium. Hydro's recycling has to date produced 130 tonnes of Hydro CIRCAL 100R, with work ongoing to optimise the production. This production milestone is a significant improvement, compared with the current 2.3 kg CO2/kg aluminium in Hydro CIRCAL extrusion ingot with 75% post-consumer aluminium scrap. The main challenge with using 100% scrap is to meet the required composition for the alloy, which was achieved by using a precise mixture of scrap qualities.
The company has also demonstrated that green hydrogen can be used in the remelting of aluminium, and has started testing carbon capture in its Sunndal plant. Hydro is also preparing to build a test facility for a brand new process technology in Porsgrunn, Norway.

"This is a very exciting project. The collaboration with Havila enables us to use local, sustainable bioresources to replace fossil fuels and cut emissions from our production. If the biomethane plant comes into place, the introduction of biomethane at Hydro Sunndal can start during 2024," said Ola Sæter, head of Hydro's primary aluminium plants.

"We supply aluminium to the most demanding customers in Europe," he added. "They prefer aluminium from Hydro that is produced in Norway, based on renewable energy and with 75% lower CO2 emissions than the industry average. At the same time, they expect us to also remove the last carbon emissions coming from our manufacturing processes. That is a challenge we take seriously and a goal we are working hard to reach," Sæter said.
Norsk Hydro has indicated in its zero emission roadmap that it is committed to a 30% reduction in its carbon emissions by 2030, with a goal of achieving net zero in Scope 1 and 2 carbon emissions by 2050.