New Year… New Plan! (Part 1 – Review position)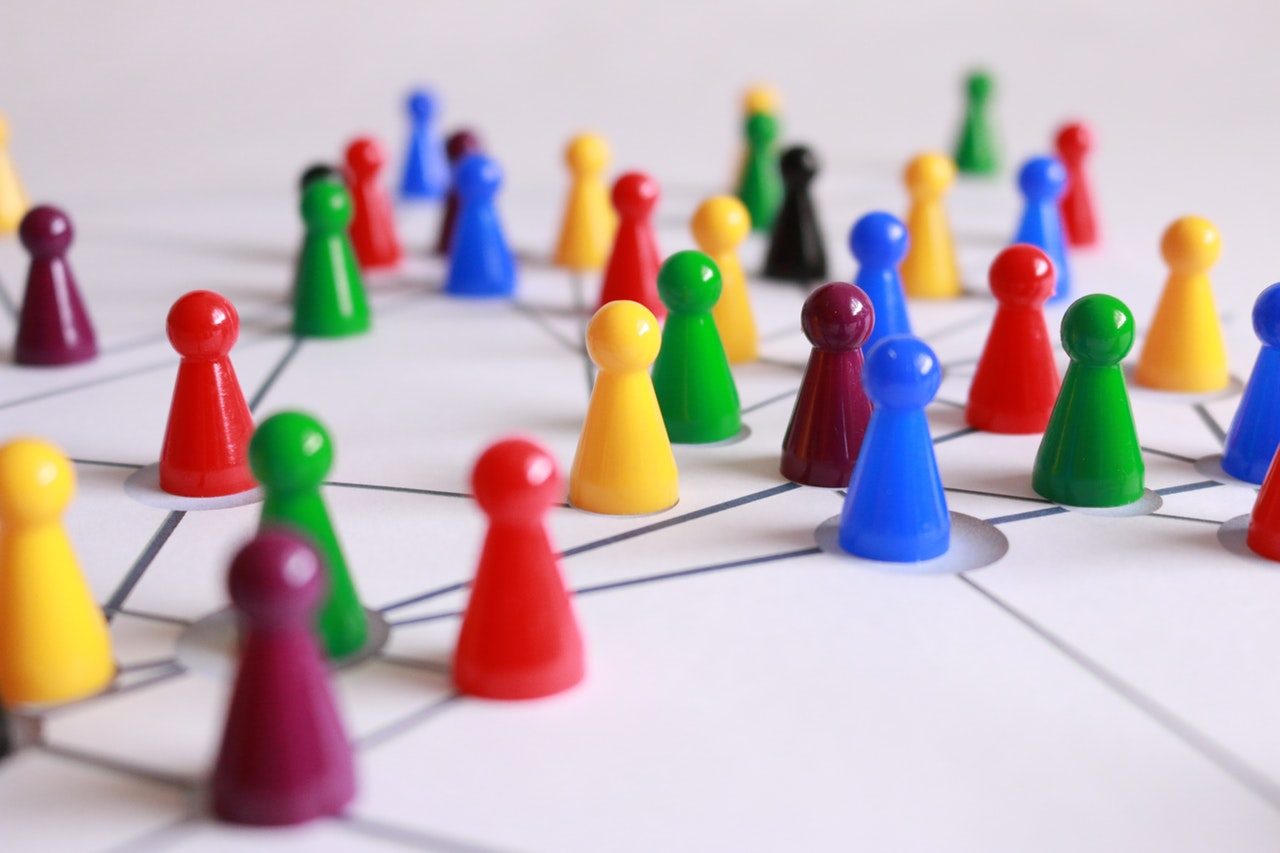 In the final blog post of the epic, 13-part 'Reigniting the… [decade]' series that ran throughout 2018, IFRF Director Philip Sharman "bade a fond farewell" to IFRF's 70th anniversary year and the year-long celebration of our successes over seven fruitful decades. He introduced the post – 'Back to the Future' – by highlighting a second key aspect of any worthwhile anniversary: "the chance to look forward and ignite the same sense of discovery, drive and determination for the years ahead."
The context of that blog post was to introduce MNM readers to the IFRF Strategic Review conducted at the end of 2018 ('SR 2018') and, alongside it, outline a new Three-Year Plan for the organisation to take us into the next decade ('TYP 2019-2021').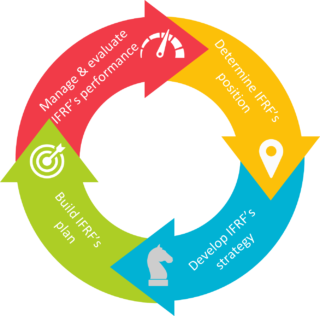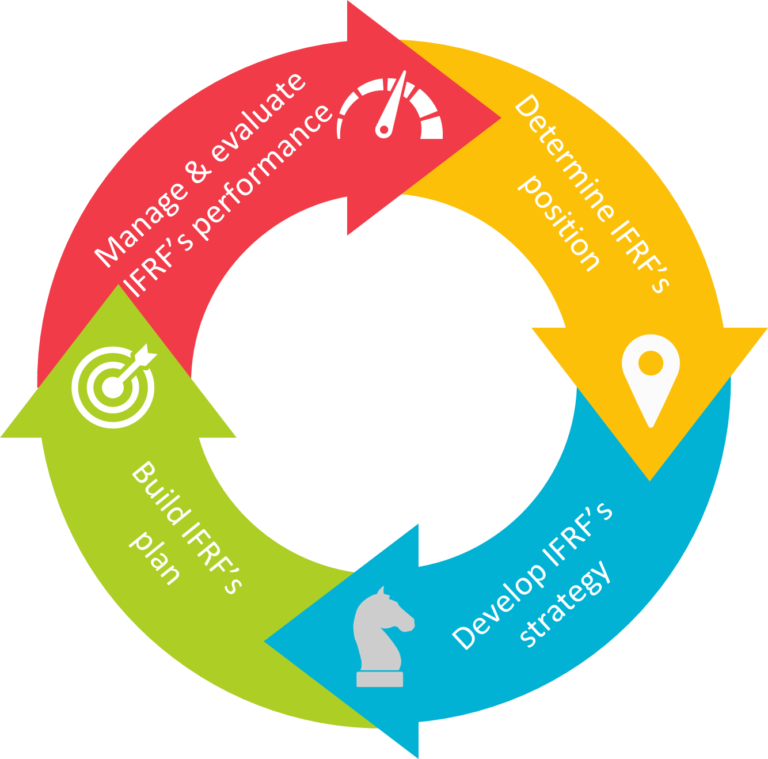 ---
In preparing SR 2018 and TYP 2019-2021, the Delivery Team and the IFRF Council chose to use a four-stage strategic planning model approach that addressed four key questions:
Stage 1: "Where are we now?" – review and pinpoint IFRF's position at the end of 2018.
Stage 2: "Where do we want to be?" – decide where IFRF wants to get to, by when, and devise and refine an appropriate strategy.
Stage 3: "How exactly will we get there and who will do what?" – construct a clear and detailed plan of action to shape IFRF's suite of activities moving forward.
Stage 4: "How are we doing?" – identify criteria and mechanisms enabling IFRF to manage and evaluate its performance.
In this first of three blog posts , we report on the first stage of this activity – where is IFRF now (i.e. a review or situational analysis of IFRF's position as of the end of 2018). In the next post, we will report on stage 2 – where do we want to be (i.e. a 're-visioning' of IFRF's strategy), with the third in the series focusing on stages 3 and 4 (i.e. IFRF's plan out to the end of 2021 and how we will be monitoring and managing our progress).
So, let's have a look at the outputs of Stage 1…
Where are we now? Situational and SWOT' analysis of IFRF in 2018
In determining IFRF's position as of December 2018, a number of reviewing activities were undertaken by the Delivery Team in conjunction with the IFRF Council – see the summary slide below.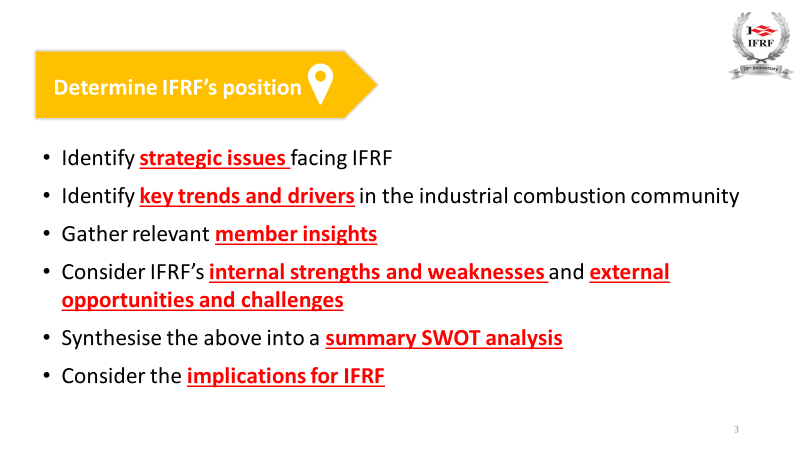 ---
Firstly consideration was given to identifying the strategic issues facing IFRF. These were identified as:
The perception of IFRF varies, both across the membership and outside.
Membership fees (and the basis) vary between the National Committees and have been static for many years (i.e. a 'real' decrease as a result of inflation).
Membership is very Europe- and north American-centric, with little Asian or southern hemisphere representation.
The older 'age profile' of members (and, with that, generational perception concerning the value of team research).
IFRF's reputation was lower in certain quarters during the early 2010s and during the build-up to the transfer to Sheffield.
IFRF is not currently undertaking research and development activity.
There is a risk of IFRF's activity areas being 'pigeon-holed' from a technology and/or application perspective (e.g. fossil fuel combustion and CCS versus energy 'systems').
Currently, IFRF has limited diversity of revenue generation 'strands'.
IFRF's activities are resource limited (e.g. staff, funds for T&S, research, etc.).
With its current resource level, IFRF is 'spread thin' and struggles to address research, networking and communications adequately. Should it focus more?
There are specific issues associated with the Industrial Combustion online journal – its low 'impact rating' limits academic offerings.
Looking more widely (and outside of our organisational structure), there are a number of key trends and drivers in the industrial combustion 'community', and IFRF will need to react to these in moving forward. The main relevant trends and drivers were identified as being:
There has been a progressive technological drift away from 'traditional' combustion processes in Europe and north America…
… although these remain key in certain regions (e.g. Asia, central and eastern Europe, the Middle East, Africa, and south America),
… and focussed technological advances remain relevant within established scientific and technical areas (e.g. NOx and heavy metals emissions, advanced materials, additive manufacturing opportunities, etc.).
There is a prevailing atmosphere of increasing competition and reducing collaboration post the 2008 financial crisis.
Linked with this, there is also reduced openness, sharing and collaboration in industry (including in R&D activity).
There has been a significant contraction of industry R&D funding (particularly post 2008). As a 'flip-side' to this, there may be more opportunities to pool resources.
At the same time, there has been a significant contraction of governmental and international R&D funding in combustion-relevant technical areas.
Relevant R&D facilities have become more dispersed (rather than centralised) in recent years.
There has been a general 'shortening' of 'corporate/national memory', leading to a surprising amount of 'reinventing the wheel'.
'BREXIT' is likely to have a long-term effect of limited the international connectivity of the UK (e.g. with the EC).
As well as looking at these more 'strategic' factors, in reviewing of IFRF's position we have analysed IFRF's current membership and gathered relevant insights from them. The slide below shows analysis of our Member Organisations by country, by National Committees and in terms of the split between industry, academic and government, as well as the areas of interest (technical) and market segments addressed by those organisations.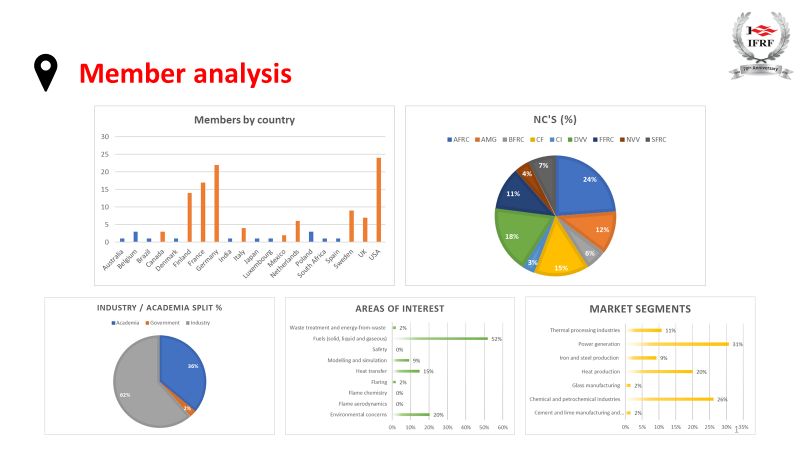 ---
In addition, a 'Member Survey' was conducted in September-November last year – see the separate item in this week's MNM reporting the results of this.
The final element of review that was conducted in Stage 1 was to consider IFRF's internal strength and weaknesses, and external opportunities and challenges:
Internal strengths:
Good governance structure – levels, timings
Strong suite of communication tools and channels, and frequency of comms.
Positive on digital integration
Strong membership in Europe and north America
Growing membership base – numbers and new countries
Responsive, agile and motivated team
Strong support from the University of Sheffield and PACT
Longstanding values – openness, information sharing, collaborative approaches
Lean cost base, strong financial management
70 years of success and reputation
Substantial archive of combustion research
Internal weaknesses:
Perception of the value of IFRF benefits varies
The membership fee structures of our National Committees vary somewhat
Not active in much of Asia or south hemisphere
Reputation lowered in some quarters
Online journal offers insufficient attraction
Not actively engaged in R&D at present
Technical pigeon-holing (e.g. fossil fuel combustion versus energy systems)
Resource-constrained (staff effort, funds)
Effort spread too thinly to address properly research, networking and comms.
Limited diversity in revenue generation streams
Language capability (e.g. in Asian countries)
No specialised sub-groups
External opportunities:
Growing a membership base in China (and establishing a Chinese Flame Committee)
Re-establishing Japanese Flame and attracting other Asian members
Establishing a core group in certain countries with several existing members
Embracing digital products
Growing network of 'Preferred Research Partners' (PRPs) providing facilities
'PACT2' plan – advanced manufacturing, energy systems, etc.
Collaborative R&D projects/programmes with PRPs
Capacity building (training, 'masterclasses', continuous professional development)
Collaborating with similar organisations on initiatives
Memoranda of Understanding with IERE and other similar groups
Wider "combustion" coverage – i.e. target growth areas
Signposting international R&D facilities, measurement/analysis probe supply, etc.
External challenges:
Technological drift away from traditional combustion.
General shift away from openness, sharing and collaboration
Contraction of industry R&D funding
Contraction of national/international R&D funding in combustion
Other combustion-related organisations competing rather than collaborating
IFRF becoming 'side-lined' in terms of R&D activity
Communication challenges with certain countries (e.g. China with internet/email)
Loss of R&D knowledgebase leading to 'reinventing wheel'
BREXIT limiting UK's connectivity (e.g. with EC)
Age profile of members and generational views
These various analyses built up to a classical 'SWOT' exercise exploring IFRF's Strengths and Weaknesses, and also Opportunities and Threats, summarised in the chart below: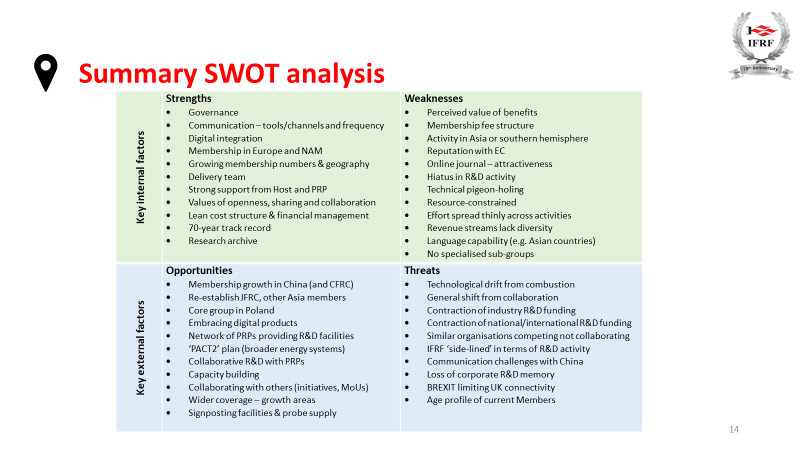 ---
The implications of all of these elements reviewing IFRF's position were then considered, feeding through into Stages 2 and 3 of the Strategic Review process. The main implications arising from Stage 1 were identified as:
Continue to focus on maintaining existing National Committee membership while growing membership in Asia and southern hemisphere countries (while addressing any communications issues).
Broaden IFRF's coverage/scope – e.g. a wider range of fuels, application areas (EfW, buildings, transport, end-use, etc.), and equipment scale; a wider definition of 'combustion' and an 'energy system' context; key enabling technologies (materials, advanced manufacturing, sensors & controls, modelling, etc.)
Re-establish R&D activity in the near-term (i.e. 2019).
Expand the network of Preferred Research Partners worldwide; consider the possibility of establishing IFRF-tailored rigs.
Maintain the current low cost-base.
Increase staff and T&S resources incrementally (as and when we can afford to).
Look to collaborate more widely with other groups on activities/initiatives (e.g. via establishing Memoranda of Understanding).
Further develop our digital offering around the new IFRF website and existing social media channels.
Maintain the triennial IFRF conference series and (at least) annual TOTeMs; encourage wider use of the successful international Flame Days/Symposia, etc.
Develop 'specialised networking groups' on key technologies or from key sectors, with appropriate leadership.
Develop a programme of webinars.
Relaunch IFRF training courses (real/virtual) in key areas of interest (possibly in partnership with other relevant organisations on a shared-risk, shared-profit basis).
In the next IFRF Blog post in this series, we will present the outputs of Stage 2 of the SR 2018 – re-visioning IFRF's strategy.
Watch this space…!