Indonesia continues plans for coal, including biomass co-firing for power generation as well as 'coal-to-chemicals' plants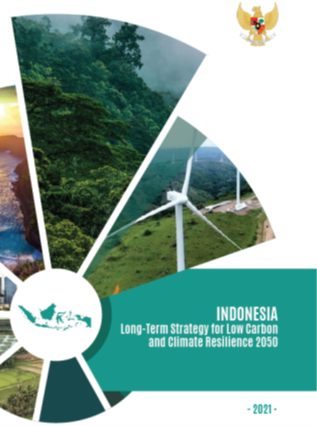 ---
Indonesia, the world's second biggest coal-producing country, has released an updated 2030 climate plan and a long term strategy for low carbon and climate resilience. The strategy outlines three pathways including a 'low-carbon scenario compatible with the Paris Agreement'. Even under this pathway – the most ambitious of the three – the amount of coal used for primary energy will continue to grow until at least 2050. While the share of electricity generation from renewable energy sources will grow under this pathway to 43% by 2050, coal will still provide 38% of the country's growing electricity needs. Methane gas (10%) and biofuels (8%) will make up the rest.
Under this scenario, the Indonesian government projects that 76% of the country's coal-fired power plants will be equipped with carbon capture technology, making them low-emissions plant. Despite this, the low-carbon scenario still projects Indonesia's greenhouse gas (GHG) emissions will be in excess of 500MtCO2(equivalent) by 2050. The preface to the strategy document, signed by environment minister Siti Nurbaya, indicates that Indonesia is "exploring the opportunity to rapidly progress towards net-zero emission in 2060 or sooner".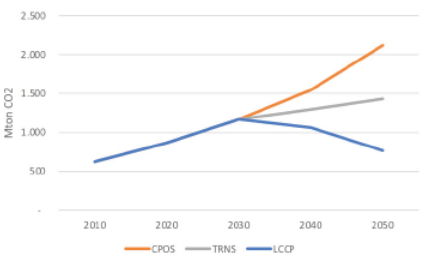 ---
Projection of Indonesia's energy sector emissions under Current Policy Scenario (CPOS), Transition Scenario (TRNS) and Low-Carbon Scenario Compatible with Paris Agreement target (LCCP)
While energy-related emissions are growing, Indonesia's biggest source of GHGs is deforestation, driven by land clearance for palm oil and timber plantations. In 2016, it was the fifth biggest emitter in the world when land use change is factored in. In its climate plan for this decade, Indonesia commits to restoring or rehabilitating 14 million hectares of degraded land including peatland – this is equivalent to an area the size of Bangladesh.
In an early move to support the strategy, Indonesia plans to make the co-firing of biomass in power stations mandatory as part of its efforts to phase out coal-fired power plants, which account for more than 60% of its electricity supplies. "This co-firing programme is an intermediate solution as we determine how to phase out coal power plants," Chrisnawan Anditya, a renewable energy director at the Energy and Mineral Resources Ministry, told an online seminar. He said the government is preparing a regulation to implement the mandatory co-firing, which would apply to state electricity utility PT Perusahaan Listrik Negara (PLN) as well as independent power producers. The timing and other details, such as the ratio of biomass used in co-firing, were not disclosed by Chrisnawan. PLN has said it is planning to gradually retire its coal-fired power plants as part of its ambition to reach carbon neutrality by 2060. The state power company plans to start co-firing at 52 of its biggest coal-fired power plants and has estimated it could replace 9Mt of coal per year with biomass.
This potential reduction in coal demand, coupled with reduced demand from international markets, has resulted in the Indonesian government looking at 'coal-to-chemicals' conversion as alternative use of its indigenous fossil fuel reserves. As noted previously by IFRF, Indonesia's government is aiming to produce dimethyl ether from coal, and state-owned coal company Bukit Asam is working with Air Products and Chemicals Inc to develop a 1.4Mt/year coal gasification plant to be operation by 2024, at a cost of US$2 billion (€1.75 billion). The Institute for Energy Economics and Financial Analysis has estimated that the cost per tonne of dimethyl ether will come out at around US$470/tonne (€392/tonne), almost twice what Indonesia pays for LNG imports.