IFRF's Comité Français hold successful virtual Biannual Meeting – including 'tour'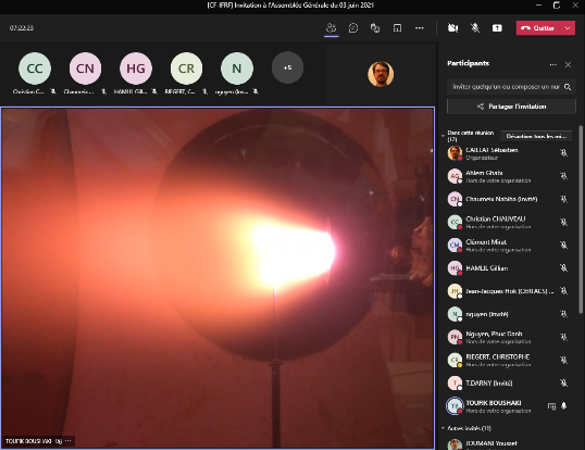 ---
On 3 June 2021, the biannual meeting of the Comité Français (CF) of the IFRF was held – 'virtually' from the ICARE CNRS laboratory in Orléans. After general news and updates on IFRF activities, four presentations were given, followed by a two-hour virtual tour of more than ten test facilities with live experiments!
The virtual format of the event made it possible to welcome some forty participants to the meeting. The presentations, available on request, were the following:
Diagnostics laser haute cadence couplés pour une caractérisation expérimentale de flammes d'hydrogène et de mélanges CH₄-H₂ [K Rajamanickam, C Lacour, B Lecordier, A Cessou, D Honoré – CORIA CNRS, INSA & Université de Rouen]
L'industrie est-elle prête à l'arrivée des mélanges gaz naturel/hydrogène? Des travaux en cours en France et en Europe [L Palluotto, D Thibault – GRTgaz]
Fundamentals of nanoparticle formation chemistry at relevant industrial conditions [A Comandini – ICARE CNRS « ERC Starting grant FUN-PM »]
Fours de raffinage/pétrochimie [T Tison – Heurtey Petrochem].
The virtual tour was bravely filmed by Toufik Boushaki, CF Secretary, with the following live experiences:
Non premixed combustion [Ahlem Ghabi]
Biomass boiler & gasifier [Toufik Boushaki]
Biomass conversion [Stéphane Bostyn]
Shock tube for soot formation studies [Andrea Comandini]
HELIOS: Outdoor Atmospheric Simulation Chamber of Orleans [Véronique Daële]
Aluminum combustion [Samuel Jeanjean]
PIVOINE_2G: Ionic Propulsion for Orbital Flight with Interpretation and New Experiences [Pascale Lasgorseix & Guillaume Largeau]
Vacuum arc thruster [Etienne Michaux]
Low pressure Hall-effect thruster [Thibault Hallouin]
PHEDRA: High Enthalpy low density Wind Tunnel [Nicolat Rembaut].
The next meeting of CF is planned for 18 or 25 November 2021 – watch this space or contact the Comité Français for more details.
Here are some 'screen shots' from the tour: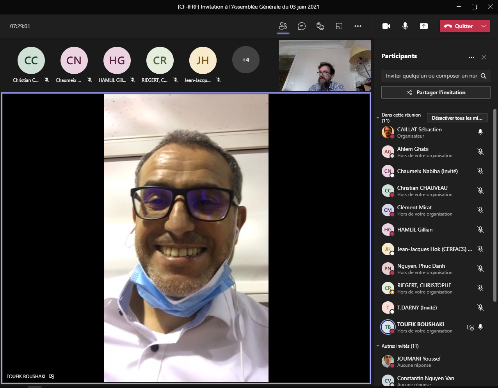 ---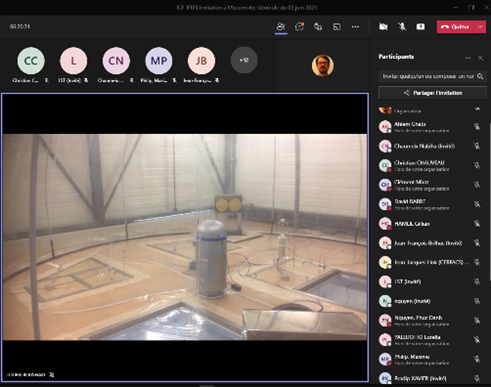 ---