British Flame Day 2020 – programme launched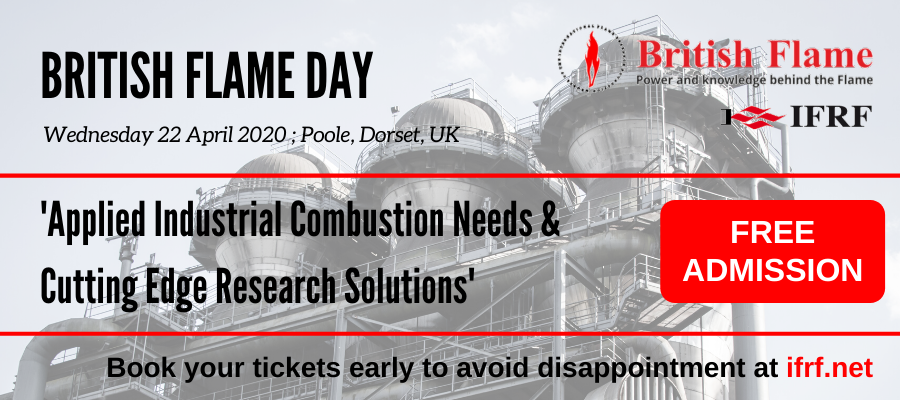 ---
IFRF's British Flame Research Committee (BFRC) is holding the British Flame Day on 22 April 2020 looking at 'Applied Industrial Combustion Needs & Cutting-Edge Research Solutions'.
The programme for this event has now been launched – download your copy here.
This exciting programme includes a balance of industry and academic presentations.
Richard Withnall, Managing Director of Greens Combustion – who are hosting the event at the Arena Business Centre in Poole, Dorset – will open the talks by welcoming all the delegates and giving an overview of the day.
The rest of the morning will allow you to hear from a range of government and industry representatives including:
'Combustion of Waste: Regulatory Approach to confirming IED Time and Temperature requirements are met using CFD and measurement' by Roger Kidd, UK Environment Agency
'Application of CFD combustion modelling in large multi-burner process furnaces and some of the lessons learnt' by Cliff Rennie and Simon Kretzschmar, Greens Combustion

'A CFD driven approach to large-scale combustion optimisation: Improving performance and flame stability of a 660MWe anthracite fired boiler' by Mike Kryjak, RJM International
The afternoon session switches to presenters from academia including:
'Importance of Sampling and Analysis of Biomass/ Waste Wood Fuels' by Will Quick, Uniper Energy

'Biomass Characterisation and Densification for Evaluating Suitability of Non-conventional Biomass Sources for Power Generation' by Johnson Lau, University of Nottingham

'Combustion with Net-Zero GHG Emissions' by Jon Gibbins, University of Sheffield

'Recent advances in Zero Routine Flaring Initiative' by Kumar Patchigolla, University of Cranfield
There will also be networking opportunities during the lunch break and after the event BFRC will host a dinner at the Riggers Restaurant and Slipway Bar (which is part of the RNLI Headquarters in Poole).