An update on TERC/PACT2 – IFRF's future home in Sheffield
From an artist's impression and virtual computer design layouts…
---
…to physical infrastructure 'on the ground'…
…IFRF's future 'home' is fast becoming a reality – despite the Covid-19 situation!
An interesting (and surprising) aspect of the reducing level of lockdown in the UK has been the resurgence of interest in the property market. Many people seem to be wanting more space and amenity… Well, the same goes for IFRF's 'preferred research partner' – PACT in Sheffield!
As I'm sure many of you are aware, the University of Sheffield (host organisation of IFRF) is currently building a brand new research facility that will be one of the largest and best- equipped low-carbon energy, combustion and CCUS R&D facilities worldwide. The Translational Energy Research Centre (TERC) – or 'PACT2' – will replace PACT, with much of the existing PACT pilot-scale equipment relocated to it, but also a large inventory of new kit that we can't wait to play with! All of this will be available to IFRF (which will move office to be 'embedded' within the new TERC/PACT2 building).
"What is 'translational research'?" you may well ask… Well, in medical research it has a very specific meaning; often coined 'bench-to-bedside', it describes the translation – or carrying- over – of basic medical science to potential treatments of disease), and in our context, it means the 'carrying-over' (Latin 'translatio') of new information or knowledge that is created in one area to another application. This is exactly what we want to achieve in the low-carbon energy arena – in fact, we have defined the vision for TERC/PACT2 as "to be a prominent national translational research centre delivering world-class energy technology with solutions for today and options for tomorrow." Our strategic focus will be on applied research and innovation directly linked to novel, fundamental research, with the aim of driving technology close to the marketplace. Put bluntly, we aim to fast-track early-stage research into solutions: proven, sustainable low-carbon products and services ready for deployment in the UK, Europe and worldwide.
As we have reported to you before, TERC/PACT2 results from a targeted investment of £21 million from the UK government (BEIS), the European Commission (ERDF funding) and the University of Sheffield, with the intention of providing an international facility. In doing this, it will address the pressing needs within PACT for additional R&D capacity, capability and flexibility. It will be ideally positioned to support and accelerate the development of CCUS technologies through innovation, cost reduction and de-risking, as well as research novel and next-generation technologies such as bioenergy with CCS based on molten carbonate fuel cells ('BECCS-MCFC'), utilising captured CO2 to produce sustainable, aviation fuel ('CO2-SAF') and offering greater fuel flexibility. The Centre will provides a platform for users to prove, test, develop, optimise and up-scale their ideas and developments on a cost-effective basis before investing in commercial-scale testing or production.
R&D and innovation activities at TERC/PACT2 will focus on four key areas:
CCUS, including:

CCUS + molten carbonate fuel cell (MCFC)
Rotating packed bed (PPB) CO2 capture technology
Supercritical CO2 (sCO2) technology – chemical kinetics and heat exchanger design
Direct air capture (DAC) technology

Hydrogen, including:

H2 combustion in gas turbines (GTs)
H2 burner design for micro-GTs and process industry applications

Sustainable fuels production, including:

SAF production from captured CO2 + H2
SAF 'Clearing House' (i.e. fuel certification services)
Auxiliary power unit (APU) for performance and emissions testing

Zero-carbon fuels, including:

Ammonia combustion (fundamental research)
NH3 and SAF chemical kinetics at high pressure and high temperature – HP/HT – (up to 150 bar and 700°C) using a shock tube.
To enable such research, TERC/PACT2 will be equipped with a comprehensive inventory of pilot-scale rigs, some from the existing PACT facility (but relocated and upgraded), much of it new.
New 'flagship' pilot plant equipment to support the CO2 utilisation and SAF production activities will include the integration of an impressive range of equipment in a configuration linking a reverse water gas shift (RWGS) reactor, a Fischer-Tropsch (F-T) synthesis reactor and a fractionation column to produce SAF and 'green transport fuel' (GTF), with the CO2 supplied from the upgraded and relocated 1 tonne/day post combustion capture plant from PACT and H2 from a new electrolyser (powered by renewable electricity from a solar PV array to be located on the roof of TERC/PACT2) and a new biomass gasifier (see diagram).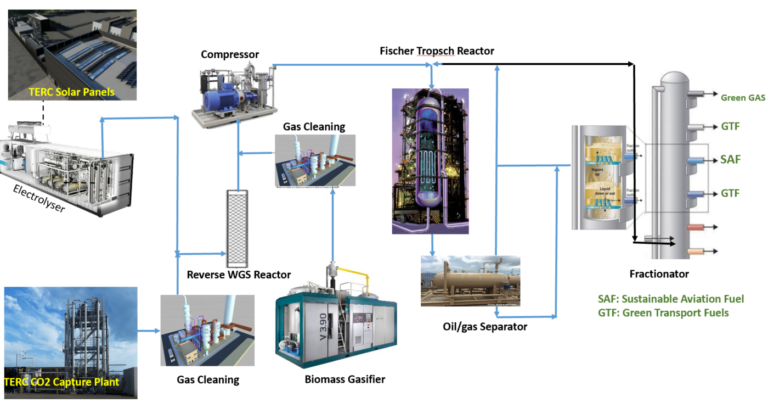 ---
The recently-upgraded CO2 capture plant – now with a second absorption column – will be used to look at issues around solvent degradation and loss, trace metal and PM1 particulate emissions, and the impact of fuel (and hence flue gas composition) on the operational performance of capture plant.
A new HP/HT shock tube will aid the understanding of combustion at high pressure (e.g. in sCO2 cycles and in the evaluation of SAF types), and a new HP/HT heat exchanger test bed (including two sCO2 loops) will support R&D into high-efficiency power conversion cycles.
The 250kW coal- and/or biomass-fired, air/oxy-combustion rig, and the two TURBEC natural gas/syngas-fired 100kWe and 165kWth CHP GTs from PACT will be moved to TERC/PACT2 and modified. These will be supplemented by a parallel-flow biomass gasifier with gas-Otto CHP (50kWe and 110kWth), a 240kWth biomass/energy-from-waste grate boiler with organic Rankine cycle, and a 3kWe CHP MTT micro-turbine that can handle up to 23% H2 in the gas feed.
TERC/PACT2 will also boast a new PV-supplied alkaline electrolyser system capable of producing 32m3/h of H2, linked to a compressed gaseous H2 storage system with a capacity of 35kg. The H2 produced will be utilised in a 30kW PEM fuel cell, a 50kW MCFC, the RWGS and F-T reactors, and the MTT micro-turbine.
You can see why my research team and I are keen for TERC/PACT2 to come online – planned for March 2021!
In addition to the translational research and innovation that all this kit will facilitate, TERC/PACT2 will undertake a lot of support and consultancy work for industrial clients, cementing its role in the translation of the information and knowledge generated towards the marketplace.
As I have already alluded to, TERC/PACT2 will be an international centre of excellence. Already – through PACT – the University of Sheffield is very-well connected to international initiatives: As well as being the main 'preferred research partner' of IFRF, we are a member of the International Test Center Network for CCS (we currently chair this initiative) and, through that affiliation, directly involved in global initiatives such as the Carbon Sequestration Leadership Forum (CSLF) and Mission Innovation, as well as being a member of the European ECCSEL network. With TERC/PACT2 coming online in 2021, we will be well-placed to be involved extensively in a broad swathe of global initiatives.
Furthermore, adjacent to the new TERC/PACT2 facility, we will be building a new £7 million centre on SAF research – 'SAF-IC'… but I will save the description of what delights we have planned there for another time!