Professor Gérard de Soete (1928-2019)
We are very sad to have to report the loss of world-renowned combustion scientist and IFRF stalwart – Gérard de Soete. Gérard (IFPEN and former IFRF Superintendent of Research), passed away on 15th January in Colombes near Paris, aged 90. A truly remarkable 'character', the field of industrial combustion will feel his loss keenly – particularly in France where his long-standing involvement with both the French Section of the Combustion Institute (Le Groupement Français de Combustion – GFC) and the French Flame Research Committee (Comité Français – CF) of IFRF bore so much fruit. Our condolences go to the de Soete family at this sad time.
IFRF Vice-president Sébastien Caillat attended Gérard's funeral service in Colombes on 25th January – representing CF, IFRF and GFC. Gérard's widow, Ilse (with a sense of humour so typical of both Gérard and herself), told Sébastien that her husband "chose combustion until the end of his life" – referring to his cremation held later that afternoon!
While, no doubt, a full obituary for Gérard will be published in due course, we thought that it would be a fitting tribute to this talented, witty, supremely intelligent and cultured scientist to share with you now some of Gérard's life story and a few anecdotes from former IFRF colleagues of his.
Gérard de Soete was born in Bruges, Belgium, on 16th June 1928 to a father who (according to Gérard) had "ideas larger than his head"! After matriculation, he studied Latin, Greek and Hebrew (and some theology too) at the historic Université catholique de Louvain for four years, and was just preparing to enter a seminary in Austria to train as a priest when he met his future wife hiking in the mountains – this encounter made him change his mind! He then switched direction to study chemistry on the advice of his father (thank goodness for those "large ideas"!). He was awarded his Doctorate degree in 1962, with his thesis titled 'Contribution to the study of propagation and structure of turbulent flames'.
Having graduated, Gérard started work as a research engineer at L'Institut Français du Pétrole (IFP – now IFPEN) in Rueil-Malmaison, near Paris, staying there for 32 years and rising to become Department Head of first Aerothermal Fundamentals and then Combustion Physics and Chemistry. He researched combustion both in engines and furnaces, becoming internationally renowned in combustion chemistry, kinetics and emissions (and referred to as "The Pope" of NOx chemistry!).
As President of the French Section of the Combustion Institute (GFC) from 1984 to 1990, Gérard (co-)organised numerous conferences and workshops. In 1988, GFC introduced the Gérard de Soete Award as a tribute to his career and numerous contributions: The Prize is awarded every two years and rewards a young researcher for his or her outstanding thesis work, especially in connection with industrial issues or the application aspects of combustion, with an emphasis on chemical, physical and/or environmental issues.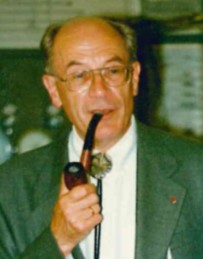 ---
Gérard also made a huge contribution to IFRF over many years, first becoming involved in its 'Chemistry Panel' in 1974, becoming its Chair from 1978 to 1984. In 1989 he was appointed Deputy Superintendent of Research, and then Superintendent of Research from 1992 to 1995. He remained involved in IFRF activities for many years into his retirement.
Throughout his career Gérard received many honours and prizes in his native Belgium, in France and wider afield, including being made Commander of the Order of the Lion of Finland (1981) and Chevalier de l'Ordre des Palmes Académiques (1993). He wrote many scientific papers and contributed to several important books on aspects of combustion. Gérard also taught at L'École Nationale Supérieure du Pétrole et des Moteurs (ENSPM – now IFP-School) from 1967 to 1995 and at the universities of Paris 6, Orléans and Rouen.
On retirement from IFPEN in 1993, Gérard carried on teaching part-time for a further fifteen years, while also attending conferences and participating in seminars, sharing his knowledge of NOx chemistry. As a polyglot, he was able to converse in seven different languages (including Shakespearean English!).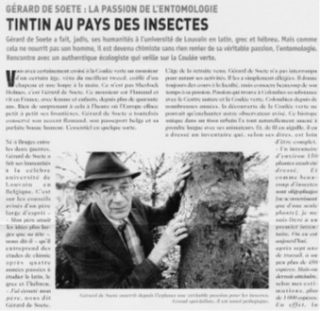 ---
From his childhood Gérard was passionate about insects. As a retiree, he worked as an entomologist for the Natural Centre Association in his hometown of Colombes. There he inventoried about one thousand different species of insects in the so-called 'Coulée verte' (a natural biotope in Colombes' urban environment). He was also interested in art, religion and philosophy. According to a former IFP colleague, "No one who met him can forget him – he was the 'complete scientist', as conceived some 100 years ago!".
Gérard was an extraordinary character. Professor Fred Lockwood (formerly of Imperial College London) recalls one of the more memorable and typically outrageous encounters he had with Gérard at an IFRF Chemistry Panel Meeting in northern Italy in the 1980s: "I hadn't known Gérard for very long but was much impressed by him, his scientific knowledge and his ability to converse in a multitude of languages. We happened to be sitting at the same table at lunch and on several occasions Gérard entertained the restaurant by bursting into excerpts from Italian operas. I said that I would bet him £20 (a significant sum then) if, as chair of the afternoon session, he could introduce each speaker with an appropriate Italian operatic aria. When the session started Gérard, without explanation, started singing and gesturing towards a startled first speaker. He did the same for all the speakers. I do not speak Italian, but those who did verified the authenticity. I lost £20, but have made tremendous mileage on the story."
Peter Roberts (IFRF Director, 1978-2005) also recalls that occasion. "That was one amazing day! Gérard de Soete was one of the most astonishing characters I had ever met. He had only been recently appointed as Chair of the Chemistry Panel when I joined IFRF. I found him to be completely approachable and extremely helpful, and further, very much a 'hands-on' colleague with respect to IFRF research. He was already a strong cooperator in the work that was being undertaken with the US EPA in the 1970s and well-recognised as being an internationally renowned flame chemist. But over and above all of these attributes he was an incredible eccentric. No meeting that I have ever attended, whether scientific, technical or simply social, was ever dull if Gérard was present!"
Neil Fricker (IFRF Director, 2015-2019) confirms Gérard's idiosyncratic persona, adding: "He was a larger-than-life figure who was a prominent and active supporter of the IFRF during many decades. I think I last met him at a Members Conference in Maffliers in June 2012: He was still wearing one of his trademark bootlace ties!". Apparently, this choice of neckwear was due to his fondness of 'westerns' and the fact that once, on a trip to the USA, he had met and had a drink with the legendary John Wayne! He was fond of old ships, too: At lunchtimes, rather than having lunch, Gérard used to spend the time building model ships using the tools available in his lab.
Both Peter Roberts and Jacques Dugué (IFRF Investigator, 1986-1996, Vice-President, 2008-2011, IFRF President, 2011-2013, and a current IFRF Council Member) pay warm tribute to Gérard's communication skills: "Good communication was one of Gérard's strong attributes," comments Peter. "Panel meetings were replaced in the late 1980s by 'Topic Oriented Technical Meetings' (TOTeMs). This version of the historic Totem concept was invented and proposed by Gérard and adopted by the IFRF. The first TOTeM was hosted by Royal Dutch Shell Laboratories in Amsterdam in 1989 on the topic of 'NOx, N2O and Soot/PAH: Measurement techniques, experimental results and mathematical modelling'. The Chair, of course, was Dr G G de Soete, IFP, France." Jacques adds: "Gérard was known for his mastering of many languages (seven – including Flemish, Dutch, French, German, English and Japanese) but also for his command of Latin and ancient Greek, and frequent quotes of philosophers."
Perhaps the last word should go to Fred Lockwood: "Gérard became a great favourite of my wife and I, super intelligent, super entertaining, respectful to all, kind and modest. His death is a very sad loss to the world of combustion – the end of an era, one in which science, eccentricity, humour and scholarly knowledge of many subjects were all mixed together."
RIP Professor Gérard de Soete.