BP and Thyssenkrupp Steel to collaborate in decarbonising steel production through use of hydrogen

Combustion Industry News Editor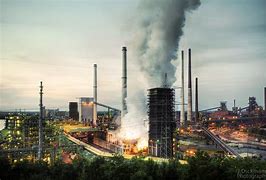 BP and Thyssenkrupp Steel are to work together to produce low-carbon steel, after agreeing a strategic collaboration based on BP supplying low carbon hydrogen and renewable power. The steelmaker is currently responsible for around 2.5% of total German carbon dioxide emissions, mainly through the blast furnaces at its Duisburg site; the aim is to replace the coal-fired blast furnaces with direct reduction plants powered by hydrogen. Both blue and green hydrogen are to be explored as options, though from the language used in the press release, blue is likely to be used in the shorter term, and green in the longer.
BP executive vice-president for regions, cities and solutions said in relation to the news that as "part of our strategy to provide a range of decarbonisation solutions to corporates, BP is already investing in and working to develop a portfolio of industrial-scale hydrogen projects in Germany, the Netherlands, Spain, the UK and Australia. With our aligned ambitions and complementary investments, Thyssenkrupp Steel and bp can together help this hard-to-abate sector decarbonise faster."