UK Prime Minister sets out Ten Point Plan for Green Industrial Revolution

Combustion Industry News Editor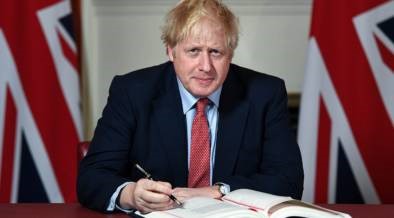 ---
UK Prime Minister Boris Johnson has set out a 'Ten Point Plan' for a 'Green Industrial Revolution', which aims to create 250,000 jobs within the Kingdom. While a little light on detail at present, the points are the following:
Offshore wind: Producing 40 GW by 2030, "enough to power every home". (It is not clear if the 40 GW is by capacity or by actual output; the wording suggests the latter, but there is also mention within the text of "quadrupling", and the current capacity is around 10 GW, with an average lifetime capacity factor of 38.4%.)
Hydrogen: Achieving 5 GW of low-carbon hydrogen production capacity by 2030, and heating the first town using hydrogen by the same date. The wording here implies that the hydrogen will be a mix of 'blue' (i.e. from fossil fuel sources but utilising carbon capture and storage) and 'green' (i.e. from renewable energy sources).
Advancing nuclear power as a clean energy source, across large-scale nuclear and developing the next generation of small and advanced, modular reactors.
Encouraging domestic production and further establishing national infrastructure to better support electric vehicles. (This comes in the same week as the UK announced it would end the sale of new petrol and diesel cars and vans by 2030.)
Making cycling and walking more attractive ways to travel and investing in zero-emissions public transport.
Supporting difficult-to-decarbonise industries to become greener through research projects for zero-emission planes and ships.
Making homes and public buildings greener, warmer and more energy efficient, installing 600,000 heat pumps every year by 2028.
Carbon capture: Becoming a world-leader in technology to capture and store harmful emissions away from the atmosphere, with a target to remove 10 MT (presumably per year) of carbon dioxide by 2030. This is to be backed by £1 billion (€1.12 billion/US$1.33 billion) in government investment.
Protecting and restoring the natural environment, planting 30,000 hectares of trees every year.
Innovation and finance: Developing the cutting-edge technologies needed to reach these new energy ambitions and make the City of London the global centre of green finance.
Writing in the Financial Times, the Prime Minister concluded his description of the plan thus: "Green and growth can go hand-in-hand. So let us meet the most enduring threat to our planet with one of the most innovative and ambitious programmes of job-creation we have known."
The reaction has been welcoming of the aims but somewhat critical of the means. Of the £12 billion (€13.43 billion/US$15.92 billion) pledged in the plan, only £3 billion is new, and this is considered far too little to meet the aim of net-zero greenhouse gas emissions by 2050. (Germany, for instance, has a €40 billion plan.) In addition, the plan does not cover pricing carbon or upgrading the electricity grid. The government has responded to these criticisms by saying that more announcements will come in the future. A further criticism is that the 2030 goals are in some areas too weak. Professor Stuart Haszeldine of the University of Edinburgh told the Financial Times that "There is no way that this will get the UK to net zero in 2050, even if we all ride bicycles. Carbon storage of 10 million tonnes a year by 2030 is a very welcome milestone, but the UK needs to treble that quantity on our journey to 2050." Much, it seems, will ride on the detail of the plan and the promised further announcements.