UK announces first 100% hydrogen-fired homes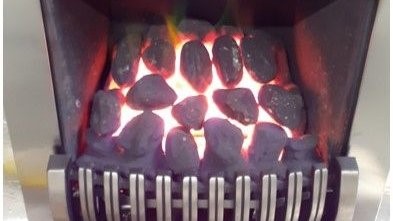 ---
The UK's first homes with household appliances fuelled entirely by hydrogen are set to be built in Low Thornley, Gateshead (in the North East Region of England), providing a look at the potential home of the future where no carbon emissions are released. The two semi-detached homes, funded with the help of the UK government's Hy4Heat innovation programme, will open this month, showing how hydrogen has the potential to be used as a clean replacement to natural gas in the home.

---
The project is aligned with a larger scheme detailed in the UK Prime Minister's Ten Point Plan for a Green Industrial Revolution (see also IFRF blogpost here) which also includes establishing a 'Hydrogen Neighbourhood', and to the development of plans for a potential 'Hydrogen Town' before the end of this decade.
The houses will use 100% hydrogen for domestic heating and cooking in appliances including boilers, hobs, cookers and fires. Unlike natural gas, which is responsible for over 30% of the UK's carbon emissions, hydrogen produces no carbon at the point of use, with the only by-product being water.
Hydrogen could play a vital role in achieving the government's commitment of eliminating the UK's contribution to climate change by 2050, with the industry creating up to 8,000 jobs across Britain's industrial heartlands and beyond by 2030, potentially unlocking up to 100,000 jobs by 2050. The project secured a £250,000 grant from the Hy4Heat programme and is being run by gas distribution companies Northern Gas Networks and Cadent Gas, which have also input £250,000 of funding each.
The houses are planned to be open to members of the public, who will be able to view appliances and see how they compare to existing ones. Local schools, colleges and universities will also be welcomed to learn about the new technology, as well as potential careers in the emerging green economy and in science, technology, engineering and maths ('STEM') subjects.
By way of background, as noted previously by the Hydrogen Council, the UK is one of the leading countries where hydrogen for heating will be deployed first.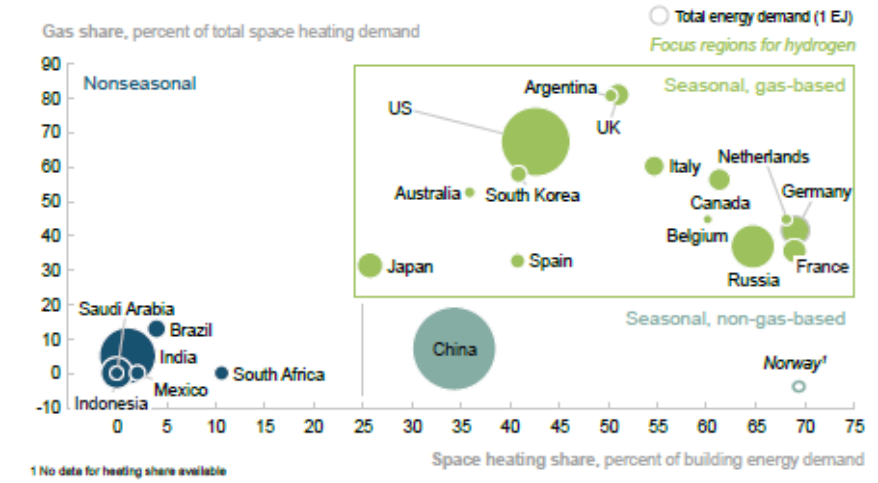 ---
Potential leading countries for hydrogen-based space heating of buildings (Hydrogen Council, 2017)
These countries predominantly use gas for heating buildings and have infrastructure that can be adapted to hydrogen distribution and storage.
Hydrogen has the advantage compared with electricity in that it can be stored for long periods, which is relevant as heating demand is highly seasonal. Electrification of heating using heat pumps would create a strong seasonal variation in the demand for electrical power, which would require extensive additional renewable capacity to cope with this winter demand. With hydrogen, a lower amount of renewable capacity could produce and store hydrogen throughout the year. For example, peak heating demand in the UK is about six times higher than peak electricity demand.
In addition, converting to hydrogen heating may be more convenient than full electrification, as no additional space or rewiring is needed to install new heating equipment and no adjustments to heating patterns need to be made. This could be an advantage for the use of hydrogen for space heating in terms of customer acceptance.