TotalEnergies begins operation of the largest biogas plant in France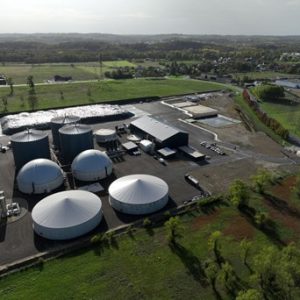 ---
IFRF member TotalEnergies has launched its eighteenth biogas production unit located in Mourenx in the south-west of France. Named BioBéarn, this will be the largest in the country when the maximum capacity of 160 gigawatt hours (GWh) is reached.
The biogas unit is fed with organic waste and has begun feeding biomethane, a renewable, locally produced gas, into the natural gas transmission network operated by Téréga. It will produce 69 GWh in 2023, ramping up progressively to meet the rapidly increasing demand for biogas.
The project, which illustrates TotalEnergies' commitment to promoting the circular economy, and when fully operational will convert 220 ktonnes (kt) of organic waste into 160 GWh of biomethane, together with 200 kt of digestate used as a natural fertiliser. BioBéarn will contribute to the Lacq basin, a natural gas production area, to continue to pursue local and sustainable growth, with the new unit avoiding the emission of 32 ktCO2/y.
The development of BioBéarn began in 2016 and involved all local stakeholders, including over 200 from farming and the food industry and the local community.
"TotalEnergies is proud to commission France's largest biogas unit and would like to thank all project stakeholders for their support. This new plant is part of TotalEnergies' commitment to promote biogas, a clean gas that strengthens the country's energy sovereignty and the development of the circular economy. This project allows TotalEnergies to increase its production capacity to 700 GWh in biogas and is a new step in the objective to reach 20 TWh by 2030," declared Olivier Guerrini, Vice President, Biogas Business Unit, TotalEnergies.