The Russian invasion of Ukraine continues to shape the energy landscape

Combustion Industry News Editor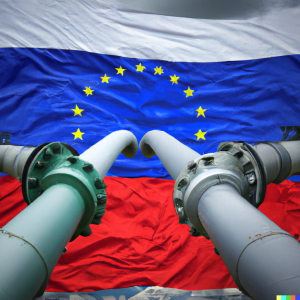 An avalanche of energy-related news around the European energy crisis has unfolded in the last few weeks, as the reverberations of the Russian invasion of Ukraine continue to profoundly impact the short and long-term energy picture. The biggest news has been that Gazprom has indefinitely halted supply of natural gas to Germany via the Nord Stream 1 pipeline, as many have suspected would occur at some point. Flows through the pipeline had been at 40% prior to a scheduled maintenance period in July (at which point there was speculation flows would not resume), then reduced to 20% prior to an unscheduled maintenance break starting on 31 August that was supposed to last three days. Now, according to the Kremlin, flows will not resume until the "collective west" lifts sanctions imposed upon Russia, with the official Russian version being that sanctions are preventing maintenance work on the pipeline. Kremlin spokesman Dmitry Peskov told Russian state television that "if the Europeans absolutely absurdly make a decision to refuse to service their equipment, or rather, equipment that belongs to Gazprom, but which they are contractually required to service, this is not Gazprom's fault…it is the fault of those politicians who made decisions on sanctions." Meanwhile, Deputy Prime Minister Alexander Novak said of Siemens Energy's maintenance contract for the turbines of the Nord Steam 1 pipeline that "all the terms of the repair contract have been completely violated, the conditions for transporting this equipment have been violated". This seems to somewhat contradict a Gazprom statement reported by Reuters that "Siemens is taking part in repair work in accordance with the current contract, is detecting malfunctions … and is ready to fix the oil leaks. Only there is nowhere to do the repair." Siemens Energy itself has said it is available to carry out work but had not been commissioned to do so, but that anyway, an oil leak in the pipeline would not usually affect the operation of a turbine, being able to be sealed on site. The company went on to say that "Irrespective of this, we have already pointed out several times that there are enough additional turbines available in the Portovaya compressor station for Nord Stream 1 to operate." These various statements clearly show that the shutdown is political, not technical.
The announcement by the Russian government came hours after the G7 countries – Canada, France, Germany, Italy, Japan, the United Kingdom and the United States (as well as the EU) – agreed to a plan to attempt to impose a price cap on Russian oil through limiting the coverage of maritime shipping insurance only to those ships that are delivering supplies to countries that have signed up to the price cap. (The level of the cap is yet to be decided, and will probably be a floating one depending on market rates.) EU countries will adopt the cap on oil starting on December 5 and refined products such as diesel on 5 February next year – though the plan still requires unanimous agreement from all 27 EU members, which have not been entirely united on Russian sanctions to date. It is not clear when other G7 members would impose the cap, but coordinated dates would be expected. The group hopes that other countries will also join the plan. China and India, two of the biggest buyers of Russian oil, have so far declined to impose any direct sanctions whatsoever on Russia, so it would be a surprise if they did join the price cap plan. Despite this, if the cap is successfully implemented – and there are many ifs, including around importing countries being able to find alternative means of insurance – then remaining buyers will nevertheless have more market power to attempt to bargain prices down, should there be alternative supplies. The effect on prices of the cap, if implemented, is also uncertain and will depend on the complex range of factors that are often at play on energy markets, especially the level of output from other major producers. Russia has already said it will not sell oil to any countries imposing a price cap.
European Commission executives have also raised the prospect of a price cap on Russian natural gas, with Commission chief Ursula von der Leyen saying that the Union "must cut Russia's revenues which Putin uses to finance this atrocious war". Russia has responded by saying that it will cut all supplies of gas to Europe under such circumstances, with Vladimir Putin saying ""We will not supply anything at all if it contradicts our interests…We will not supply gas, oil, coal, heating oil – we will not supply anything".
Within the military conflict, International Atomic Energy Agency experts visited the Zaporizhzhia nuclear plant, Europe's largest at a combined 5.7 GW from its six units, to assess the risks it faces. IAEA head Rafael Grossi said after the visit that there is a very real risk of nuclear disaster. The organisation gave a series of recommendations to reduce that risk, including that all military activities in the vicinity should be ended by both sides, and that better conditions be given to the operators of the plant. Petro Kotyn, head of Ukraine's nuclear agency Energoatom, subsequently suggested that UN peacekeepers could establish a security zone around the plant.
In Russia, Lukoil chairman Ravil Maganov died after a fall from a hospital window, a cause of death perhaps regarded as a euphemism for an ordered assassination. Near the beginning of the war in Ukraine, Lukoil had been one of the few companies to call for a rapid end to the conflict, but commentators have suggested that if the death was an assassination, it is more likely a result of a jockeying of business interests rather than something ordered by the Kremlin. Mr Maganov was 67 and had been receiving treatment at Moscow's Central Clinical Hospital.
Meanwhile, in response to the indefinite shutdown of Nord Stream 1, gas prices in parts of the EU rose by 20-30%. The supply of gas to Turkey and southern European countries through the TurkStream pipeline has been unaffected, while flow through pipelines traversing Ukraine have been reduced to less than 50% of capacity. With European governments already struggling to deal with high energy prices, and consumers and some utilities feeling the financial strain, a difficult winter looms. However, it is hard to imagine that countries imposing sanctions on Russia will relent, as more grave dangers still could come with backing down. (The Russian government probably also feels the same way about backing down.)
Europe's attempts to deal with the crisis are not insignificant, however. The German Federal Ministry of Economics and Climate Protection has recently arranged for a fifth floating storage regasification unit for the import of LNG, in the absence of port-based facilities. Energy Solutions, E.ON and Engie will jointly develop and implement the unit, which will have an annual importing capacity of around five billion cubic metres (~5% of Germany's annual demand), and commence operating for the beginning of the heating period in 2023. The supplier of the unit will be the US company Excelerate Energy, with Engie chartering it for five years and supplying some of the LNG. German Chancellor Olaf Scholz has also announced a €65 billion package to assist households and companies pay for energy and transport, part of which is to be funded by a windfall tax on electricity producers that are benefiting from high prices while their own production costs have not risen as substantially. Subsidised public transport will be part of the package. Mr Scholz said that the country "will come through this time as a democracy because we are very economically strong and we are a welfare state: the two together are important. With every new windpark, we will become more independent." New UK Prime Minister Liz Truss has as one of her first acts announced that her government will cap energy prices at £2,500/year for households for two years, something that could cost up to £150 billion; energy prices had been due to rise to £3,549 for a typical household from October. Though there is a widespread acknowledgement that some type of action is needed, there has been some criticism of the scheme as giving households little incentive to reduce their power usage. This criticism appears fair, and may lead to higher costs through higher consumption than may otherwise have been. Other energy-related initiatives of the Truss government include issuing new oil and gas licencing for the North Sea, attempting to renegotiate contracts with nuclear and renewables-based power suppliers, and launch a review "to ensure the UK is meeting its Net Zero 2050 target in an economically-efficient way", in the words of the BBC. UK cooperation with the EU on energy appears likely to strengthen, with the EU looking to make supply deals at a supra-national level to achieve lower costs.
Another initiative of the German government has been to further pursue supplies of 'new' energy from countries other than Russia. The governments of Canada and Germany signed at the end of August a hydrogen supply 'joint declaration of intent', with the idea of shipments of 'clean hydrogen' beginning by 2025. The Canada–Germany Hydrogen Alliance also encompasses the two countries harmonising policies to encourage investment in production projects, supporting supply chains and establishing a supply corridor. The initiative is a big step in Canada's ambition to become a leading global supplier of clean hydrogen. According to the Canadian government, Canada "is home to the largest number of hydrogen engineers in the G20", a great basis for becoming a global leader in supply. The declaration of intent follows a March 2021 memorandum of understanding on energy cooperation, with similar cooperation due to come in regards of ammonia supply. Uniper and E.ON signed a memorandum of understanding with Canada's EverWind so that the former can buy 1 million tonnes of green ammonia annually from the latter, also beginning around 2025.
A further measure by the (very busy) German government has been the decision to keep on standby until next April two of three nuclear power plants originally scheduled to be closed this year. In the immediate aftermath of the Russian invasion of Ukraine, the German government had more or less ruled out extending the life of the nuclear plants. It is a sign of the deterioration of the worsening of the energy situation that their complete closure has been postponed.
Construction of a gas interconnector between Poland and Slovakia has also recently been completed, at 1000 mm nominal diameter being able to transport 5.7 billion cubic metres of gas annually from Slovakia to Poland, and 4.7 bcm annually to Slovakia from Poland. It is 164 km in length and runs from Veľké Kapušany in south-east Slovakia near the border with Ukraine, to Strachocina in the south-east of Poland. Natural gas will now be able to be directed from the gas sources located in Southern Europe, North Africa and the Caucasus to Poland, and from LNG terminals on the Baltic Sea, or the Baltic Pipe which delivers Norwegian natural gas, to Slovakia. It should be noted however that work on the pipeline far predates the Russian invasion of Ukraine.
Collectively, these news items point to substantial alternative energy supplies from 2025, and LNG supplies building from mid-2023, expanding substantially up to 2025. This medium-term picture looks somewhat surer and certainly more comfortable than the short-term. It seems highly unlikely that fossil fuel supply from Russia to Europe will ever recover substantially and there is a moderate chance it will fall further, even towards zero. Europe will certainly suffer in the short term, the first year being the hardest. But one can see that in the medium term the pain will ease considerably, though prices will probably not return to pre-pandemic levels given that Russian pipelines were as cheap as energy could be delivered.
For Russia the situation appears somewhat opposite. Revenue from fossil fuel sales has increased since its invasion of Ukraine, as higher prices and sales to other regions have compensated for reduced sales to Europe, which has paid more for less. The medium to longer term is more problematic. Although Russian leader Vladimir Putin has stated that Russia will have no problem selling its fossil fuels around the world, it is difficult to see how gas that had been planned to be routed to Europe, including through the now-abandoned Nord Stream II pipeline, could be routed elsewhere with any alacrity. As new energy supplies come online and perhaps economic contraction reduces demand for fossil fuels, prices will fall in the medium term. Perhaps more importantly, as International Energy Agency chief Fatih Birol has pointed out, a growing share of Russia's oil production had been expected to come from hard-to-recover sources such as in the Arctic, which to exploit the country would require technological services from Western oil companies. Future output is therefore at risk. A similar problem will face Russia as or when it seeks to liquify natural gas for export by ship, with liquefaction technologies that would have been supplied by Western oil companies no longer available. In Dr Birol's words, "Russia's LNG expansion plans are now back on the drawing board."
That further decisions and events will continue to shape the energy landscape in unpredictable ways is perhaps the only thing about which we can be sure.