Report of Decarbonated Combustion in Industrial Process round table at the 39th International Symposium on Combustion
The Combustion Institute (CI) invited the IFRF to organise one of the two Industry round tables at the 39th International Symposium on Combustion. Held in Vancouver, Canada in July, the event gathered representatives from all the main combustion laboratories around the world. I asked the moderator of the round table, IFRF's Vice President Sebastien Caillat, to provide a brief report of the event.
Under the auspices of the CI Industrial Committee, with the active support of Benedict Cuenot of Cerfacs, Technical Program Co-Chair, we were able to gather representatives of industrial sectors, responsible for a large share of industrial emissions of greenhouse gases, to exchange with the participants. The roundtable was hybrid in nature due to ongoing travel restrictions in some locations, but it still attracted some 150-200 participants attending in person, with more joining virtually.
The roundtable was a half-day event held on the Tuesday afternoon of the week-long conference. Following a scene-setting introduction from Sebastien, the workshop then proceeded with a presentation from IFRF general secretary Mohamed Pourkashanian (University of Sheffield) entitled 'The challenges and opportunity of industrial decarbonisation'.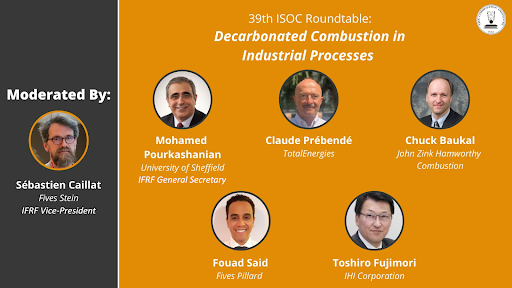 Mohamed identified fuel switching to low carbon fuels, electrification where possible, particularly of low-medium grade process heating duties, carbon capture utilisation and storage, together with more efficient usage and process optimisation as being key technology pathways for industry to move to net zero emissions.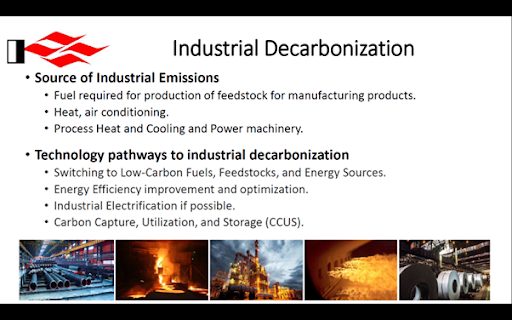 Discussions then took place centred around presentations from equipment providers and end users from the oil & gas, cement, steel, glass and power production industrial sectors:
Is hydrogen a fuel of the future? Charles Baukal, John Zink Hamworthy Combustion

Achieving carbon neutrality in Oil and Gas – Claude Prebendé, TotalEnergies

At the forefront of decarbonisation in the cement industry, Fouad Said, Fives Pillard

Power generation by carbon neutral ammonia, Toshiro Fujimori, IHI

Round table and Q&A session moderated by Sébastien Caillat, Fives Stein / IFRF Vice President
The discussion highlighted that significant efforts are needed to reach net zero emissions. Some industrial processes can evolve to be based on electrification using low-carbon electricity, but still there will be the need to develop and commercialise decarbonated combustion in many of our heavy industrial processes. To achieve this, combustion researchers are needed in the industry !
Overall, the event was very successful showing IFRF member and supporter organisations being at the heart of the industrial combustion challenge. The intention is for IFRF to collaborate further with the Combustion Institute in the industrial combustion space in the future.
The presentations from the industry round-table should be available to download from the conference website in due course. In the mean-time, anyone with a special interest could contact IFRF Administration and we will provide a copy.