Re-opening of Call for Abstracts for re-scheduled 1st FERIA Conference, UK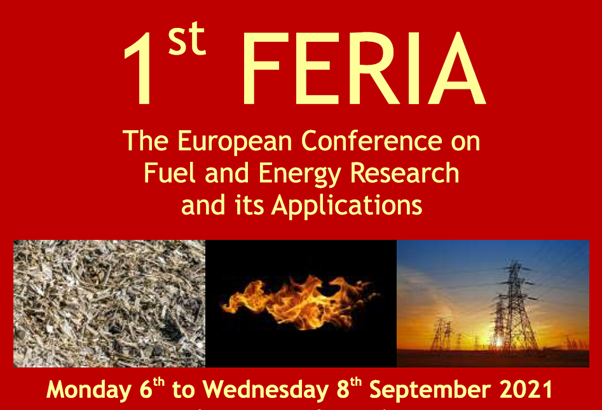 ---
The Fuel and Energy Forum (FERF) has re-opened the Call for Abstracts and re-scheduled its First (biennial) FERIA Conference, 'the European Conference on Fuel and Energy Research and its Applications' due to the COVID-19 pandemic.
As a result, the 1st FERIA will now be held from Monday 6th to Wednesday 8th September 2021 at the University of Nottingham, UK.
The Call for Abstracts is re-opened from 1st January 2021 to 16th April 2021 to:
enable new abstracts to be submitted,
for current authors to confirm or withdraw their abstracts, and
for authors to revise their abstracts.
Further abstracts are most welcome. Such abstracts must conform to the specified format, (see template on the Conference Website), and should be submitted by E-mail to the Conference Manager (at cathy@cathyhillevents.co.uk).
Full details of the conference fees, accommodation at Newark Hall of residence, Jubilee Campus, and accompanying person's fees can be found on the conference registration form on the conference website. Please note that your conference fee includes your attendance at the 2nd Clean Energy Science Lecture, (Day One, 5.30.pm.).
In addition, on the conference registration form, there is also an opportunity to present your abstract as a poster as well at the Conference Poster Session. There will be up to 50 such poster slots available, which will be allocated on a 'first-come-first-served' basis.
Registration will re-open early in the New Year, where you may register to reserve the on-site accommodation, and where the number of rooms available is limited. Please also note that the deadline for Early Bird registrations has now been moved to Friday 25th June 2021 and that those who have had Abstracts accepted must register and pay their Conference Fee by Friday 9th July 2021 otherwise their presentation cannot be confirmed in the Conference Programme.
Important dates in 2021:
Friday 16th April Closing date for new and revised abstract submissions
Friday 30th April Current authors acceptance confirmed/new authors informed of acceptance
Friday 28th May Revised conference programme published
Friday 25th June Last date for 'early bird' registration fees
Friday 9th July Last date for registration by oral and poster presenters
Friday 29th October Closing date for full paper submission to 'FUEL' Special Issue
The conference brochure can be viewed here