TERC facility in Sheffield (IFRF's future home) fitting-out moves at pace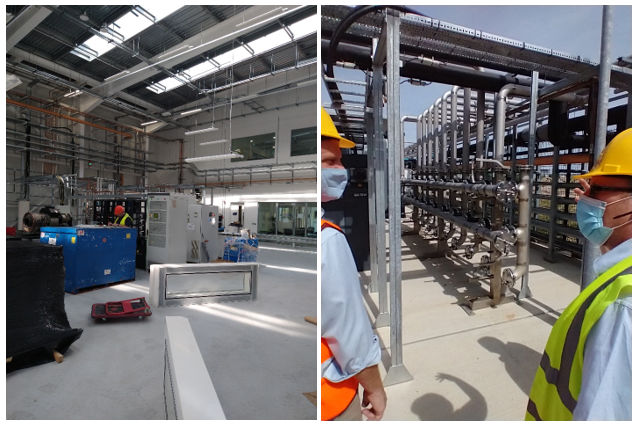 ---
We have brought you regular updates on progress with the development of the University of Sheffield's Translational Energy Research Centre (TERC), an exciting £21 million project to build a brand-new, state-of-the-art centre that will allow flexible and integrated pilot-scale R&D and testing of low-carbon energy technologies…
Well, we are pleased to report that the facility is now nearing completion, with many items of plant currently being installed and commissioned, and others due to arrive imminently!
This news is particularly exciting for IFRF as TERC will be our future home (from later this year), and the fantastic rigs and labs will be available to us (as an embedded partner in TERC) for collaborative R&D activities with our members and partners.
In addition to the permanent facilities at TERC, there is dedicated space for up to five 'visiting test rigs' from equipment manufacturers or developers, each with a 8m x 5m concrete pad in the Outside Compound or Test Hall, with all the facilities and utilities on hand.
For a fuller description of the facilities that will be installed at TERC, see our extensive IFRF blogpost from August 2020.
Last week, IFRF's Directors Philip Sharman and Greg Kelsall visited TERC and were shown around by IFRF General Secretary Mohamed Pourkashanian (who also happens to be TERC's Director) and TERC Development Manager Kris Milkowski.
Exciting times for TERC and IFRF!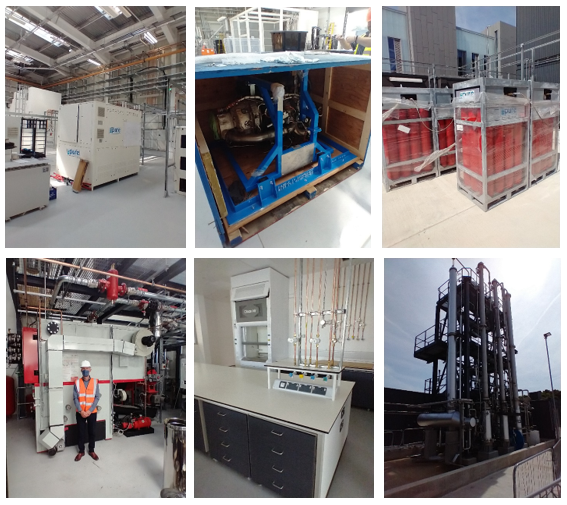 ---
Photos show: the Test Hall with installation of alkaline electrolyser, SAF- and hydrogen-fired aviation ASUs, and electrical energy storage facilities being installed; pipework and manifold installation in the Outside Compound to handle a wide range of flue gases and synthetic gases; the alkaline electrolyser and PEM fuel cell installations; an ASU still to be unpacked; banks of 5bar hydrogen cylinders that will constitute the hydrogen storage facility; a moving-grate biomass boiler in a dedicated boiler house in the Outside Compound; part of the 'wet' laboratory within the TERC building; and the 1tpd CO2 capture rig installed in the Outside Compound, soon to be joined by a rotating packed bed capture rig on an adjacent pad.