Memories of former IFRF Investigator John Smart (1958-2021)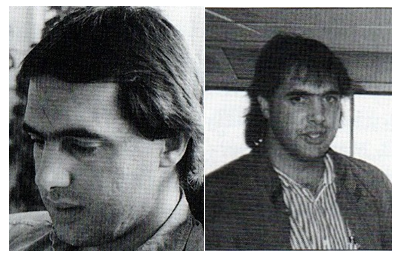 ---
In the Monday Night Mail edition of 16th August, we sadly announced to readers the news of the untimely death of Dr John P Smart on 9th August, aged 63. We promised a fuller obituary of John this month, including some memories of one or two of John's former colleagues.
I will start where I ended last month, with a quote from Roman Weber's 1998 book 'The Spirit of IJmuiden: Fifty Years of The IFRF, 1948-1998', which records John's contribution as follows: "John's intellectual contribution to the Station's work blossomed in the execution and interpretation of the scaling experiments. John is certainly regarded as one of the best experimenters in the IFRF history." Praise indeed for an exceptional combustion engineer!
Although John was a chemical engineer by original qualification, he was one of those rare people who is equally comfortable with scientific principles as with engineering practices (in time, he became both a Chartered Engineer and a Chartered Scientist, a 'Fellow' of both engineering and scientific 'learned bodies', a mechanical engineers as well as a chemical engineers).
Having graduated from University College London in 1980, he initially joined British Gas as a scientific officer, working in the very practical field of computer-controlled sampling/injection systems for determining ventilation rates in homes. Perhaps such domestic-scale systems weren't quite big enough for John, for a year later he moved north to join Babcock Energy Limited at Renfrew as a senior design engineer, working on MUC bigger systems – utility boilers of up to 660MWe scale! At BEL, John got stuck into some of the key challenges of the day, from the slagging and fouling propensities and reactivities of coals for utility boiler applications, to flow instabilities in the steam cycle of advanced gas-cooled (nuclear) reactors. His sound skills saw him coordinating, planning and executing a one-year burner development programme for a coal-fired utility in South Africa… maybe giving John the taste for working in different countries around the world!
In any case, the Netherlands was his next home of choice, joining the IFRF team in IJmuiden in March 1985 as a 'Resident Investigator' in IFRF's 12th International Team. John's in-depth knowledge of industrial burner design and problem-solving skills saw him quickly become the IFRF's go-to 'furnace trials man' on a range of campaigns including the development of low-NOx burner concepts for utility boiler applications to high-efficiency burners for asphalt drying or glass kilns, plus a lot of consultancy assignments for IFRF members as far afield as India, Korea and the USA. After about a year, he was appointed as 'special projects manager', reflecting the high regard in which he was held and his versatility across a wide range of combustion-related challenges (further requirements to reduce NOx emissions, the need to be able to 'up-scale' combustion systems, determining the effect of particle size on ignition behaviour and burner performance in coal-fired furnaces, the fate of fuel-bound nitrogen in coal combustion, the behaviour of biomass-derived fuels, etc). In 1990, John was further promoted to become applications research manager at IFRF, leading to him being involved in a whole host of cutting-edge areas of combustion research – cyclone converter furnaces for DRI in the steel industry, low-NOx burners for the cement industry, combusting coal in turbine exhaust gases, invention of an internally-staged, multi-fuel-fired, low-NOx coal burner, design of fuel injectors for a black-liquor-fired gasifier, determination of the combustion behaviour of waste paper, wood, straw and sewage sludge… to name just a few. In amongst all of this activity, John was awarded his PhD (mechanical engineering) by Imperial College London in July 1992 – supervised by the inimitable Professor Fred Lockwood – on the effects of burner scale and coal quality on low-NOx burner performance.
After a highly productive eight years with IFRF, John left in July 1993 to join National Power plc in the UK as a senior research officer. As you can imagine, his skills and knowledge in NOx reduction, flame diagnostics, etc., as well as his ability to bring together and focus collaborative industrial effort to solve real-world problems, put him at the nexus of some fascinating projects.
Perhaps it was that being limited to power generation activities gave him 'itchy feet', but John moved again in 1995, this time becoming principal combustion and process engineer at Fuel and Combustion Technology International (FCT). Here John worked across a wide range of industrial sectors and combustion technologies – cement, lime, alumina, iron ore reduction, waste incineration, utility boilers and gas turbines, his work taking him to the USA, Australia, South Africa, Chile, Canada and Lithuania (oh, and Wales!).
In 1999, John established his own consultancy – Smart Energy and Combustion Solutions – operating within the power and process engineering environment, undertaking assignments for clients around the world and covering a wide range of solid, liquid and gaseous fuels in an even wider range of industrial applications (as you might have come to expect by now!). During the years that John operated this consultancy, he also managed to fit in five years (2002-2007) as a group leader at the Technical University of Clausthal, Germany, working for his old IFRF friend and colleague Roman Weber (and proving that he was equally capable and comfortable in the world of academia as he was at the 'sharp end' of a combustion process in an industrial plant or a power station), and five years (2007-2012) as lead combustion engineer at RWE npower in the UK, where he was responsible for the planning, executing and reporting of all oxy-fuel and combustion-related projects for the company on its Combustion Test Facility. Versatile, as ever!
I never met John (but really wish I had). To get a true measure of him and his contribution to the combustion field, two of his former colleagues have kindly contributed their recollections of him…
Dr Peter Roberts, former Executive Director of IFRF (and a colleague of John's during his time at IJmuiden from 1985 to 1993), writes:
"In the late-1970s and early-1980s, IFRF recognised the need to improve knowledge of scaling measurement results from single research coal flames to designing multiple boiler flame arrays with individual flames of around an order of magnitude greater. To pursue this, we entered into collaborations with several boiler manufacturers including British Babcock Energy Limited. One of their research staff to appear in IJmuiden was John Smart, a chemical engineering graduate who had been working with them for five years. In this period, he had been responsible for analysing fuels and combustion behaviour for the company's new build power stations and was part of a team that performed a burner development programme on a pulverised coal-fired boiler in South Africa. With such a full-scale background experience, John quickly understood how the IFRF needed to develop its work at the semi-industrial scale and joined the International Team at IJmuiden, giving us an impressive seven years of very hands-on research, much of which also formed the basis of his PhD thesis.
"To carry out this work was no one-man job. Like most of the experimental work carried out at IJmuiden, it required a series of trials operating around the clock, typically for up to four weeks at a time, to complete planned measurement programmes. This was no mean feat and required considerable amounts of coordinated teamwork and perseverance. Here John was in his element and gained the respect of his international colleagues and the in-house technical team, a respect which he was giving to them in the first place. This is borne out by the recent reactions of his former colleagues to his passing.
"But not all of his life was hard work. Socially John could excel! After extended periods of intensive work there was time for play and indeed there were many situations where he could readily mix the two. I have memories of him, for example, at international meetings, sitting long into the evenings with the late Gerard de Soete arguing about the formation and measurement of nitrous oxide in coal flames, between lines of empty glasses.
"Culturally, his London background shone through in his tastes in music which reflected the Punk Rock era and in his later years he was always ready to discuss the career of David Bowie. At the time he frowned upon my tastes in music and introduced me to the London Irish music of the Pogues which has long endured as a reminder of him in our home.
"He was always an entertaining travel partner and ever proud of his educational background. In London for example he delighted to show me around his alma mater UCL, ending up with introducing me to (the remains of) Jeremy Bentham sitting in his "cage", the spiritual father of UCL students since the mid-19th century! I'm convinced he tipped a wink at John…
"Towards the end of his IJmuiden career, he prepared his PhD thesis – his thesis still bends my bookshelf. He prefaces the work with a quotation from Lord Kelvin: "When you can measure what you are speaking about and express it in numbers, you know something about it". As an experimentalist, it reflected his views on the development of mathematical modelling, namely the absolute need to provide data for development and verification. Also in his thesis, there is a dedication: "To my Late Grandfather Harry Appleby", who was a steam locomotive driver (coal fired by hand of course!) and was, as they say in the music industry, one of John's great "influences". A treasured book in John's library was a training manual for engine drivers bequeathed to him by his grandfather.
"It has been said that the happiest period in John's career was his IJmuiden phase. When I met him occasionally after his departure from IJmuiden and later through occasional lengthy telephone calls, his preferred topics of conversation were essentially recollections of his time at the IFRF interspersed with the music of David Bowie and always, the development of his two daughters, Amy and Rosie.
"For myself, news of his passing was terrible and a sad ending to a life which had many great periods during which he performed a great body of work, earning him international peer appreciation, and in the process, collected a great gang of friends. Not so many people achieve that! He is greatly missed."
Dr Barrie Jenkins, currently Director of Engineering at Origen Power Ltd, who knew John from the early 1990s, writes:
"I first met John during the Cemflam 1 trials in 1991 as FCT was one of the consortium partners, and we struck up an immediate rapport. When he left IFRF in 1993 we remained in close contact, and FCT worked with him on modelling the feasibility of implementing overfire NOx reduction on the Drax Boilers. He joined us at FCT in 1995 and became an integral part of the development of the company as we expanded our operations in North America and Australia until the company was bought out at the end of 1999.
"The real life implementation of combustion engineering knowledge is always pragmatic, since no matter how much we advance our science, we are always faced with a challenge that we don't fully understand but must surmount. John was one of those few people I have meet in my professional life that was technically outstanding, knew and recognised the limits of our combustion knowledge base, and was comfortable in using his experience to develop practical solutions that worked.
"On a personal level, John was one of the most amenable and amusing people that I have met professionally, and I feel truly honoured to have counted him as a real friend. I am sure that others have already mentioned that his exploits were legendary. During his time at FCT he ran into many 'scrapes' from locking himself out of hotel rooms 'deshabille', to a particular penchant for getting on the wrong side of airport immigration offices in many parts of the world. He always told me that he would write a book of these experiences called 'The Smart Way to Travel', but we will unfortunately not now be able to read this. I remained in contact with John after 2000 and we regularly spent hours on the phone talking over 'old times', and spoke with him a few months ago as we were coming out of COVID-19 restrictions about his inability to be able to see his daughters in person for nearly 18 months, and how much he was looking to rectifying that. I hope that he did."
And so we honour the life and contribution of Dr John Smart – smart by name and certainly smart by nature. He is greatly missed in the combustion world.
The IFRF team, our national committees and our members the world over would like to extend our sincere condolences to John's family and friends. Rest in peace.