IFRF's Annual Report 2019 published

IFRF Administration & Communication Coordinator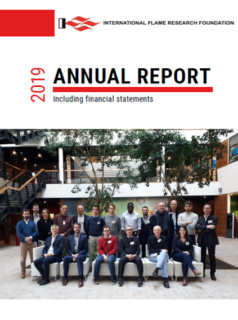 ---
IFRF's Annual Report 2019 is now available to view. The latest Annual Report includes information from Sauro Pasini, IFRF President and Philip Sharman, IFRF Director, plus a series of infographics depicting IFRF's activities throughout 2019 and finally the organisation's financial statements.
In his last year of Presidency, Sauro Pasini talks about how the Covid-19 lockdown period has been a time to reflect on the past, to remember friends and colleagues from his career and to reminisce.
"IFRF has been present in my life since that distant time in 1985," says Sauro, "not only as an organisation, but above all as people, friends, specialists who have always helped me solve my problems, whatever they were, because everyone was always available – through IFRF – to help out, to help me surf some challenging waves."
In his report, Philip Sharman, IFRF Director, talks about the challenges that 2019 brought and how IFRF managed to negotiate them successfully.
The Annual Report also looks at the facts and figures of 2019 including:
A breakdown of our membership
What our members said in our member survey
A look at what was popular in Monday Night Mail
The IFRF website
IFRF's impact across social media
The range of events and meetings held throughout 2019, such as TOTeMs, meetings and Flame Days
The Industrial Combustion Journal
IFRF research activity areas
Finally, there is a copy of our financial statements.
We'd just like to say a big thank you to everyone who participated in our activities last year and we hope to see you this year too (if possible)!