IFRF Director in Japan (but NOT for the Rugby…!)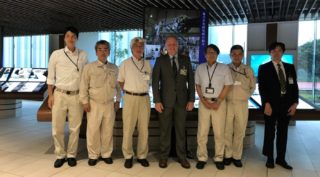 ---
IFRF Director Philip Sharman is just back from a week visiting the 'Land of the Rising Sun', but sadly didn't get to enjoy any of the 2019 Rugby World Cup atmosphere or games (although did share a hotel with a group of excited Irish fans!).
The purpose of the visit, which followed his previous week's attendance at the AFRC's 'Industrial Combustion Symposium 2019' in Waikaloa, Hawai'i (a 'tough ask', but someone had to do it…!), was to promote IFRF in Japan and try and build a stronger membership base there to complement the growth IFRF has had recently in China.
The result was an intensive week in Japan from 15-21st September, visiting and meeting with nine different organisations over the four days. These comprised of the one existing IFRF Organisational Member (the Japanese Burner Research Association (JBRA)), IFRF's partner organisation (IERE), three major industrial corporations (Chiyoda Corporation, JGC Corporation and IHI Corporation), a furnace manufacturer (Nippon Furnace Co. Ltd (NFK)), a research institute for electric utilities (Central Research Institute of Electric Power Industry (CRIEPI)), an environmental research institute (Research Institute of Innovative Technology for the Earth (RITE)) and a relevant government official (Ministry of Economy, Trade and Industry (METI)) in the cities of Tokyo, Yokohama, Yokosuka and Kyoto.
A 'wrap-up discussion' in Tokyo with long-standing IFRF supporter Mr Susuma Mochida completed the week, exploring how best to proceed in possibly realigning the still-existing Japanese Flame Research Committee (JFRC) as a National Committee of IFRF, maintaining JBRA's engagement, and bringing in new members via a rejuvenated JFRC.
Key outcomes included:
An appreciation of the structure and landscape of Japanese organisations with an interest in combustion research, including the current status and membership of JFRC (seven members), the arrangement currently in place with JBRA (~50 members) and prospects for enhancing this, and other key industrial, institutional and academic organisations worth contacting regarding IFRF membership.
Excellent, high-level connections made with appropriate combustion-related personnel in potential new IFRF member organisations Chiyoda Corporation, JGC Corporation, IHI Corporation, NFK and CRIEPI.
An outline strategy for re-engaging with JFRC and possibly re-establishing it as a National Committee of IFRF, for aligning JBRA with JFRC (i.e. as a member of JFRC), and for enlarging the membership of JFRC to include some of the organisations visited or others identified.
A discussion with IFRF's partner organisation, IERE (memorandum of association signed in July 2018) about furthering the association beyond mutual promotion of each other's events towards co-participation and co-organising of events/activities.
General promotion of IFRF to other relevant organisations with overlapping interests such as environmental issues, CCUS, etc., i.e. RITE and METI.
A list of other organisations to visit in Japan, along with various government organisations/agents, is growing rapidly.
Monday 16th September
Philip joined Professor Mohamed Pourkashanian (IFRF General Secretary and Director of PACT) at a meeting of the International Test Centre Network (ITCN), a network of key and complementary test facilities around the world for RD&D into carbon dioxide capture. PACT (IFRF's first 'preferred research partner') is a member of ITCN (and current co-chair). The meeting was attended by a number of organisations of interest to IFRF in Japan (RITE and METI), together with others from around the world (including Southern Company (USA), SINTEF (Norway), NETL (USA), US DOE (USA), CSIRO (Australia) and the International CCS Knowledge Centre (Canada).
In the margins of this meeting (which was informative in its own right), Philip and Mohamed had some useful discussions with all of the above organisations concerning IFRF, its relationship with PACT and its becoming 'embedded' within PACT-2 during 2020.
Wednesday 18th September
Philip visited the Energy Engineering Research Laboratory (EERL) of the Central Research Institute of Electric Power Industry (CRIEPI) at Yokosuka, south of Yokohama. Established as a non-profit foundation in Japan in 1951, CRIEPI conducts R&D of technologies in a variety of scientific and technical fields related to the electric power industry. The extensive EERL facilities (occupying ~260,000m2 and employing ~330) address thermal power, nuclear power, power systems, materials science, chemistry, etc. Other CRIEPI labs address renewables, hydroelectric power, T&D, environment, customer services, etc.
Following discussions about CRIEPI and IFRF (including our plans in Japan), Philip was given a tour of the 300kg/h Coal Combustion Test Facility, the 100kg/h Advanced Combustion Test Facility and the 3t/d Coal Gasification Test Facility. Particular points of interest were research on a diverse range of usable coals (lower grade, low grindability, low volatiles), combustion at low load (i.e. 20%), co-firing with ammonia (e.g. 80% coal, 20% NH3) on the combustion rigs, and development of an oxy-fuel IGCC cycle targeting an efficiency of 42% HHV, with pre-combustion CO2 capture (aiming to move to pilot scale in 2020, 2000t/d demo in 2030 and commercial plant ~2035).
Thursday 19th September
Philip visited the offices of two major Japan-based engineering, procurement and construction (EPC) corporations in Yokohama – Chiyoda Corporation and JGC Corporation. These visits were facilitated by two attendees from these corporations who attended the AFRC Symposium in Hawai'i the week before.
Chiyoda Corporation, founded in the same year as IFRF (1948), is a major international EPC contractor company active in some 60 countries (>8,000 staff, ~4,500 in Japan), with strong references in LNG plant (world #1, accounting for ~40% of projects), refineries, petrochemicals and chemicals, and now diversifying into low-carbon energy, pharma, industrial facilities, innovation, investment and service. Revenue, new orders and backlog (US$Bn) are an impressive 3.1, 7 and 9.2, respectively (~55% from gas/LNG plant). Chiyoda's 'combustion team' is ~20 strong. An interesting activity in Chiyoda's diversified 'innovation' business sector relates to the hydrogen value chain. Hydrogenating toluene to produce methyl cyclohexane, which can be transported and stored at ambient temperature and pressure in existing chemical tankers and reserve tanks (big advantage over H2), Chiyoda has developed a proprietary process for dehydrogenating the MCH back to H2 nearer the to the social/industrial point of use.
JGC Corporation is an independent EPC founded in Japan in 1928. With net sales of US$5.6Bn, experience in 85 countries (Europe, Americas, MEA, Asia) and 10,000 staff (4,700 in Japan), its capabilities cover planning, FEED studies, EPC, operations, maintenance and modernisation in refineries, petrochem/chem, gas/LNG, gas processing, environment and energy efficiency, power generation and industrial sectors. JGC has various JV and consortia arrangements and has undertaken 62 JV projects in LNG, O&G and LPG.
Friday 20th September
The day started with a meeting with Dr Watanabe (Secretary General) and Dr Nagano (Director) of IERE in Tokyo in the morning. The International Electric Research Exchange (IERE) – a partner organisation of IFRF following the signing of an MoU in July 2018 – was established in 1968 as a non-profit worldwide platform for electric power technologies, R&D and solutions. It has 59 members of which 68% are in Asia (mainly Japan and Korea), 14% Europe, 12% Americas, with 74% being utilities and 17% OEMs. IERE runs events – both General Meetings (forums) and Workshops, which have been promoted by IFRF since last summer. In addition, it organises 'Technology Leader Meetings' (TLMs – high-level exchanges on tech management) and 'Technology Foresight' (TF) projects (e.g. TF2020 report, focussing on AI). It has an active website. Philip presented IFRF's strategic plan. Discussions covered the upcoming PIESA-IERE General Meeting in South Africa, and how IFRF and IERE might deepen the relationship from promoting each other's events to participating in events and (ultimately) partnering in delivery of events.
In the afternoon, Philip visited IHI Corporation in the Toyosu district of Tokyo, a meeting facilitated by IERE/CRIEPI. IHI Corporation is a comprehensive heavy-industry manufacturer working to create value for customers in four main areas – resource, energy and environment; social infrastructure and offshore facilities; industrial systems and general-purpose machinery; and aero engines, space and defence. Its history extends back to the establishment of Ishikawajima Shipyard, Japan's first modern shipbuilding facility, in 1853. The company played a key role in Japan's modernisation, including by leveraging its shipbuilding technology in new areas, such as heavy machinery manufacturing, bridge building, plant construction and aero-engine production. It now has an annual revenue approaching 1.5 trillion Yen and over 26,000 employees. R&D activities focus on ICT and robotics, energy management technology, advanced manufacturing, process innovation, rotating machinery technology and chemical process technology. Combustion is regarded as one of IHI's 'fundamental technologies', and a range of burners are manufactured for coal-, oil- and gas-firing, capable of high efficiency, low NOx emissions and high reliability. Recently, burners for low-CV gas, large capacity injection and low-volatile fuels have been developed. IHI's Coal Combustion Test Facility (20t/d) is one of the largest in the world. IHI have been involved in a number of international CCS projects (the Callide oxy-combustion and the PICA post-combustion capture project at Loy Yang, both in Australia), as well as biomass co-firing (up to 50% in calorific value). Looking to the future, IHI has considerable interest in ammonia as a hydrogen carrier and co-fired fuel.
In the evening, Philip had dinner with Mr Susuma Mochida of Nippon Furnace Co., Ltd (NFK), based in Yokohama. As well as his role with NFK, Mr Mochida is the named main contact point for the Japanese Burner Research Association (JBRA), IFRF's current sole Organisational Member in Japan. NFK is also one of the seven remaining members of the Japanese Flame Research Committee (the Japanese 'National Committee' of IFRF from 1977 to 2009, but which left IFRF at that stage). Philip updated Mr Mochida about the various meetings and visits had/made, and Mr Mochida was very pleased with the extent of these and the reception received by Philip and the level of interest in the current IFRF and its activities and plans.
As regards taking matters forward with IFRF membership in Japan and/or linkages with JFRC, Mr Mochida agreed to follow-up with the organisations met during the week and the membership of JFRC and JBRA, with a view to exploring an optimum solution.
Organisation of the programme of visits and meetings was assisted by Mr Watanabe of IERE, Dr Ikeda of CRIEPI (who had been seconded to IERE in 2018) and Dr Mochida. This excellent support and hospitality was much appreciated. The support provided by Hiroki Imori and Yoshiki Sasaki in arranging meetings with the combustion teams of Chiyoda Corporation and JGC Corporation respectively was also gratefully received.