Full steam ahead to a hydrogen future!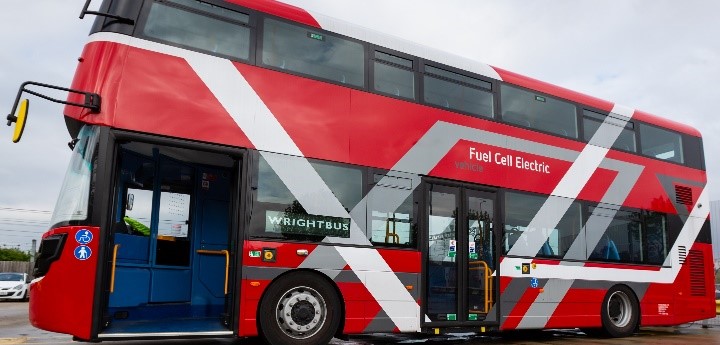 Building on our mini blog series of a few months ago, momentum seems to be building for transport projects involving hydrogen-fuelled fuel cells for the primary motive power.
London's iconic red double-decker buses are going green! In May, Transport for London (TfL) announced that it will be introducing the world's first hydrogen double-decker buses on three bus routes in London next year as part of its drive to make London's transport zero-emission. It has ordered 20 of these buses – which produce no pollution from their exhausts – following the introduction of the world's first 'Ultra Low Emission Zone' in April. The vehicles will be introduced on routes 245, 7 and N7, with passengers traveling to Wembley Stadium, or from west London to the West End, able to hop on the new hydrogen buses for a smoother and quieter journey.
TfL is investing £12 million in the new buses and the fuelling infrastructure. Wrightbus in Northern Ireland will manufacture them, creating new jobs in the region. More than £5 million of funding is being provided by European bodies and £1 million from the UK's Office of Low Emission Vehicles. To encourage up-take in other cities in the UK and Europe, TfL is leading procurement within the 'Joint Initiative for hydrogen Vehicles across Europe' (JIVE) project. JIVE aims to bring down the cost of the vehicles by buying in bulk with other authorities – helping put the price per bus on a par with the other cleanest fuels.
Sadiq Khan, Mayor of London, said: "We all have a role to play in cleaning up London's toxic air and I've always said that TfL should lead from the front. Following the launch of the world-first Ultra Low Emission Zone I'm delighted that TfL has signed a contract to bring 20 state-of-the-art, zero-emission hydrogen buses to London's streets. We are investing a record £85m in cleaning up our bus fleet, and I am proud that London now has the largest zero-emission bus fleet in Europe."
As part of the Mayor's Transport Strategy, TfL is committed to using only the cleanest buses in its fleet. Ten Low Emission Bus Zones have been introduced, reducing harmful NOx emissions by 90% on some of the capital's busiest roads. All of the buses in the Ultra Low Emission Zone and 75% of the entire bus fleet already meets these standards, with all buses set to be upgraded by October 2020, making the whole city a Low Emission Bus Zone.
Greening transport in the capital will require using a range of clean power sources. Hydrogen buses can store more energy on board than equivalent buses, meaning they can be deployed on longer routes. They only need to be refuelled once a day for five minutes, making them much quicker to power-up when compared with conventional battery-electric buses.
The double-decker hydrogen buses will expand TfL's growing number of zero-emission buses. There are currently a total of 165 zero emission buses, with a further 68 electric double-deckers on the roads by this summer.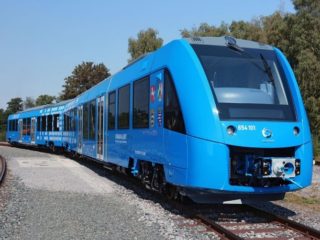 ---
London's buses aren't the only public transport that is benefitting from a move to hydrogen… In Germany, the Rhein-Main transport authority RMV announced last month that its Fahma rolling stock subsidiary has ordered "the world's largest fleet of fuel cell trains", the contract being awarded to French-based global company Alstom to supply and support a fleet of 27 fuel cell multiple-units.
"RMV will have the world's largest fleet of fuel cell trains in passenger service", said RMV Managing Director Professor Knut Ringat. "After electrically powered trains, electric buses and hydrogen buses, we are now offering our passengers a further opportunity to travel without emissions. This milestone makes me proud and is a giant step towards mobility without pollutants."
The order is worth around €500 million, including 25 years of maintenance and the supply of hydrogen which Alstom will undertake in cooperation with Infraserv GmbH & Co Höchst KG. The refuelling point will be located at the Höchst industrial park.
Alstom's 'Coradia iLint' 160-seat units are scheduled to be delivered by December 2022, replacing diesel-powered multiple-units (DMUs) on the Frankfurt-Höchst – Bad Soden, Frankfurt – Königstein, Frankfurt – Bad Homburg – Brandoberndorf and Friedrichsdorf – Friedberg routes.
The German federal government is covering 40% of the additional cost of the hydrogen units compared to DMUs, and is providing support for the hydrogen filling station. "The purchase of 27 vehicles is a lighthouse project for fuel cell mobility", said Enak Ferlemann, Parliamentary State Secretary of Transport & Digital Infrastructure. "We hope that many other projects in Germany will follow this example."
As already reported in an IFRF Blog last year, two Alstom Coradia iLint 'HMUs' have been in regular service on the Elbe-Weser network in Niedersachsen since September 2018, and a fleet of 14 is expected to be in service between Cuxhaven, Bremerhaven, Bremervörde and Buxtehude from 2021.
And if you thought it was just land-based transportation that was seeing a hydrogen transformation, how about this news of a fuel cell driven river boat for pushing barges on the Rhône River in France?
Last month also saw Swiss-based ABB, one of the world's leading companies in energy management systems, and Canada's pioneering fuel cell developer Ballard Systems announce that they are collaborating on the world's first hydrogen-powered river boat, with the hydrogen for the fuel cells sourced from renewable energy sources as part of a totally zero emission energy chain.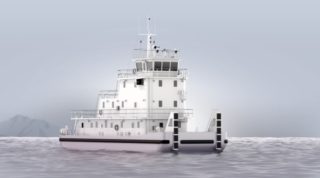 ---
The system is being built for France's Sogestran Group and will be installed in a new river 'push-boat' for use on canals on the Rhône. The boat is scheduled to go into operation in 2021 with plans to run trials first to assess the refuelling procedures needed to meet a daily operating schedule. During research for its electric tow-/push-boats, ABB learned that they are not on 100% continuous duty, so the impact of the on fuel cell usage needs to be analysed.
This project is part of a push (!) to move commercial shipping away from burning fossil fuels, especially low-quality, high-emission diesel and bunker fuels. Maritime transport is estimated to emit around 940 million tonnes of CO2 annually – if it were a country it would be the 6th largest carbon emitter worldwide, on a par with Germany.
As reported in an IFRF Blog in March, UN agency the International Maritime Organization (IMO) has adopted a strategy for reducing the greenhouse gas emissions from ships by at least 50% by 2050 (using a 2008 baseline), with the long-term aim of phasing them out entirely.
The ABB and Ballard Systems partnership arose out of a pilot project conducted for the Royal Caribbean Line examining the use of proton exchange membrane (PEM) fuel cells for cruise ship and ocean liner propulsion in 2017.