'Big Five' tech giants double down on net-zero emissions commitments

---
The last few months have seen all of the 'FAAMG' (an acronym coined by Goldman Sachs) technology giants – which together have a value of over $5 trillion – strengthen their pledges on moving towards net-zero greenhouse gas emissions.
First off the mark was Microsoft Corporation with an ambitious announcement in mid-January. The Seattle-headquartered firm plans to "take aggressive approaches, new[carbon reduction, capture and removal]technology that doesn't exist today, and innovative public policy" to remove all of the carbon dioxide it has ever released into the atmosphere by 2050. It also promised to become 'carbon negative' in its operations by 2030.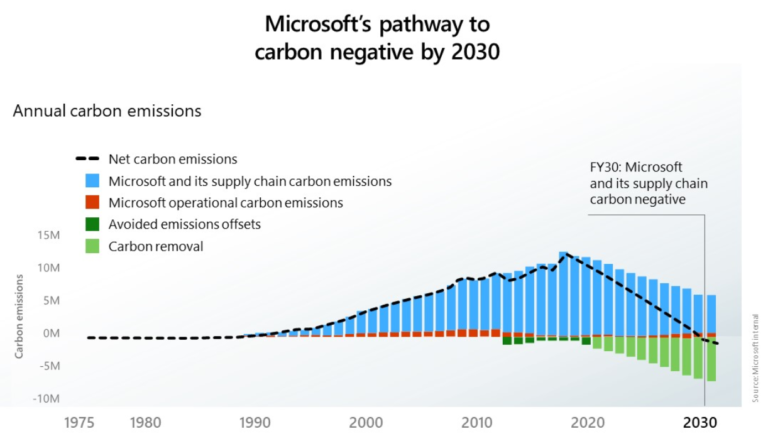 ---
As an interesting subsequent development in the evolution of its thinking on technology approaches, on 14th October Microsoft announced that it had signed an agreement with the Norwegian 'Northern Lights' CCS project (a joint effort of the Norwegian government and energy firms Equinor, Shell and Total that has recently received confirmation of government funding – see IFRF's recent blogposts on the project and its funding announcement) to explore how the tech company can join the project as a "technology partner". Together, the grouping will explore how to integrate Microsoft's digital expertise and work to find ways to invest in the effective development of the project. Microsoft will also look into the of use Northern Lights' CO2 transport and storage facility as part of its own portfolio of carbon capture, transportation and storage projects. "This is a challenge that no one government or corporation can solve alone," said Lucas Joppa, chief environmental officer for Microsoft in the press release on 14th October. "We all need to do more, and those of us who can move faster should. We're excited by the potential of new approaches like the Northern Lights project. Together with our partners we can work to scale the transportation and storage of captured carbon to help achieve the business needs of a net-zero carbon future."
Next up in the sequence of commitments was Amazon.com, Inc, which declared in June that "climate change is accelerating, and so are we – in our mission to help slow the crisis". While confirming that it remains steadfast in its focus on meeting its 2019 'Climate Pledge' to reach net-zero carbon by 2040 (a decade ahead of the Paris Agreement), it also announced that it intends to run on 100% renewable energy by 2025, five years earlier than it had planned previously. To date, Amazon has over 90 renewable energy projects, including over 30 utility-scale wind and solar projects, and 60 solar rooftops on its 'fulfilment' and sort centres around the world. Together, these projects have an installed capacity of some 2.9GW and should deliver more than 7.6TWh of renewable energy annually – enough to power around 680,000 US homes. Amazon also plans to deploy 100,000 Rivian electric vehicles, some of which will start operating in 2021.
Just a month later, it was the turn of Apple Inc. Already carbon-neutral for its corporate emissions worldwide, the company plans to bring its entire carbon footprint (i.e. its business, manufacturing supply chain and product life cycle) to net zero by 2030 – that is to say, every Apple device sold will have net-zero climate impact. "Businesses have a profound opportunity to help build a more sustainable future, one born of our common concern for the planet we share," said Tim Cook, Apple's CEO. "The innovations powering our environmental journey are not only good for the planet – they've helped us make our products more energy efficient and bring new sources of clean energy online around the world. Climate action can be the foundation for a new era of innovative potential, job creation, and durable economic growth. With our commitment to carbon neutrality, we hope to be a ripple in the pond that creates a much larger change."
In its 2020 Environmental Progress Report, Apple details its plans to reduce emissions by 75% by 2030, while developing innovative carbon removal solutions for the remaining 25% of its comprehensive footprint.
In mid-September, Facebook revealed a new goal of achieving net-zero emissions by 2030 from its entire value chain – including "suppliers and other factors such as employee commuting and business travel": This will be achieved through the use of offset credits and carbon capture technologies.
However, Facebook's announcement was met with some scepticism from environmental campaigners, mainly on account of their claims that the social media giant still permits the free spread of climate disinformation across its social networks.
On the same day in September, Alphabet Inc's Google was the latest to strengthen its commitment when it announced that it will run all of its offices and datacentres on carbon-free energy by 2030. At present, the company purchases renewable energy credits equal to its total global energy usage, although some of its data centres still run on fossil fuels. According to Reuters, renewables made up 61% of Google's global hourly electricity usage last year, although the figures varied widely between locations, with solar and onshore wind fulfilling 96% of the needs of a datacentre in Oklahoma, while a Singapore facility relied on gas-firing for a similar proportion of its power.
According to a blogpost by CEO Sundar Pichai, Google is now "the first major company to make a commitment to operate on 24/7 carbon-free energy in all our datacentres and campuses worldwide". However, it will continue to offset carbon emissions unrelated to electricity use, such as those associated with employee travel.
Last year, over 2000 Google employees wrote a letter to the company's chief financial officer demanding that executives commit to zero-carbon power within the next decade. They also demanded that the search engine end its contracts with fossil fuel companies and stop funding politicians and 'think tanks' that oppose global climate action.
So far, 2020 has proved quite a year for tightening-up on net-zero emission pledges in the tech sector… Will this prove to be "ripple in the pond that creates a much larger change" as Apple's Tim Cook hopes? Will these ripples in the IT tech 'pond' lead to ripples and changes in other climate-critical sectors too? Only time will tell, but in the midst of what has been a tough year all round, such announcements do, at least, give us some good news to hold on to!