BEH2DRO launches 100% hydrogen engines for heavy duty applications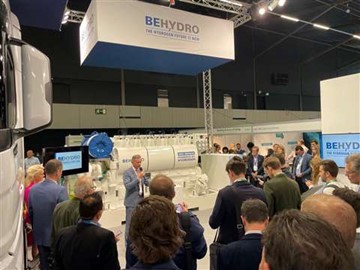 At the recent World Hydrogen Summit in Rotterdam, BEH2YDRO launched its 100% hydrogen engines for heavy-duty applications. BEH2YDRO is a joint venture between Anglo Belgian Corporation (ABC) and CMB.TECH. This follows the earlier successful launch of a dual-fuel hydrogen/diesel engine range in September 2020. This engine can run on diesel as well as on a mixture of 75% hydrogen/ 25% diesel. In hydrogen mode, diesel is used to ignite the hydrogen.
According to Alexander Saverys, CEO of CMB.TECH: "with the launch of this mono-fuel hydrogen engine we are taking an important next step in the development of our BEH2YDRO engines. BEH2YDRO can now supply both dual fuel and mono-fuel hydrogen applications for a wide range of heavy industrial applications such as shipping, gensets, locomotives, etc. Thanks to BEH2YDRO we can already green a large part of the off-grid industry today."
The 100% hydrogen engine range has been developed for heavy duty applications and has a power range from 1 MW to 2.6 MW. These hydrogen engines are available in 6- and 8-cylinder in-line engines and 12- and 16-cylinder V-engines. It runs on hydrogen only and has a spark igniter (or spark plug) to start the combustion of the hydrogen.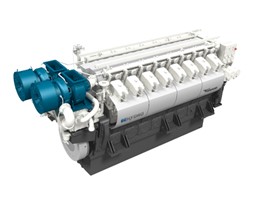 How much does it cost– The cost of the hydrogen injection system is described as manageable within the total engine cost. The biggest cost for a hydrogen engine is in the supply and storage of hydrogen. Due to the lack of production volumes in those components, all valves, pipes and sensors are still quite expensive, but are expected to decrease significantly in the coming years.
The adjustments to the engine for hydrogen operation are rather limited. The largest cost is mainly in the gas tube to bring the hydrogen to the engine in a safe and controlled way. The cost of this is also expected to fall sharply in the coming years, as soon as the consumption volume increases.
In addition, the BEH2YDRO hydrogen engines are described as extremely versatile, tolerating slight impurities in the hydrogen. They can be used to recover waste hydrogen instead of flaring it.
"We can speak of a real milestone here with the BEH2YDRO combustion engines on 100% hydrogen," said Tim Berckmoes, CEO of Anglo Belgian Corp. "Zero emissions together with high efficiency and simplicity of concept for numerous applications."