Bakken Energy and Mitsubishi Power sign blue hydrogen deal in USA, including potential acquisition of the Great Plains Synfuels Plant

---
Bakken Energy and Mitsubishi Power have signed a strategic partnership agreement to create a hydrogen hub in North Dakota, USA. The hub will comprise facilities that produce, store, transport and use hydrogen. The aim is to connect the facility with other clean hydrogen hubs being developed throughout North America.
Developing infrastructure for hydrogen enables decarbonisation of sectors such as energy production, agriculture, transportation and manufacturing that are targeting net-zero carbon emissions, the companies said.
'Blue hydrogen' is derived from fossil fuels, including natural gas and coal, with the carbon dioxide emissions captured and stored. The proposed hydrogen hub will focus on blue hydrogen production from natural gas. It will, in part, utlise natural gas from the Bakken Shale deposits which stretch below North Dakota and neighbouring states, containing potentially 2 trillion cubic feet (around 50 billion cubic metres) of natural gas reserves. In the case of blue hydrogen, the gas is typically created from steam methane reforming or auto thermal reforming of the natural gas.
In a related move, Mitsubishi Power has signed an agreement to develop hydrogen storage solutions with Texas Brine across the eastern United States, and, as highlighted in a recent IFRF blog, the company is also developing gas turbine combustion technology to be able to burn hydrogen fuel blends from 30% up to to 100% hydrogen.
Possible acquisition of the Great Plains Synfuels Plant
Bakken Energy, supported by Mitsubishi Power, is reported to be working with Basin Electric Power Cooperative and its subsidiary Dakota Gasification Company on the potential acquisition and redevelopment of the Great Plains Synfuels Plant, located near Beulah, North Dakota. The redevelopment would make the facility the largest producer of clean hydrogen in North America, the companies said. The project is at the 'due diligence' phase and specific details are confidential until that phase is complete.
By way of background, the Great Plains Synfuel Plant is the largest coal gasification based hydrogen production plant globally, producing 1300 tonnes per day of hydrogen. This facility has been producing hydrogen since 1988 and capturing carbon dioxide for storage since 2000, with around 3MtCO2 per year transported to Saskatchewan, Canada for use in enhanced oil recovery operations. The plant produces primarily synthetic natural gas and anhydrous ammonia using 14 Lurgi Mark IV gasifiers, as shown below, with a full description of the plant on the NETL website.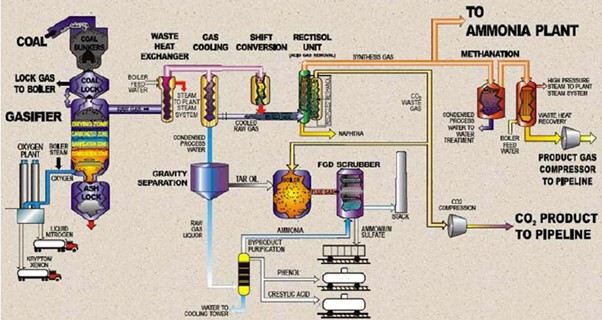 Simplified process flowsheet of the Great Plains Synfuels Plant
---
According to Bakken Energy's CEO Mike Hopkins "we believe that clean hydrogen derived from natural gas, with the carbon captured and with its cost advantages, is the best way to accelerate the adoption of hydrogen. Bakken Energy intends to be the largest and lowest-cost producer of clean hydrogen in the United States."