AFRC 2019 Industrial Combustion Symposium programme released

IFRF Administration & Communication Coordinator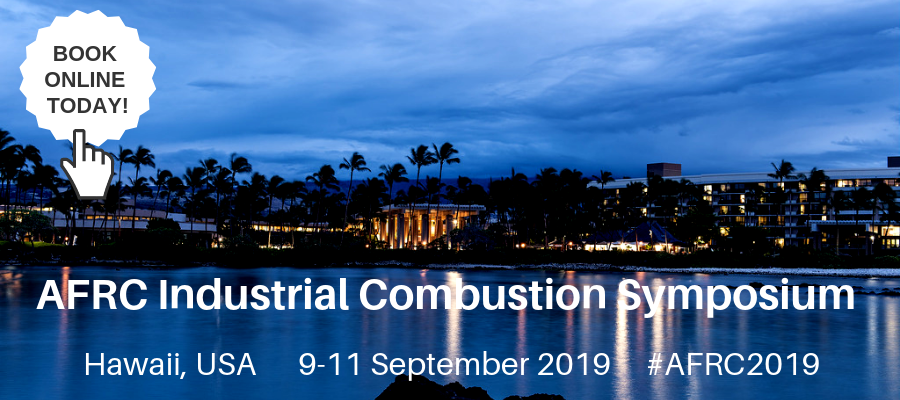 AFRC – the American Flame Research Committee of IFRF – is hosting its annual Industrial Combustion Symposium in Hawaii, USA on 8th-11th September 2019. The programme for this exciting event has now been launched and you can view it here.
The Symposium, which will be held at the Hilton Waikoloa Village, begins with a Welcome Reception and Registration on the evening of Sunday 8th September.
The main event begins the next day (9th September), with registration at 7am followed by opening remarks by AFRC Chair Philip Smith and Jamal Jamaluddin at 8am.
The first session (1A), chaired by Kurt Kraus, includes presentations on:
Regulatory and Analyzer Update for USEPA's New Formaldehyde Emission Limit for Combustion Turbines
Advanced Emissions Monitoring from Elevated Gas Flares for Early Warning System and Optimization of Plant Operations
Closed Loop Flare Control Using a Video Imaging Spectral Radiometer
After a short break, the second session (1B), chaired by Brian Duck, covers:
Hardening of Arches for Commercial Simulation of Industrial Flares
Lessons Learned from Transient Analysis of Combustion Equipment in the Process Industries
Data Informed Multipoint Ground Flare Evaluation Using Measurement and Theory
Following the lunch interval, Will Frause chairs session 1C, which looks at:
Multistage Flameless Oxidation
Numerical and Experimental Investigations on an Innovative, Regeneratively Heated Radiant Tube with Compact Dimensions
Recommendations for Pilot Design in Incinerator Applications
The final session of the day (1D) is chaired by Joseph Smith and includes:
EC Sensor: Flame Safety and Fuel Savings Integrated into One System
Duplex: Lessons Learned and Roadblocks Overcome to its Success
Closing the first day will be the business meeting of the AFRC members where a range of topics relating to the future activities of AFRC and IFRF will be discussed.
The second full day of activities begins with registration at 7:30am, followed by the first session of the day (2A) chaired by Chuck Baukal, looking at:
Experimental Investigations for the Development of Burners for Low Scale Reheating of Semi-finished Metal Products
Computational Study of the Anode Baking Industrial Furnace
Numerical Investigations of Tailored Heating of a Round Bar for Partial Hot Forming using Direct Flame Impingement (DFI)
Session 2B, chaired by Charles Finney, rounds up the morning's activities with talks on:
Neutron Imaging of Heterogeneous Solid Fuels under Heating
PERF Project 2014-10 Results and Analysis of the VISR Method for Remote Flare Monitoring
Predicting Ash Deposition During Pulverized Coal Combustion
The after-lunch session (2C) will be chaired by Ian Fischer and includes:
An Air-Assisted Flare for Biomass Gasifiers
Callidus nViro Forth Generation (4G) Steam Flare Technologies
Remote Measurement of Flare Gas Flow Rate using a Video Imaging Spectral Radiometer
Walter Gull chairs the closing session of day two (2D) with presentations on:
Developments in Low NOx Incineration Technologies
Simplified Analysis and Practical Mitigation Techniques for Industrial Boiler Thermoacoustic Vibration
In the evening on Tuesday 10th September holds the annual AFRC Symposium Banquet which rounds off a fabulous two days.
The next morning (Wednesday 11th September) session (3A) – chaired by Chuck Benson – starts at 9am with a 'Flare Regulatory Update' followed by a talk on 'A Smart Combustion Approach to Quantify and Evaluate Leakage Air Effects in Fired Heaters'.
The event closes with an open discussion on the future of AFRC by AFRC Chair Philip Smith and IFRF Director Philip Sharman.
Tickets for this exciting event are still available here and are only $500 (USD). Full details including the programme, hotel information and registration can be found here on the AFRC website.