Absolut Vodka and Ardagh Group co-invest in hydrogen-fired glass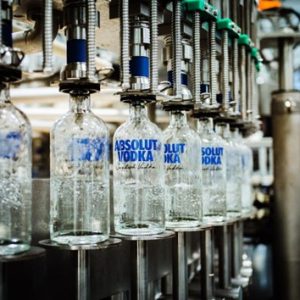 Absolut Vodka is to become the first global spirits brand to move to a partly hydrogen energy-fired glass furnace for large-scale production in a significant step to reduce the CO2 emissions from making its bottles. The hydrogen initiative is an important milestone for Absolut Vodka in becoming completely CO2 neutral by 2030. A prerequisite for being able to meet this goal is in reducing the carbon footprint of its glass packaging.
Absolut has signed an agreement with Ardagh Glass Packaging in Limmared, a subsidiary of Ardagh Group, to use this partly hydrogen-fired furnace (20% green gas) commencing in the second half of 2023. This means a full-scale change of the continuous production of Absolut bottles for all markets globally. The hydrogen will be produced onsite at Ardagh by using renewably sourced electricity and would reduce Absolut Vodka's carbon footprint from glass by 20%.
Stéphanie Durroux, Chief Executive Officer of The Absolut Company, says: "The glass manufacturing industry is on a transformative journey, and the world can't wait for the perfect solution. A bold and innovative approach is needed to accelerate radical change that will help solve the significant sustainability challenges that all glassmakers and buyers of glass face."
Bo Nilsson, Managing Director of Ardagh Glass Limmared AB, added: "Our industry needs to be less reliant on fossil fuels and transition at pace to using more green energy. By investing in this new technology, we are embarking on a journey to reduce the carbon footprint of our glass packaging. There are challenges with such innovation, but we are committed to being an early mover in future-proofing our glass manufacturing operations world-wide."
In addition to the Absolut Vodka and Ardagh Group partnership, the Group is pleased to announce that it is becoming a member of Glass Futures, a not-for-profit research and technology organisation connecting the industry and academia to build a Global Centre of Excellence for glass to create sustainable, low carbon bottles. Glass Futures in turn became an IFRF member and PRP earlier this year.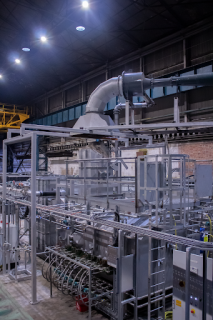 Glass Futures Multi-fuel combustion test rig
Together with glass producer Encirc and Glass Futures, Irish Distillers, owner of Jameson Irish Whiskey and a Pernod Ricard affiliate, was part of a ground-breaking trial in 2020 which leveraged the use of biofuels to produce more than 3 million glass bottles for Jameson from 100% recycled glass, resulting in a reduced carbon footprint of up to 90%.