Sulzer helps turn carbon emissions into biofuels at ArcelorMittal's Gent steelworks
IFRF (Comité Français) member ArcelorMittal – the world's leading integrated steel and mining company – has appointed Sulzer Chemtech (a division of Swiss industrial engineering firm Sulzer and a leader in separation and mixing technology) to provide distillation equipment to its steel production plant in Gent, Belgium. This technology will help to convert waste gases from the steel manufacturing process into approximately 80 million litres of bioethanol annually.
While the steel industry is one of the biggest sources of carbon emissions, ArcelorMittal is actively engaged in the EU-funded 'Steelanol' project to turn its sites into 'smart carbon plants'. To do this, the company has partnered with LanzaTech, a developer of a biotechnology that uses acetogenic bacteria, which is able to ferment carbon monoxide-rich gases to produce ethanol.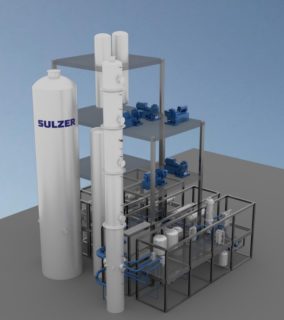 ---
In order to develop a suitable system to extract the biofuel after the bacterial metabolic process, it was essential to select a specialist in separation technology. Sulzer was appointed on the basis of its extensive expertise, in-depth knowledge and manufacturing capabilities for the processing industries.
The overall carbon footprint balance is a crucial aspect for Sulzer and ArcelorMittal. In fact, for a successful breakthrough process development, it is necessary to reduce any energy consumption, rather than increase it. To do that, Sulzer proposed and designed a first-of-its-kind solution that simplifies the process and the equipment necessary, whilst creating closed loops that can re-use key resources and dramatically reduce energy usage.
Jacques Juvet, Head of Process Plant at Separation Technology for Sulzer Chemtech, commented: "Thanks to our capabilities, we are well-placed to support such a far-sighted project. With this contract, we are partnering with ArcelorMittal and LanzaTech to create a novel integrated manufacturing plant that produces steel and ethanol at large scale with the lowest energy consumption and wastage worldwide. In this way, we are developing key strategies to meet the most demanding carbon emission mitigation policies."