Russian invasion of Ukraine continues to shift the energy landscape, one year on

Combustion Industry News Editor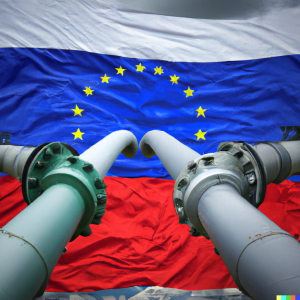 The shifting of the energy landscape as a result of the Russian invasion of Ukraine continues a year after the launch of the war, as a number of stories from the last fortnight have demonstrated.
Russian leader Vladmir Putin on 17 February signed a decree allowing Gazprom Neft to take over Shell's 50% stake in the Salym oil project. Shell directors had previously resigned from the project mid-way through last year, and the company had written off the investment. Meanwhile, Russia has asked the United Nations Security Council to commission an independent inquiry into the blasts affecting the Nord Stream pipelines in September last year. At the time, Russia sought to blame the USA, while western officials pointed their fingers towards Russia in some cases, and in others refrained to point fingers. A vote on an investigation is expected soon, and will require nine of the member countries to vote in favour of it, and none of the United States, Britain, France, China or Russia to veto the motion. A truly independent investigation may indeed be a good thing.
Elsewhere, German utility Uniper, nationalised as a result of the financial fall out of the war, has taken a further €4 billion hit after losing control of its Russian subsidiary, power generator Unipro, despite owning 83.7% of the entity. Uniper had found a Russian buyer for Unipro, but had yet to receive "presidential approval" for the sale, meaning it was highly uncertain that it would go through and that Uniper would receive the money.
In China, the commerce ministry has met with independent oil refiners to ask them details of deals they have for purchasing Russian crude, which Chinese and Indian companies have been doing at "deep discounts". The information gathering appears to be part of the lead up to official visits to Russia from Chinese officials. And Kazakhstan's Kazmunaigaz oil company is to supply 100,000 tonnes of its product to Germany's PCK Schwedt refinery, via Russia's Druzhba pipeline. Financial and legal terms have been agreed. The various oil movements underline that Russia's production and sale of oil remains relatively strong (though they may in time fall), as the different actors reconfigure their oil purchases and supplies.