Putin suggests use of Nord Stream 2 as Russia also looks to supply Europe gas through Turkey, while ExxonMobil to exit Russia after 'expropriation' and 30% of Ukraine's power infrastructure destroyed

Combustion Industry News Editor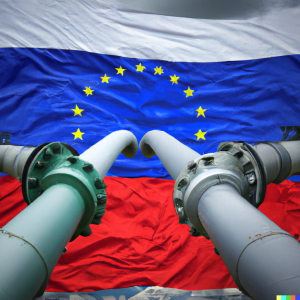 Russian leader Vladimir Putin has said at an energy forum in Moscow that if "we and the Europeans come to a common decision to supply gas along the surviving branches, one branch of Nord Stream 2 appears to have survived. There is still pressure in the pipe." The suggestion that gas flows might commence in Nord Stream 2 is startling, given that Gazprom had stopped supplies of gas through Nord Stream 1 even before there were explosions on both Nord Stream pipes in late September. It might reflect an attempt to create discord between European Union members and/or between the EU and Ukraine, rather than a serious attempt to have EU members brush over the events of the last eight months. That the suggestion was made not long after the Opec+ group decided to reduce oil output by a nominal 2 million barrels per day points towards timing geared towards increasing the potential for discord. (Opec+ members denied any political aspect to their decision, saying it was "purely technical".) A German government representative responded to Mr Putin's suggestion by saying that no gas would be accepted through NS2, though supplies from NS1 would still be accepted. The head of Gazprom has stated that sections of the NS1 pipeline may require replacement to function again, however, suggesting lengthy delays.
At the same forum, Mr Putin also raised the prospect of delivering Russian gas to Europe via Turkey, with transit to Turkey through the Turkstream pipeline that runs through the Black Sea (but not through Ukraine), or perhaps through a new pipeline to be built alongside Turkstream. This was an idea he took to Turkish President Recep Tayyip Erdogan, who responded that authorities from the two countries would work together to determine a location for a gas distribution centre in Turkey. It is unclear, however, how flows would then be delivered to European countries, and also if those countries would sign new deals with Russia, given the 'weaponisation' of energy supplies this year. The Turkstream pipeline has a capacity of 31.5 billion cubic metres per year, a fraction of the ~115 bcm/a of the Nord Stream pipelines combined.
These suggestions came as Russia continued to bomb Ukrainian power infrastructure, with Ukrainian President Volodymyr Zelensky saying that recent attacks had destroyed 30% of his country's power stations. With blackouts now reportedly frequent, authorities are urging people to curb their electricity use.
Meanwhile, ExxonMobil has accused the Russian government of expropriation of its 30% holding in the Sakhalin-1 oil and gas project in Russia's far east. While Exxon decided in March of this year to exit its stake in the project, Mr Putin more recently signed a decree to transfer the assets of the project to a new operating company (to be managed by Rosneft), giving foreign investors ExxonMobil, India's ONGC Videsh and Japan's Sodeco a month to decide whether to apply to retain ownership stakes. ExxonMobil has decided against doing so, issuing a statement that "we have safely exited Russia following the expropriation." ONGC and Sodeco are expected to move to keep their stakes.