Nippon Sanso sets new sustainability plan encompassing green gases and a more circular economy

Combustion Industry News Editor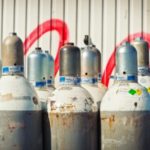 Nippon Sanso Holdings Group has laid out a threefold approach to how it will contribute to a sustainable future. The first means will be through 'greening combustion', in providing green oxygen for oxy-combustion technology, at the same time working to reduce costs for carbon capture technology. Secondly, the company will use the 'most appropriate' technology, available feedstocks, and renewable energy to produce green and low-carbon hydrogen. Thirdly, NSHG will focus on a greater circularity in the recovery of CO2, scrap metal, waste heat, wastewater sludge and other various industrial wastes, while using digitisation to further increase efficiencies. The announcement of its future initiatives comes months after the company was awarded a gold medal for sustainability by rating agency EcoVadis, as Gasworld reports.