Industrial gas giants not to expand business in Russia, Air Products to divest completely

Combustion Industry News Editor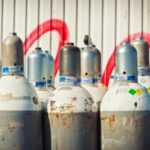 Major industrial gas producers Linde, Air Liquide and Air Products have all released statements on their business dealings with the Russian Federation in the past few weeks.
Germany's Linde said that it has suspended all new business in Russia, but intends to fulfil existing contracts in the country as far as sanctions allow, as Gasworld understands it. This will mean large contracts with Gazprom, which allow it to produce LNG, will go ahead, should sanctions allow, with sanction-affected projects being wound down. Contracts such as those for medical oxygen and other products will continue to be supplied. The company's business in Russia was worth around US$1.1 billion in 2020.
Like Linde, Air Liquide is to suspend business development activities and new investment, but continue to service existing contracts as far as sanctions allow. According to Gasworld, Air Liquide's investment in Russia is only €17 million (US$18.7 million).
Air Products is to divest its business dealings in Russia and not engage in any new business, it has announced. The level of business the company does in Russia is US$25 million/year, meaning the withdrawal is fairly uncomplicated.
The companies included statements of concern for their employees within Russia and the effect their actions will have upon them.