German government strikes LNG deal with Qatar

Combustion Industry News Editor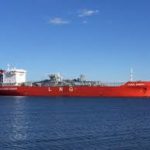 The German government has secured a long-term LNG supply deal with Qatar, it has been reported.
Economy minister Robert Habeck visited Doha along with representatives from major German power companies, and said in comments to the reporters that "we might still need Russian gas this year, but not in the future," as Germany seeks to pivot its energy suppliers relatively quickly following the Russian invasion of Ukraine. No details of volumes or dates are yet available, and anyway will be up to individual companies to agree.
The building of LNG terminals in German ports will be a necessary first step, with the German government fast-tracking the approval for two facilities. These are at Brunsbüttel, a venture between the Netherlands Gasunie, Germany's RWE, and the German state-owned bank KfW, and at Stade, in a venture between Belgium's gas infrastructure operator Fluxys, Swiss financing firm Partners Group, and Germany's Buss Group. Both terminals would be the in mouth of the Elbe River, fairly close to Hamburg.
While there are concerns that building LNG ports will slow Germany's transition away from fossil fuels, others have argued that the terminals will eventually be able to be repurposed for the import of green hydrogen.