CCS for shipping advancing in Europe

Combustion Industry News Editor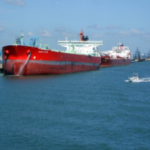 Dutch maritime technology developers Value Maritime and Finland's Wärtsilä have both been making considerable progress in developing carbon capture and storage systems for industrial and commercial shipping, as Energy Voice reports (after an odd beginning).
Wärtsilä has been working in conjunction with Norwegian LPG and petrochemical gas carrier Solvang, and together they will install a scrubber/CCS unit in Solvang's ethylene carrier Clipper Eos late in 2023. A 1.2 MW test facility has already been operating at Wärtsilä's Moss facility in Norway. When installed on the Clipper Eos, CO2 will be separated from flue gas in the smokestack, then stored in deck tanks for later storage or reuse. Up to 60% of the CO2 in the flue gas can be captured, and the resulting product is said to be "very pure". After installation, the operational test phase will run for two years.
Value Maritime, for its part, has already claimed a world-first in operating an onboard modular CCS system, known as Filtree, installed on 12 ships. A further development will come with Visser Shipping's container ship Nordica, aboard which a CO2 storage vessel or 'battery' will be installed. This 'battery' will be able to be offloaded at port so that the contents can be used in industrial processes, and a trial will begin at Rotterdam Short Sea Terminal soon.