Australian state of Queensland releases ambitious long-term energy plan as South Korean firms announce green hydrogen/ammonia plant

Combustion Industry News Editor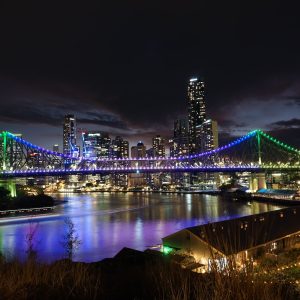 The north-eastern Australian state of Queensland has released a new AUD$62 billion (US$40.2 billion/€41.5 billion) 'Energy and Jobs Plan' which lays out the state's major energy projects to 2035. Long a major producer and user of black coal, the state will now end "regular reliance" on the fuel by 2035, while creating what is claimed to be the largest pumped hydro scheme in the world. There is to be:
Investment to create a "super grid" that will "open up new renewable energy zones across Queensland and support the decarbonisation of metals processing in Central Queensland", with up to 22 GW of new wind and solar power generation capacity being added.
A new hydrogen-ready gas peaking power station at Kogan Creek, currently the site of a coal-fired power station in rural south-east Queensland. The new gas plant will initially run on a natural gas/hydrogen blend, but eventually fully on hydrogen.
For grid stability, including the Kogan Creek peaking plant, there is expected to be 3 GW of total peaking power generation capacity, and 3 GW of storage from grid-scale batteries (including flow battery technology), as well as 6 GW of batteries installed at commercial and residential premises (or through electric vehicles). On top of this, there will be 48 GWh of pumped hydro capacity at Borumba (also in south-east Queensland) – at a 2 GW release rate – to be completed by 2030, and a 120 GWh (at a 5 GW release rate) pumped hydro project 70 km inland of Mackay, on the northern Queensland coast, to be completed by 2032. This latter pumped hydro facility is informally being called "the Battery of the North".
Turbines at retired coal-fired power plants will continue to be used "to provide strength for the energy system to take more renewables", as such sites become "clean energy hubs", including maintenance hubs for nearby wind and solar power installations.
Such infrastructure will support renewable energies that will comprise 70% of electricity generation by 2032 and 80% by 2035, making for a 90% reduction in electricity-sector "emissions" (presumably greenhouse gas emissions) by 2035-6.
Queensland Premier Annastacia Palaszczuk (the equivalent of a US State governor) was careful to emphasise in her announcement that the plan would be phased, with a Queensland Energy System Advisory Board to report every two years on energy security/reliability, starting in 2025. There were also heavy emphases on the provision and distribution of jobs from the plan – i.e. that regional jobs would be prioritised. As is somewhat characteristic of Ms Palaszczuk, there were also a number of references to how Queensland is and will be better positioned in terms of energy compared to other Australian states.
The announcement came a week after three South Korean firms announced they would build a "green energy export hub" in Queensland, with the aim of producing 1 million tonnes of green ammonia per year. The project is to be located at Collinsville, to the north-west of Mackay, with 3 GW of renewable electricity capacity to power an electrolyser, which would produce green hydrogen as a feedstock for the ultimate product. The partners to the Han-Ho Hydrogen Consortium are Korea Zinc, petrochemicals group Hanwha Impact Corp, and SK Gas.