Siemens Energy to start production of hydrogen electrolysers in Berlin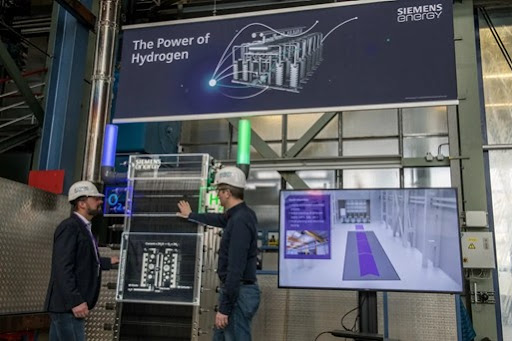 Siemens Energy has announced that it will locate the industrial production of electrolysis modules in Berlin, Germany, with the start of production scheduled for 2023. The site is currently used primarily for the manufacture of gas turbines and can thus provide all the necessary infrastructure. New production lines for the electrolysers are being set up based on 2,000 m2 in an existing production hall at a cost of around €30 million.
Siemens Energy is now pooling its expertise in both the areas of gas turbines and electrolysers in Berlin to ensure a reliable and successful energy transition. This also includes the business field of energy transmission, where the Siemens Energy Switchgear Plant, also located in Berlin, manufactures high voltage products.
Christian Bruch, President and CEO of Siemens Energy, commented: "with the new production facility for hydrogen electrolysers, we are reinforcing our claim to play an active role in shaping the energy transition. To this end, we are pooling our knowledge in the field of various energy technologies in Berlin. For us, hydrogen is an important component of the future energy world. For this to be economically viable, the manufacturing costs for electrolysers must be significantly reduced. With our new production facility, we are helping to make hydrogen competitive sooner."
At the Berlin location, the individual electrolyser cells will be manufactured and combined to form functional modules known as 'stacks'. Depending on the required capacity, these will then be assembled into larger process-based units. In Germany, this last stage will take place at Mülheim, which is closely associated with the new Berlin plant.
The key step forward is that the electrolyser business is moving to mass production; reasonably priced and affordable electrolysers are the prerequisite for being able to cover growing demand and make hydrogen production more cost-effective. For this purpose, Siemens Energy is relying on PEM (Proton Exchange Membrane) electrolysis, in which water is separated into hydrogen and oxygen using a proton-permeable membrane and electricity from renewable sources. The key aspects of this process are its high level of efficiency, high product gas quality and reliable operation with no chemicals or impurities. The latest and most powerful PEM electrolyser product line from Siemens Energy is optimised for applications up to the high hundreds of megawatts, enabling systems of this size to generate several metric tonnes of green hydrogen per hour. The electricity used in electrolyser manufacture is stated as being sourced entirely from renewables.
Siemens sees hydrogen as a key element in the move towards net zero emissions, noting that hydrogen can serve as a storage medium and also as a raw material for further applications, including synthetic fuels. Hydrogen can also be used directly as an energy source to generate electricity and heat, which have previously depended on natural gas. In combination with a massive expansion of renewables, this is a way to ensure the success of the energy transition.
Elsewhere in Siemens Energy, the company has been working at the Zero Emission Hydrogen Turbine Center (ZEHTC) in Finspång, Sweden since 2018. This is a partially EU-funded demonstration plant designed to explore how green hydrogen can be produced and used for power generation and storage for industry and municipalities. The concept uses solar power and excess energy from testing mid-size industrial turbines, with batteries charged and hydrogen produced using electrolysers. Altogether, this creates a closed loop plant of the future, integrating major building blocks of the energy future.
The ZEHTC is described as showing how Siemens Energy is driving innovation to support the development of a sustainable and flexible energy system based around gas turbines and electrolysers.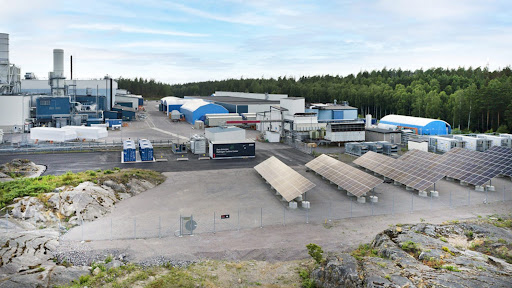 An overview of the ZEHTC demonstrator plant (Image: Siemens Energy)