Interest in hydrogen and 'hydrogen-carrying gases' continues to grow
Over the last year, we have brought you many snippets of news indicating a growing interest in the use of hydrogen and hydrogen-carrying gases (notably ammonia) as a pathway towards a net-zero emissions world. These have involved 'trains, planes and automobiles', plus buses, ferries and even river barge 'push' boats…!
Well, here is our latest round-up of project announcements all pointing in the same direction – to a greater use of these gases as both fuels and energy vectors in a wide range of applications from home-heating to power generation to industrial uses to transport.
New pipeline for hydrogen and CCUS infrastructure in UK
First up, and at a more 'energy system level', on 28th November WSP – one of the world's leading engineering professional services consulting firms – announced that it is leading on the conceptual design of a new hydrogen pipeline in the UK's North West region, supporting the UK's net-zero greenhouse gas emissions target. This pipeline will span North West England and north-east Wales and form a key art of the HyNet project – the most advanced hydrogen and carbon capture, utilisation and storage (CCUS) project in the UK, led by project developer Progressive Energy Limited and gas distribution network operator Cadent Gas.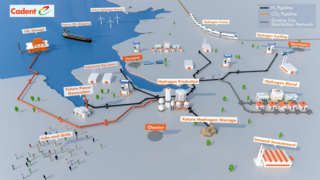 ---
The new pipeline will connect hydrogen production plants on the River Mersey, hydrogen storage facilities (disused salt caverns) in Cheshire, and future industrial, domestic and transport users of clean hydrogen across these regions. WSP's activity will involve designing an operational model for the pipeline, taking into consideration hydrogen flows, seasonal storage and above-ground installation (AGI) requirements.
"Hydrogen is quickly going to become a crucial element of clean energy supply in the UK and we need to embrace all opportunities to make the most of its potential to change the way we generate, distribute and consume energy," said Ben Clarke, WSP's Head of Gas Networks, in the announcement. "Designing infrastructure which is future-ready and will support the UK's net-zero 2050 target is truly exciting."
300-mile test flight planned for ZeroAvia's hydrogen aircraft in summer 2020
A couple of days ago, the Herald Scotland newspaper published an exclusive interview with Russian-born greentech entrepreneur and eMotorWerks founder Val Miftakhov who revealed that his California-based company ZeroAvia is in discussions with the Scottish Government to conduct a programme of 300 nautical mile test flights of its hydrogen-fuelled aircraft on Orkney in the summer of next year.
ZeroAvia approach to zero-emissions flight (see IFRF's blog last month on how to reduce aviation emissions, which sets this technology within a wider context) is targeting the 500-mile short-haul and commuter air travel markets that make-up almost half of commercial flights worldwide. Using its hydrogen fuel cell powertrain, ZeroAvia claim that the Piper M-class six-seater aircraft test aircraft will deliver the same performance as a conventional equivalent, but with zero carbon emissions and at around half of the operating costs. Producing the hydrogen from electrolysers at airports using renewably-sourced electricity, would remove costs, transport and emissions.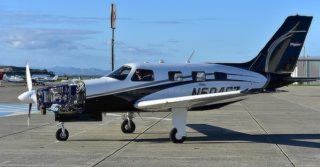 ---
In September, ZeroAvia's £5m 'HyFlyer Project' was awarded £2.7m from the UK government's Aerospace Technology Institute (ATI) and Innovate UK to develop its fuel cell powertrain for commercial aviation. Within this project, the European Marine Energy Centre (EMEC) are investigating the infrastructure needed to fuel the aircraft with green hydrogen (initially on Orkney), market-leading fuel cell engineering company Intelligent Energy are collaborating on the optimisation of its evaporative cooling PEM fuel cell technology for aviation use cases, and Cranfield Aerospace Solutions (CAeS) are assisting with the integration of ZeroAvia's powertrain into the Piper airframe and hosting the ZeroAvia team at its hangar facilities. ZeroAvia will also form a technology partnership with Cranfield University in the UK, one of the leading aerospace universities worldwide, to benefit from its talent pool and aerospace legacy.
"Scotland is an ideal testing ground for new zero-emission aircraft and we welcome ZeroAvia's interest in Orkney," a Transport Scotland spokesperson said. "We recognise the challenge of aviation emissions and also recognise that air travel continues to be an important mode of transport for our island communities and connectivity with the rest of the world. As a result, we are committed through the Programme for Government to decarbonise scheduled flights within Scotland by 2040."
Mr Miftakhov, who will test fly the aircraft himself, sees initial markets for 10 to 20-seat fixed-wing aircraft in Scotland and the UK, Norway, south-western USA and Australia. An interesting one to watch…!
Industry project to design ammonia-fuelled ultra-large container vessel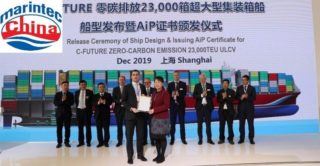 ---
Lloyd's Register (LR) has granted 'Approval in Principle' (AiP) to Dalian Shipbuilding Industry Company (DSIC) and MAN Energy Solutions for an ammonia-fuelled, 23,000 TEU ('Twenty-Foot Equivalent Unit') – i.e. capable of transporting 23,000 standard 20' shipping containers – Ultra-Large Container Vessel (ULCV) concept design, the first ammonia as a fuel design of its kind in China.
Throughout the design phase, LR facilitated hazard identification (HAZID) workshops to determine potential hazard, covering areas limited to the ammonia-fuelled engine and the external piping systems. LR also provided technical guidance regarding the ship's design and the provision of technical materials, in accordance with the goals and functional requirements from current and anticipated regulatory rules, procedures and guidelines. The AiP Certificate was awarded to DSIC at a ceremony in Shanghai on 3rd December.
"DSIC has developed the concept design of the zero-carbon emission ULCV cooperating with MAN Energy Solution and Lloyd's Register," commented Mr Yang Zhizhong, President of Dalian Shipbuilding Industry, during the ceremony. "The 'C-FUTURE' solution is another pioneering initiative of DSIC on the development of green ships and clean energy applications. DSIC will continue to strengthen cooperation with domestic and international partner, to develop environmentally friendly and efficient new ship type, to achieve more new breakthroughs."
Two-stroke, low-speed marine engines, capable of operating on cleaner fuels such as LNG, methanol and ethanol, have been introduced over recent years, providing the most efficient propulsion system for trans-oceanic shipping and making them the de facto, standard powertrain for commercial vessels. Developing vessels fuelled by ammonia is regarded by many as the next logical step, as ammonia has the potential to be created from renewable energy sources such as wind, solar and hydropower. Such development would assist the global shipping community in meeting the challenges associated with the International Maritime Organization's GHG ambitions (see IFRF blog in March of this year).