IFRF Members Survey 2019: Here's what you said

IFRF Administration & Communication Coordinator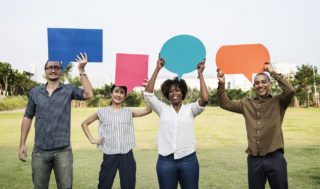 ---
Recently, we invited you to share your thoughts through the IFRF Member Survey 2019. In this survey we looked at:
Technical areas and market segments our members are interested in
Views and values of IFRF resources such as MNM, website, archive and forums
Current challenges facing the combustion industry
Topics for future IFRF TOTeMs (Topic Orientated Technical Meetings)
Levels of interest in IFRF training courses and podcasts
Suggestions for future activities for IFRF
How much our members valued IFRF
We received 13 responses to this survey, all of which provided some valuable insight and will enable us to design future activities which are more suited to our members focus. Thank you to those of you who gave us your thoughts and time.
Technical areas and market segments
We asked which technical areas their organisation was most interested in and then compared those answers the responses from last year.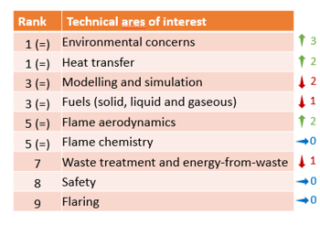 ---
Unsurprisingly, the results showed that 'environmental concerns' was the hottest topic as it moved up from fourth place in 2018, to be the joint top issue today. Also 'heat transfer' became one of the key topics amongst our members as it shot up from third to joint first.
We asked a similar question about which market our members were operating in and again compared these with the results from 2018 to see how they compared.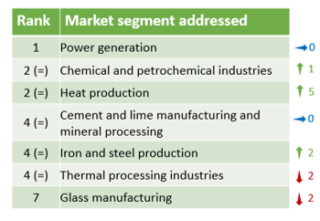 ---
'Heat production' was the one that moved up the table the most but was unable to usurp 'power generation' which kept steady at the top.
Its good for us to know what topics our members are interested in and which market they are operating in as it helps us tailor our offer to suit their needs. Plus, if you are nerdy about data (like I am) it's always interesting to see how it fluctuates year-on-year due to the ever-changing environment that we all work in.
IFRF resources
At IFRF we like to have several ways to engage with members, partners, and potential members. But it's not always easy to know which elements are most useful to different people – no matter how many analytics you look at. So, we like to ask. And here's what you said (and again we compared it with 2018 to see if anything had improved):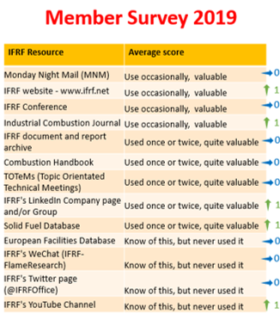 ---
The good news for us is that everything either improved or stayed the same! At the end of 2018 we launched our new website and this seems to have been a hit as the feedback here was very positive and shows more people using the website and the resources on it – such as the Industrial Combustion Journal which has improved its rating as well.
Once again Monday Night Mail tops the chart – which is music to our ears because we work hard to ensure we deliver a quality newsletter to our subscribers every two weeks and its good to know that they value it. Don't forget we are always on the lookout for guest editors, advertisers and members to profile – so if you fancy working with us on an edition simply contact us.
We have also had some positive feedback about our LinkedIn groups and profiles. If you are not part of this yet, then please come and join us over on LinkedIn. We'd love to see you there.
Biggest challenges
This was a new question for 2019, and we were hoping to see whether the issues perceived by our members varied depending on their location or industry. But what we learnt was, once again, not that surprising…the biggest challenged faced by our members is 'CO2 emission targets' with 50% of our respondents listing this as their biggest challenge.
Other topics noted were:
Chemical Looping Combustion
Collaboration
Fuel flexibility
New energy sources
Recruitment
Reputation
Topics for future TOTeMs
As you may know, each year IFRF hosts one or two events known as TOTeMs (Topic Orientated Technical Meetings). These focus on a key topic raised by our members and draws in experts from industry and academia to discuss the current status and future plans. Outputs from the TOTeM are shared on our website and, if applicable, specialised networking groups may be formed to continue the conversation.
In this year's survey we asked our members what topics they would like to see in an upcoming TOTeM. Here's what they said:
Ammonia
CCUS
Coal plant conversion to alternative fuels, including waste
Combustion equipment safety (international norms, best practices to achieve safety, availability at an acceptable cost)
Combustion measurement and diagnosis
Flexible power generation, smart power plants
Gas Turbine Combustion
Hydrogen technologies
Measurement techniques in power industry
Open source tools for combustion improvident
Zero and negative energy technologies
Thanks once again for all these great suggestions. We will be considering each of these when decided on our future events.
Don't forget, our next TOTeM (the 47th) will be held in Paris, France on 5th February 2020, and will look at 'Additive manufacturing for combustion application'. If you would like to book your ticket, submit an abstract or even sponsor the event, all the information you need is here.
Webinars and training courses
We are planning to launch online and physical training courses for our members and we used this survey to gauge the level of interest.
What we found was there was considerable interest in 'Master Class' tutorials on aspects of combustion (e.g. optimising plant flexibility, etc.) and Operation of pilot-scale research facilities and analysis equipment – which is good to know.
Coupled with that, our respondents also said they were 'somewhat interested' in the two other courses suggested – Early Career Researcher training and Health and safety in combustion.
Keep checking our website for announcements linked to training courses or sign up to Monday Night Mail – our bi-weekly newsletter – which will send the announcements straight to your inbox.
Podcasts / vlogs
We have held some internal discussions on whether our members and subscribers would be interested in IFRF producing podcasts or vlogs as a new way to share our news and views. So once again we thought we'd ask the question…
The response was positive with the majority saying they would be very interested in listening to these. So, watch this space…or maybe listen out is more appropriate in this context?
The value of IFRF
We finish on the same question we always do – 'how much do you value being a member of IFRF?' because we want to create a space, a community, a network that our members value and feel a part of.
This question asks the respondent to grade us by percentage. The response was positive (thankfully) with the average reply being 73.3%. So, with this in mind, we will keep on working to produce quality content, events and networks for you.
Thank you to everyone who participated in this survey. Your thoughts and feedback have been and will be carefully considered and worked into our plans for the next few years. Here's hoping for a happy and prosperous 2020!