First UK trial of hydrogen-blended gas hailed a success

---
The results of the first phase of a ground-breaking low-emissions energy project, that could help cut carbon emissions and open the door to a low-carbon hydrogen economy, have been published recently.
Hydrogen produces no carbon dioxide when used, making it a viable alternative for heating homes and businesses to achieve net-zero carbon emissions targets.
"HyDeploy is a ground-breaking collaboration and has demonstrated very clearly that consumers can safely receive up to 20% hydrogen blended with natural gas, without the need to make any changes to their existing appliances," said Steve Fraser, Chief Executive of Cadent Gas Limited. "With 8 in 10 of our homes in the UK heated by natural gas – it is an energy we are familiar with. Adopting hydrogen blending across the gas networks would save carbon emissions equivalent to removing 2.5 million cars from our roads – a huge step towards Net Zero."
"Importantly, customers experienced no disruption and felt positively towards using hydrogen blends and the trial. Blending hydrogen into the natural gas network is a critical stepping-stone in helping the UK reach Net Zero by 2050," he continued.
Gas safety checks were carried out in the homes and buildings in the trial area at Keele University in the UK. Laboratory tests were undertaken on a range of gas appliances, as well as extensive research on the effect of hydrogen on the different materials found in the gas network and the appliances. As highlighted in the HyDeploy carbon savings report published in August, gas cooker results, for example, demonstrated that all critical component temperatures remained within acceptable limits when hydrogen was introduced. Variation in thermocouple readings was observed as a result of changing the fuel composition, but there was no indication that overheating of components or potential degradation occurred. Pressure indication within the oven always remained within the necessary performance safety specifications. The resulting flame appearance of pure methane compared to methane with 28.4 % hydrogen showed only marginal differences, which is indicative of the wider gas cooker results.
---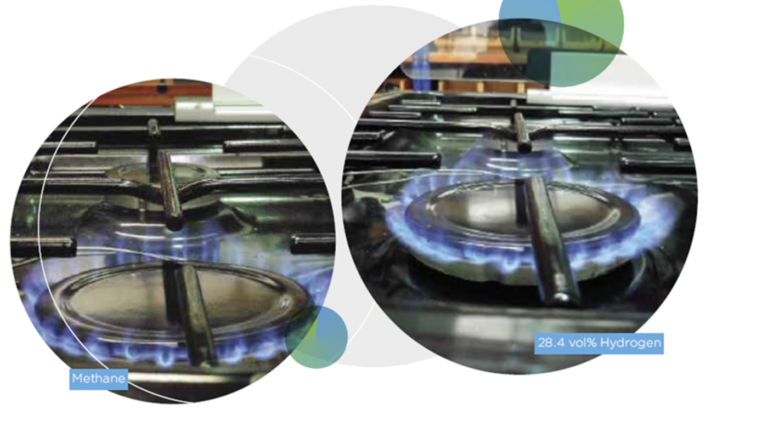 ---
28.4% hydrogen blend flame compared with a natural gas flame
The success of the trial at Keele University has paved the way for a larger pilot project at Winlaton, near Gateshead, in the north east of the UK. Here, 668 houses, a school and some small businesses have been receiving hydrogen-blended gas on a network operated by Northern Gas Networks (NGN) since early August 2021.