Carbon emissions have peaked in 30 major cities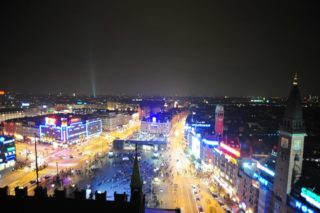 Following on from our blogpost last month on net-zero emissions targets mentioning the C40 cities 'Deadline2020' initiative, it was interesting to read a press release highlighting progress made to date.
Some of the world's largest and most influential cities – London, Venice, San Francisco and Stockholm among them – have seen their greenhouse gas emissions peak, according to the C40 Cities Climate Leadership Group. Research conducted by C40, a network of 94 cities across the globe, has confirmed that 30 of its member cities have now reached this milestone.
The analysis by C40 shows that, since reaching peak emission levels, these 30 cities have cut greenhouse gas emissions by an average of 22%. Copenhagen is amongst the most ambitious of the bunch – having reduced its emissions by some 61% from their highest point. More than half of C40 cities will either have reached peak emissions by 2020, or have made binding commitments to this end, according to the organisation.
In 2009, there were less than 100 electric buses on the streets of C40 cities. Today there are more than 66,000. Ten years ago, only four C40 cities had committed to achieving 100% renewable electricity by 2030. That figure has risen to 24 cities as of this year.
"The C40 cities that have reached peak emissions are raising the bar for climate ambition, and at the same time, exemplifying how climate action creates healthier, more equitable and resilient communities," said Mark Watts, Executive Director of C40 Cities. "But this is nothing to win medals for – emissions across the whole world need to stop rising and start falling within the next year, if we are to keep global heating below 1.5°C."
The 30 cities which have reached peak emissions are: Athens, Austin, Barcelona, Berlin, Boston, Chicago, Copenhagen, Heidelberg, Lisbon, London, Los Angeles, Madrid, Melbourne, Milan, Montréal, New Orleans, New York City, Oslo, Paris, Philadelphia, Portland, Rome, San Francisco, Stockholm, Sydney, Toronto, Vancouver, Venice, Warsaw and Washington DC.
C40 held the 7th World Mayors' Summit in Copenhagen in October. Here, Los Angeles Mayor Eric Garcetti, who has taken over as the chair of C40, told a press conference that he intends to prioritise the delivery of a global 'Green New Deal'. This plan, spearheaded by a group of Democratic Party politicians in the USA, proposes to transform global infrastructure and economies with a rapid shift to clean energy generation.