British Flame hosts Best Poster Award at the Institute of Physics meeting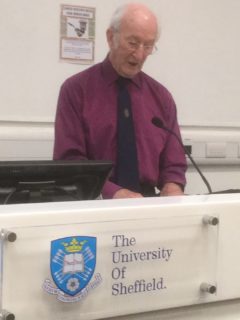 ---
British Flame Research Committee (BFRC) once more sponsored an award to the winner of the best poster displayed at an Institute of Physics meeting recently held at Sheffield University – Current Research in Combustion – in which early career researchers presented papers and posters on their research projects.
Professor Allan Jones, BFRC President, selected the winning entry from a strong field and the award was presented by BFRC Chair, Roger Dudill to Savvas Gkantonas a student from Churchill College, Cambridge.
Also Professor Jim Swithenbank, a former Superintendent of Research at IFRF and a former President of BFRC was presented with the Huw Edwards award by the IOP for his Outstanding Contribution to Combustion Physics – which was underlined by Jim's lecture in which he enthusiastically presented fascinating detail of his wide ranging and ground breaking experience and achievements. Undoubtedly he is a remarkable role model for aspiring combustion researchers.