Baosteel Visit to IJmuiden
Today, the IFRF received a visit from Prof Zou, Director of the Baosteel Energy Centre, and Professor Chan, Director of the Environmental and Energy Engineering Institute of the Beijing University of Science and Technology. They were accompanied by Dr Rao, Baosteel Equipment Research Institute and Lesley Blinker of Bisschop and Partners.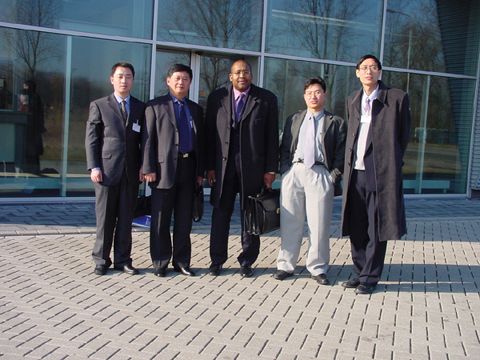 (From Left to Right) Rao Wentao, Zou Kuan, Lesley Blinker, Stanley Santos (IFRF) and Daqiang Cang
Baosteel has been since 2001, an IFRF Member Organisation based in Shanghai, Peoples Republic of China. However apart from an earlier visit by Professor Chan, this was the first direct discussion on the Membership cooperation between Baosteel and the IFRF. The discussions were very successful with particular interest shown in the new High Efficiency Combustion programme and the research facility.
The High Efficiency Combustion research facility ready for the 2002 Week09 campaign.
Prof. Zou Kuan presents a Baosteel Plate as a memento of their visit.