Air Liquide becomes an IFRF Preferred Research Partner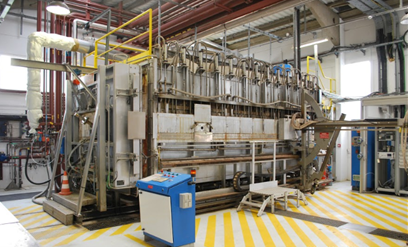 IFRF are pleased to announce that Air Liquide has joined the IFRF Preferred Research Partner network. Their significant research and test capabilities adds further to the current IFRF PRP portfolio provided by the University of Sheffield's Translational Energy Research Centre (TERC) in the UK (the home of IFRF), the Gas-und Wärme-Institut (GWI) in Germany, Zhejiang University (ZJU) in China and Fives Pillard's European Combustion Centre in Italy. I asked Dr Anna Pubill Melsió, of Air Liquide's Process Engineering & Combustion Group to describe their capabilities and offerings to IFRF members and partner organisations.
Air Liquide- a world leader in gases, technologies and services for industry and health. Oxygen, nitrogen and hydrogen are essential small molecules for life, matter and energy. They embody Air Liquide's scientific territory and have been at the core of the company's activities since its creation in 1902. It is present in 75 countries with approximately 66,400 employees and serves more than 3.8 million customers and patients. Its ambition is to deliver long term performance and to contribute to a more sustainable world facing today's and tomorrow's challenges: energy and environmental transition, transformation of healthcare and technological progress.
Innovation is part of an open, global ecosystem inside the company. It is partly supported by Innovation Campuses in Europe, the United States and Asia. They are defined by their local and national environment and complement one another. The Innovation Campus Paris is at the heart of the innovation's ecosystem of the "Plateau de Saclay" and hosts the biggest Research & Development centre of the group.
This Campus illustrates the group's open innovation approach by providing 'techno bricks', developing competencies and foresight capabilities thanks to unparalleled science, research expertise and experimental platforms.
Combustion Team– The Combustion team's objective is to develop gas solutions for high temperature processes with the following drivers: energy efficiency, process optimisation and CO2 and NOX emissions reduction. The work done is supported by three pillars: fundamental knowledge, industrial expertise and experimental tools.The first one allows the team to analyse each part of the project from a rigorous scientific point of view. Combustion R&D is also present in the field to accompany the support teams and for technology transfer. Finally, the validation of the different developments is done with the help of several experimental tools designed to represent the industrial conditions of different processes present in the primary industry. Moreover, the results obtained will also be analysed with a numerical assessment.
Among these benches there is the ALICE furnace (pictured above), the most versatile where any kind of fuel (gas, liquid or partly solid) can be injected. It is a two megawatt chamber under oxy-combustion conditions with a maximum temperature of 1630°C. It is fully equipped with measurement systems and thirteen optical windows to better evaluate the characteristics of the flame. It also has a heating system for fluid injection.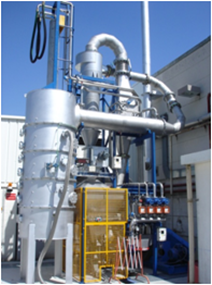 CORALI is a fluidised bed installation of one megawatt power under oxy-combustion conditions. Its maximum temperature is 1000°C on the walls, equipped with fumes recirculation with a reheating chamber system. It is a modular combustion chamber where any kind of fuel can be injected and the fuel solid size can vary from 0.5 to 20 mm.
Air Liquide R&D teams will support your request and give you the best approach to your project.