TOTeM46 – Waste to Energy: Status and perspectives of technologies

TOTeM46 - Waste to Energy: Status and perspectives of technologies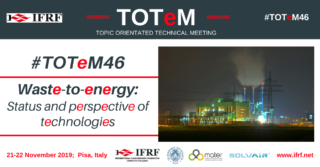 ---
IFRF is pleased to announce the 46th TOTeM (Topic Orientated Technical Meeting), which will be held at the University of Pisa, Italy on 21-22 November 2019. The topic for this event is 'Waste to Energy: Status and perspectives of technologies'.
The adaptation of waste management to the Circular Economy paradigm is pushing toward higher and higher source separation levels, as well as promoting the development of new processes for the recovery of materials, including also thermal treatment. On one hand, higher source separation produces higher amounts of selection and recycling residues, which require proper treatment to ensure the sustainability of the whole system. On the other hand, the characteristics of some source separated waste streams do not allow the recovery of materials just through simple mechanical treatments. Therefore, thermal treatments are likely to continue playing a crucial role in closing the cycle and ensuring its effectiveness.
Under this new perspective, the aims of the TOTeM are to start analysing the current status and the main trends of the waste management world, to create collaboration opportunities among its stakeholders and IFRF members, as well as to set a framework to support IFRF members in evaluating the potential exploitation of their know how in this area of application.
TOTeM46 Programme
We are pleased to share with you the full programme of TOTeM46: Waste-to-energy – status and perspectives of technologies. Download your copy here.
This new programme gives you the details of the speakers and their talks including:
Waste-to-Energy for the sustainable management of waste
Waste combustion on a grate
Assessment of Alternative Thermal Waste Treatment Technologies with focus on Chemical Recycling of plastic waste
Significance and challenges for flue gas treatment systems in waste incineration
The new BREF on Waste Incineration
The Flameless Pressurized Oxycombustion: innovation of fundamentals
The use of waste as fuel in the cement industry
Download the TOTeM46 programme here and join us in Pisa next month.
Registration
Tickets are now available to purchase. See the table below to see what price you qualify for: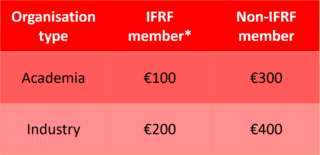 *If you would like to join IFRF and receive this special discount click here.
Accommodation
Please click here to see our list of recommended hotels for those travelling to Pisa.
Sponsorship
For just €2500, you can sponsor TOTeM46 and receive:
Two free places at the event
Your logo on the promotional material and the IFRF website
An article in IFRF's bi-weekly newsletter and on the website
Exhibition stand at the event with the chance to network with delegates
Contact us at administration@ifrf.net for more information.


If you have any special requirement for invoicing and/or you want to pay via bank transfer, send an email enquiry by clicking here.